More rail strikes are "extremely likely" if talks between rail bosses and unions continue to fail, the union at the centre of the dispute has said.
RMT boss Mick Lynch accused the government of blocking a deal, a claim denied by the government.

For the second time this week a walkout by rail workers has left travellers facing another day of disruption.

Trains have ground to a halt across much of England, Wales and Scotland, with about half the network closed.

Another walkout is already planned for Saturday.

Downing Street said the unions should call off the strikes "as quickly as possible", but Mick Lynch, general secretary of the Rail, Maritime and Transport (RMT) workers' union, earlier told BBC Breakfast that Saturday's industrial action might not be the last.

He said talks would continue and he would consult members to see "if and when there needs to be a new phase of industrial action".

"But if we don't get a settlement, it's extremely likely there will be," he said.
Tim Shoveller, the chief negotiator for Network Rail - which maintains the railways throughout Britain - said there had been hopes on Wednesday of stopping the second day of strikes and it was "hugely frustrating" after talks collapsed.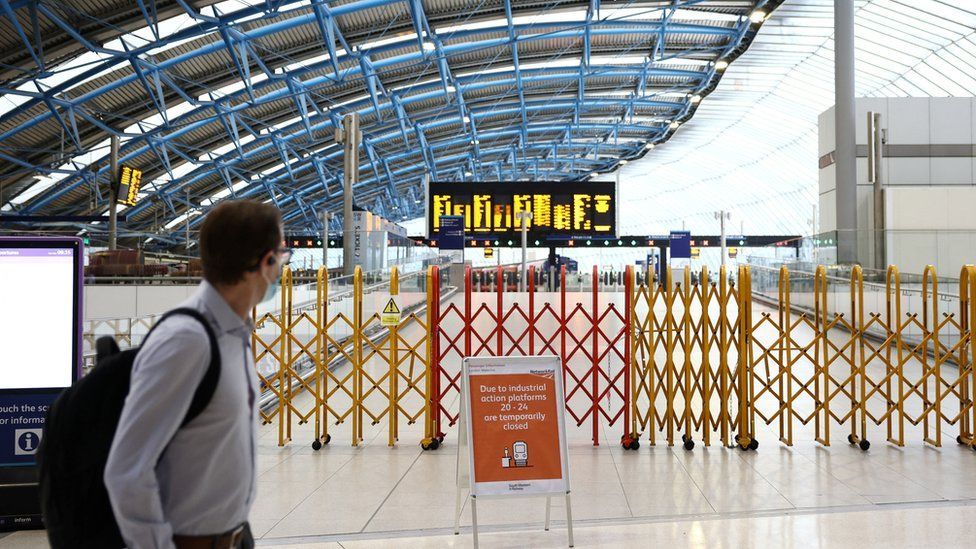 Train services across the UK have been cancelled as a result of the rail strikes

There have been accusations on both sides that third parties are hampering progress.

Mr Lynch told BBC's Breakfast: "The government's hand is in this... the [rail] companies leave the room, consult the government ministers and the department officials and when they come back often the situation is worse."

But Network Rail - with whom the RMT are negotiating - said it was the RMT, not the government which stalled negotiations.

Mr Shoveller said they thought they had a deal on Wednesday until the RMT left the room to get guidance from their board.

The Department for Transport has insisted the rail industry is leading the negotiations. However, a contract seen by the BBC said train operating companies' handling of strike action was "subject to the secretary of state's direction", a reference to Grant Shapps, the transport secretary.

A key sticking point of negotiations appears to centre around a letter from Network Rail about pressing ahead with a formal consultation over changes to working practices in maintenance teams - which would entail redundancies.

The RMT asked for it to be withdrawn - and accused Transport Secretary Grant Shapps of wrecking negotiations by not allowing Network Rail to do so.

Mr Shapps called the claim "a total lie" and said he had no involvement in the letter.

Speaking from Rwanda, Prime Minister Boris Johnson described the strikes as "unnecessary" and stressed the benefits of "sensible reforms" of the rail system.

Mr Johnson, who is attending a Commonwealth summit, said "people should get around the table and sort it out", adding he wanted a "great future" for British railways.

Who are the key voices in the dispute?

*  The RMT - the Rail, Maritime and Transport Workers' union - represents 40,000 members from cleaners to train guards across the rail network

*  The Rail Delivery Group represents train operators and Network Rail - which maintains the tracks and runs some bigger stations
*  The Transport Secretary - Grant Shapps says it is not his role to negotiate with unions, though Labour and some Tory MPs think he should be involved

The RMT is calling for a pay rise of at least 7% to offset the cost of living crisis, as inflation hits 9.1% and is forecast to reach 11% in the autumn.

Employers have offered a maximum of 3%, on condition that the union accepts new working practices.

The Rail Delivery Group, which represents train operating companies, said it wanted to give "a fair deal on pay while taking no more than its fair share from taxpayers", which meant modernising the railway to attract passengers back.

As Network Rail and the unions get back around the table for another long day of negotiation, one rail company - one of the few franchises run without government money - has reached a settlement in a separate dispute.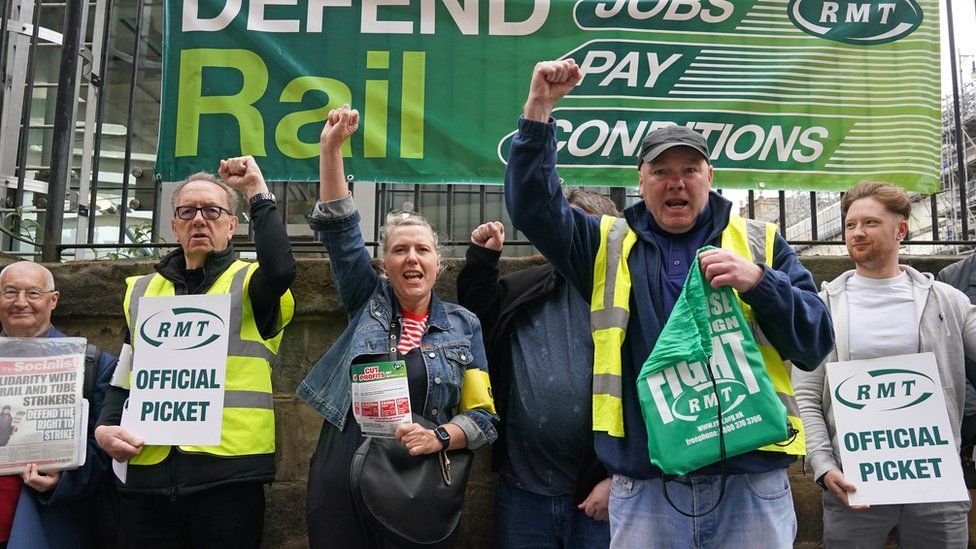 Picketers outside Edinburgh Waverley Station on Thursday

Merseyrail workers have been given a 7.1% pay rise.

Asked if that's what Network Rail would offer eventually, Mr Shoveller said: "I think that's very unlikely."

"We can see a way of funding a pay deal, not of those sort of proportions but still an overall good package recognising that the prime thing the unions are asking for is a guarantee of no compulsory redundancies," he told BBC Radio Four's Today programme.

"So we think we've got a package of no compulsory redundancies, of money and some other long sought after things the union and employees have been after and we want to move forward with that package."

Eddie Dempsey, of the RMT, said the Merseyrail deal was significant. "Wherever we're dealing with somebody who's not directly controlled by the DfT, we're making progress," he added.

A Department for Transport spokesperson said it was entirely false to claim the government was blocking negotiations.

"We have said from the outset we urge the unions and industry to agree a deal that is fair for railway staff, passengers and taxpayers," they added.

How has the strike affected passengers?

Passengers in England, Scotland and Wales have been facing disruption to their journeys as only one in five trains are running in most areas.

Services started later than normal at 07:30 BST and will shut down early at 18:30 BST.

Stations across Britain have been especially quiet, with most commuters planning ahead to work from home, while Glastonbury festival-goers seem to have avoided any travel chaos so far.

On Thursday morning, the roads were not as busy as expected.
Watch: RMT boss says government is making negotiations worse as Rail Delivery Group chair suggests reform may not mean redundancies