The Scottish government has asked the MoD for military assistance for the country's ambulance service.
Nicola Sturgeon said health services were dealing with the most challenging combination of circumstances in their history due to the Covid-19 pandemic.

Opposition politicians have highlighted a series of serious ambulance delays, including one where a man died after a 40-hour wait.

They said this should not be happening in Scotland in 2021.

Ms Sturgeon said her government was looking at a range of plans to deal with the significant challenges facing the health services, with the detail of a request for military assistance being considered.

She told the Scottish Parliament: "I'll be going back to my office to finalise the detail of the request for military assistance so we can submit that as quickly as possible."

The first minister added: "Such military assistance is already being provided to ambulance services in England and of course we have had military assistance for other aspects of the pandemic over the past 18 months."

A Scottish government spokesperson later confirmed it was seeking military assistance to address acute services, and a separate request had been made to support mobile testing units.

The Ministry of Defence confirmed it had received a request from the Scottish government, which it said related to support for Scottish Ambulance Service mobile testing units.

A spokeswoman said the MoD was "working hard to identify where we can most effectively assist other government departments and civil authorities."

Investigations are ongoing into several cases reported in the media on Thursday, including one where a Glasgow pensioner died after a 40-hour wait for an ambulance.

The Herald newspaper reported that the family of 65-year-old Gerard Brown were told that he could have survived had help arrived sooner.

Mr Brown's GP - who is said to have repeatedly warned 999 call handlers that the patient's status was critical - was quoted as describing the crisis engulfing the Scottish Ambulance Service as being like "third world medicine".

The Scottish Ambulance Service is investigating the circumstances of the case, and said it will be "in contact with Mr Brown's family directly to apologise for the delay".

Mr Brown's death has been reported to the procurator fiscal, who said an investigation was "ongoing".

Pressed on the case at her weekly question session at Holyrood, Ms Sturgeon offered her condolences to Mr Brown's family, and said what had been reported was "unacceptable".

She said Scotland was "experiencing probably the most challenging combination of circumstances that our health service has faced since its establishment" due to the pandemic.

Patients 'distressed' and staff 'reduced to tears'

Evelyn from Kilwinning told BBC Radio Scotland's Mornings with Stephen Jardine that her husband had been rushed to hospital three times in the last last few weeks due to concerns about his kidney function.

Their longest wait for an ambulance was 23 hours - and on an occasion where it had been called by their GP.

"He's an amputee and I wanted to take him in the car," said Evelyn. "The doctor said no, it had to be an ambulance in case he deteriorated.

"Twenty-three hours was the longest wait, the time before was 11 and a half hours and the quickest was six hours. Both of us were very distressed. He's a very unwell man so this is going to be reoccurring - but one of these days our luck is just going to run out.

"The ambulance crew were absolutely amazing, but they were run ragged. When I went to the hospital there were nine ambulances outside the hospital waiting to admit people - that's nine crews that are off the road for hours."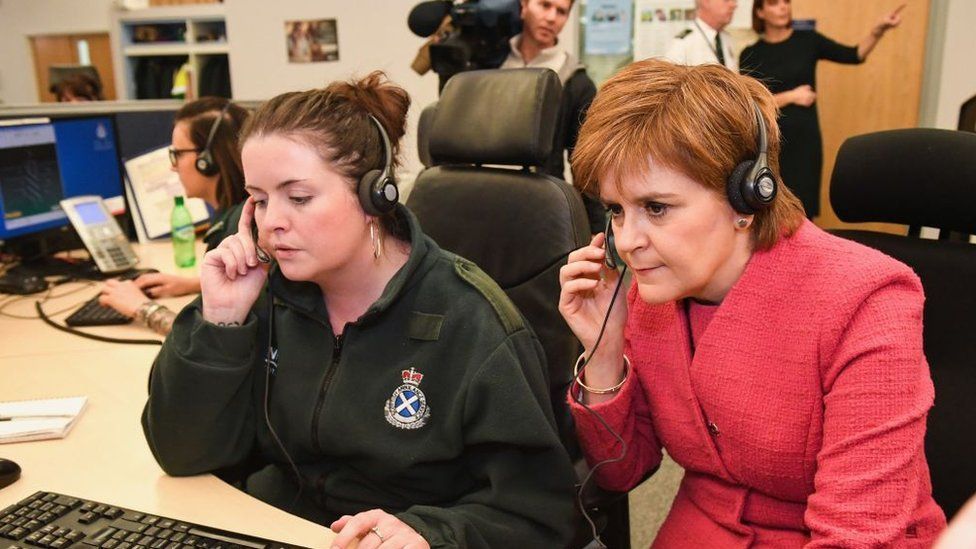 Brian from Troon said he was proud of his daughter who is an emergency call handler - but often hears of frustrated people becoming "abusive" to staff when they are told their cases are not high priority.

"It's reducing them to tears," said Brian. "The staff are coming home looking for someone to talk to about it.

"Luckily the ambulance service have got it covered - supervisors listen in to the calls and say that's not acceptable and will cut them off and take the call themselves. They also look at the welfare side of things, they are such a good service. Abuse is totally not acceptable.

"It's their professionalism that gets them through this - they have sympathy with their callers, they try to calm them and in some cases they save people's lives until the ambulance arrives, whether it be someone having a stroke or having a baby."

The head of the Scottish Ambulance Service has previously apologised to patients over increased waiting times, saying staff were working under "unprecedented pressure" due to a "huge increase" in both Covid and non-Covid cases.

Pauline Howie said the service was "at full capacity" and hospitals were too, meaning it takes longer to hand over patients at emergency departments - creating delays in responding to other calls.

'Avoidable human tragedy'

Scottish Conservative leader Douglas Ross said the ambulance service was "in crisis", and said cases like that of Mr Brown "shouldn't be happening in Scotland in 2021".

He also called for Health Secretary Humza Yousaf to withdraw comments he made on BBC Radio Scotland on Wednesday, when he said people should "think twice" about whether they really needed an ambulance before calling for one.

Ms Sturgeon said the ambulance service was already "operating at its highest level of escalation" in response to current pressures, and said Mr Yousaf's comments reflected others made by services "in every part of the UK".

Labour leader Anas Sarwar raised the same case, describing it as an "avoidable human tragedy".

He said Ms Sturgeon should not use the pandemic as an excuse, adding: "There is a simple truth - nobody should be left to die on the floor while waiting 40 hours for an ambulance."

Ms Sturgeon said governments across the world were dealing with similar problems at the moment, and that her administration was "absolutely focused" on providing solutions.

Meanwhile Scottish Lib Dem leader Alex Cole-Hamilton called for the military assistance to be deployed swiftly, saying the government had "done too little, too late".