In early 2020, the Duke and Duchess of Sussex stunned the world by announcing they were stepping down as senior royals.
Some argued the writing was on the wall. Meghan, 39, had told ITV's Tom Bradby months earlier "not many people have asked me if I'm ok" as she detailed her struggles as a new mother while living in the spotlight.

The hard-to-watch interview, conducted during the couple's tour of Africa in 2019, came against the backdrop of her fraught relationship with her family and a legal case against Associated Newspapers, rumours of a rift between the Sussexes and the Cambridges, and relentless criticism for everything from the couple's travel arrangements, Archie's babyshower and even the colour of Markle's nail polish.

News the couple were planning a departure from the UK was published in The Sun in January 2020. Harry and Meghan confirmed it shortly afterwards via a new website, suggesting they planned to take on a "progressive new role" within the monarchy.

An emergency summit was called: with the Queen, Prince Charles and Prince William coming together at Sandringham to make a plan.

Much was reportedly discussed - including funding and security for the couple - and that "megxit" would be subject to a 12-month review.

A statement released by the Queen read: "Today my family had very constructive discussions on the future of my grandson and his family. My family and I are entirely supportive of Harry and Meghan's desire to create a new life as a young family. Although we would have preferred them to remain full-time working Members of the Royal Family, we respect and understand their wish to live a more independent life as a family while remaining a valued part of my family.

"Harry and Meghan have made clear that they do not want to be reliant on public funds in their new lives. It has therefore been agreed that there will be a period of transition in which the Sussexes will spend time in Canada and the UK. These are complex matters for my family to resolve, and there is some more work to be done, but I have asked for final decisions to be reached in the coming days."

Prince Harry and his family then departed, flying to their short-term base in Canada before moving to sunnier climes in California.

Weeks after the move - dubbed "Megxit" - the pandemic struck, and the couple have since been working on new projects from LA.

They also confirmed they are expecting their second child - a sibling to Archie who turns two in May - after Meghan wrote candidly about suffering a miscarriage.

But on February 15, news broke the Sussexes were sitting down with Oprah Winfrey for a "tell all" interview about the monarchy, their life and their family. It will be broadcast on Sunday night on CBS in America, and ITV on Monday at 9pm.

And in the past week, a seemingly difficult situation has turned nasty - with reports of bullying and accusations of "perpetuating falsehoods" among some of the dramatic developments in the past seven days.

Here's how it all unfolded:

March 31 2020

Harry and Meghan officially step down as senior royals and take part in their final engagements.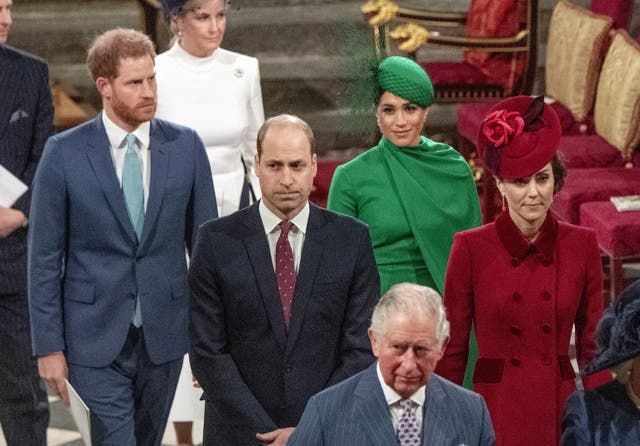 The Duke and Duchess of Sussex join the Queen and other senior royals at the Commonwealth Day service at Westminster Abbey - their final engagement
April

Details of the couple's new foundation, called Archewell after their son, emerge. It would replace their Sussex Royal brand. It comes days after Disney releases Elephant, a nature show about the creature, which is voiced by Markle.

Later that month, the Sussexes announce they will no longer co-operate with some of the British media suggesting that "salacious gossip boosts advertising revenue" of the tabloids.

Details emerge of the duchess's privacy claim against Associated Newspapers via court documents. It is suggested Meghan warned her father Thomas via text message that contacting the press would "backfire."

May

Details emerge of a book about the Sussexes, written by journalists Omid Scobie and Carolyn Durand, called Finding Freedom. The authors say it is an "accurate version" of the couple's relationship and departure from the UK.

July

Meghan claims she was "unprotected by the institution" of the British monarchy when stories emerged about her in the media and she was "prohibited from defending herself", in leaked court documents. The Sussex Royal Foundation is closed as the couple launch legal action against an unnamed individual who allegedly tried to use a drone to take pictures of Archie.

August

Finding Freedom by Omid Scobie and Carolyn Durand is released and the Sussexes deny co-operating with the authors as Meghan's privacy case continues.

September

The couple sign a major deal with Netflix thought to be worth millions.

Netflix said the couple would produce "content that informs but also gives hope."

Meanwhile, the duke pays back the £2.4 million of taxpayers' money used to renovate Frogmore Cottage where the couple lived before they left the UK. A spokesman confirms the couple were able to do so thanks to the Netflix deal.

October

The couple launch their website for their charitable organisation Archewell. They speak to the Standard about racism in the UK to mark Black History Month.

In a candid exclusive interview to mark the start of Black History Month today, Prince Harry also spoke powerfully of how the UK can be made a better country by white people understanding more about life for those "of a different coloured skin".

Harry, 36, who is sixth in line to the throne, described his own "awakening" to the lack of opportunities for people from the BAME communities since he met his bi-racial wife. The duke said: "Because I wasn't aware of so many of the issues and so many of the problems within the UK and also globally as well. I thought I did but I didn't."

November

In an article in the New York Times, Meghan reveals she had a miscarriage in July and experienced an "almost unbearable grief." She said her husband was left holding the "shattered pieces" of her heart.

The duchess is widely praised for her honesty.

December

Meghan and Harry sign a multi-year deal with audio streaming service Spotify, thought to be worth millions.

February
February 11 -

The Duchess of Sussex wins her high court privacy case after a two-year legal battle.

A judge granted a summary judgment in Meghan's favour over the Mail on Sunday's publication of a "personal and private" handwritten letter from her to her estranged father, Thomas Markle.

In a statement, Meghan said: "After two long years of pursuing litigation, I am grateful to the courts for holding Associated Newspapers and the Mail on Sunday to account for their illegal and dehumanising practices.

"These tactics – and those of their sister publications Mail Online and the Daily Mail – are not new … For these outlets, it's a game. For me and so many others, it's real life, real relationships and very real sadness. The damage they have done and continue to do runs deep.

"The world needs reliable, fact-checked, high-quality news. What the Mail on Sunday and its partner publications do is the opposite. We all lose when misinformation sells more than truth, when moral exploitation sells more than decency, and when companies create their business model to profit from people's pain.

"But, for today, with this comprehensive win on both privacy and copyright, we have all won."


February 14 -

Three days later, the couple announce they are expecting their second child. The Queen is said to be "delighted".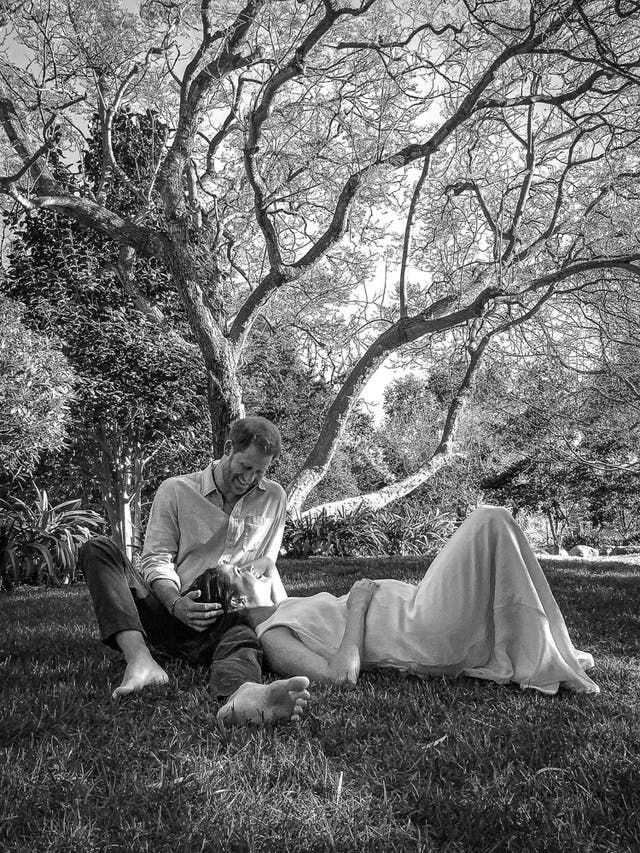 The couple announce they are pregnant
February 15 -

Hours later, it is confirmed the couple will be interviewed by Oprah Winfrey in a television special.


February 16 -

Harry's grandfather the Duke of Edinburgh is admitted to hospital in central London.


February 19 –

Megxit is confirmed as permanent, with the couple stripped of their patronages.

In a statement, the couple say they have "offered their continued support to the organisations they have represented regardless of official role", adding "service is universal".


February 26 –

The duke said the "toxic" atmosphere created for the couple by the British press forced the family to leave the UK.

In an interview with James Corden, host of the US talk show The Late Late Show, he also discusses Archie's first word, catching up with the Queen and the Duke of Edinburgh via Zoom and how he doesn't mind Netflix show The Crown as it is "fictional."

Harry insisted that he will "never walk away" from the royal family and he did "what any husband or father would do" by emigrating to America.

In an extraordinary interview, the Duke of Sussex said he had "stepped back not stepped away" because his mental health was being "destroyed" and maintained that his "life is public service".

Meghan also made a small appearance in the interview, which was filmed as Harry toured LA in a double-decker bus with Corden.

Speaking about how the couple got together, Harry revealed how dating for any member of the Royal family is "flipped upside".

He told Corden that early dates take place at home and only when they are a couple do they venture out in the couple.

March
March 1 –

A preview clip of the "tell all" Oprah interview is released, showing Harry suggesting his "biggest fear" was that "history would repeat itself" in a reference to the death of his mother, Princess Diana.


March 3 –

The Duchess of Sussex says she is "saddened" by a report in the Times that she faced a bullying complaint during her time at Kensington Palace.

The paper reports the complaint, which dated back to October 2018, was made by Jason Knauf, then the Sussexes' communications secretary. It claims Meghan had allegedly driven two personal assistants out of the household and was undermining the confidence of a third.

Buckingham Palace announces its HR team will investigate.


March 4 -

Meghan says Buckingham Palace "perpetuated falsehoods" about the couple in another preview clip from the upcoming interview with Oprah.

Oprah asks the duchess how she feels knowing the family will be hearing her speaking out.

"I don't know how they could expect that after all of this time we would still just be silent when there is an active role that the Firm is playing in perpetuating falsehoods about us," Meghan says in the clip.

"And if that comes with risk of losing things … there's a lot that's been lost already."


March 5 -

A third preview clip of the Oprah interview is released. In it, the duchess said it is "liberating" to be able to have the "right and privilege" to be able to "say yes" to an interview with Winfrey.

Winfrey revealed she first approached the duchess for an interview a few months before her wedding to Prince Harry in May 2018 - which the US chat show host attended. However, Meghan said she was unable to accept. "That wasn't my choice to make," she said.