Judges have overturned a decision to award £290,000 compensation to the son of a diver who died off Cape Wrath.
Lex Warner, 50, from Sutton Coldfield, near Birmingham, was injured in a fall on the boat before he made the dive on the Highlands' north coast in 2012.

Orkney-based Scapa Flow Charters was sued by his son Vincent, nine, in a legal action through his mother Debbie.

Judges at the Inner House of the Court of Session in Edinburgh agreed with appeal submissions from the boat firm.

Lord Carloway wrote that Scapa Flow Charters had put in place adequate safety measures, before Mr Warner fell on the boat while walking in fins.

He concluded that Mr Warner chose not to use the safety measures in place and had made an "informed choice".

Lord Carloway wrote: "It was sufficient in the exercise of reasonable care for the defenders to have provided a safe means of moving from the seat to the exit point in the form of a non-slip and unobstructed deck, handrails and a deckhand.

"Mr Warner, who was well aware of what was an obvious and inherent risk, chose not to use the provided means.

"That was a matter for his choice in the context of a leisure pursuit in which he, and not the defenders, was the skilled and experienced person."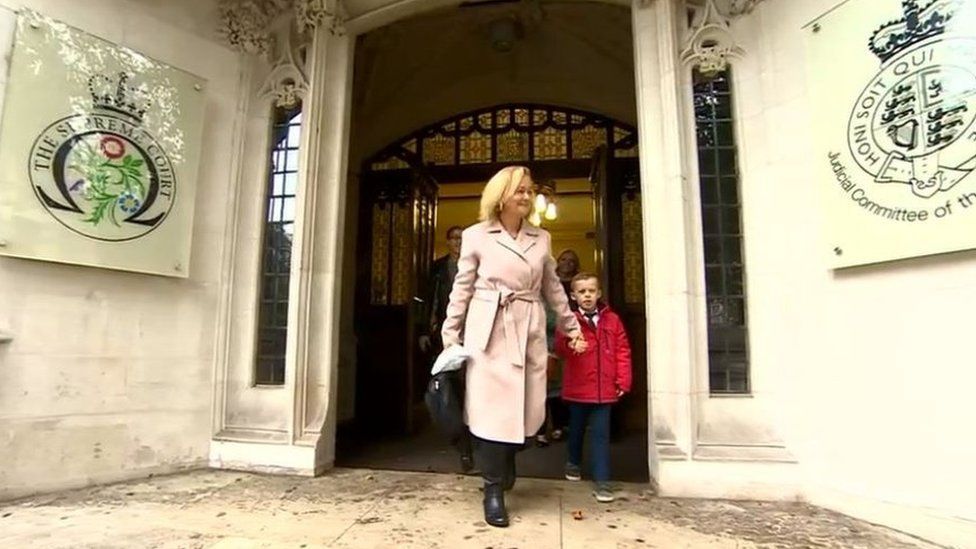 Mrs Warner and Vincent outside the UK Supreme Court in 2018

Mr Warner and a group of friends had been making a deep water technical dive off a wreck, on board Scapa Flow Charters' boat MV Jean Elaine.

Mr Warner's widow won a case at the UK Supreme Court in 2018 to be allowed to raise the civil court action on their son's behalf.

The case centred on how Mr Warner fell while on the boat. He sustained an abdominal injury and later got into difficulty when he was in the water.

Lawyers for the family claimed the boat's captain Andy Cuthbertson did not do enough to minimise the risks which came from divers walking on board boats while wearing fins.

In a judgment published last year, Lord Sandison agreed with the submissions made by the Warner family's legal team.

He concluded Mr Cuthbertson failed to put in place proper health and safety measures which would have protected Mr Warner from falling.

But lawyers for Scapa Flow Charters told appeal judges Lord Carloway, Lord Woolman and Lord Pentland that Lord Sandison was wrong to find Mr Cuthbertson at fault.