An apology by the SNP's Westminster leader Ian Blackford over his party's handling of a sexual harassment complaint against an MP has been dismissed as a cop out by the victim.
Patrick Grady was suspended from Parliament for two days after he was found to have made a sexual advance to a teenage SNP staffer.

Mr Blackford said he regretted that the victim did not feel supported.

But the staffer said the SNP had not learned anything from the case.

He accused the party of closing ranks and attempting to discredit the victim in order to limit the damage that was caused, rather than genuinely attempting to tackle the issues that had been raised.

Mr Grady, the party's former chief whip, was found by an independent panel to have touched and stroked the neck, hair and back of his colleague during a social event in 2016.

The panel recommended he be suspended from the Commons for two days - with the SNP understood to have also suspended him until his parliamentary suspension was complete.

In an audio recording of a subsequent SNP group meeting that was leaked to the Daily Mail newspaper, Mr Blackford could be heard urging his colleagues to "give as much support as possible" to Mr Grady.

Another SNP MP, Amy Callaghan, also told the meeting that the party should be "rallying together" to support Mr Grady.

'Completely unacceptable'

Both politicians later apologised, with Mr Blackford facing calls from the Conservatives and Labour to resign.

Mr Blackford's written statement expressed his "regret" that the complainant did not feel fully supported by the party.

He said: "The way that this situation has played out publicly over the last few days, including recordings from the parliamentary group, has caused distress to the complainant amongst others and I am sorry that is the case."

Mr Blackford also said Mr Grady's behaviour towards the member of staff was "completely unacceptable and should never have happened", adding: "I'm sorry it did".

Responding to the statement, the staffer said it felt like a "non-apology and a bit of a cop out".

He told the BBC's Good Morning Scotland programme: "Ian Blackford has never contacted me privately to give me a private apology.

"I was also given zero notice that this so called apology was going to be published or given to broadcasters to use.

"I found out like everybody else, so to me it's a publicity stunt and he has done it to protect his position and protect his reputation."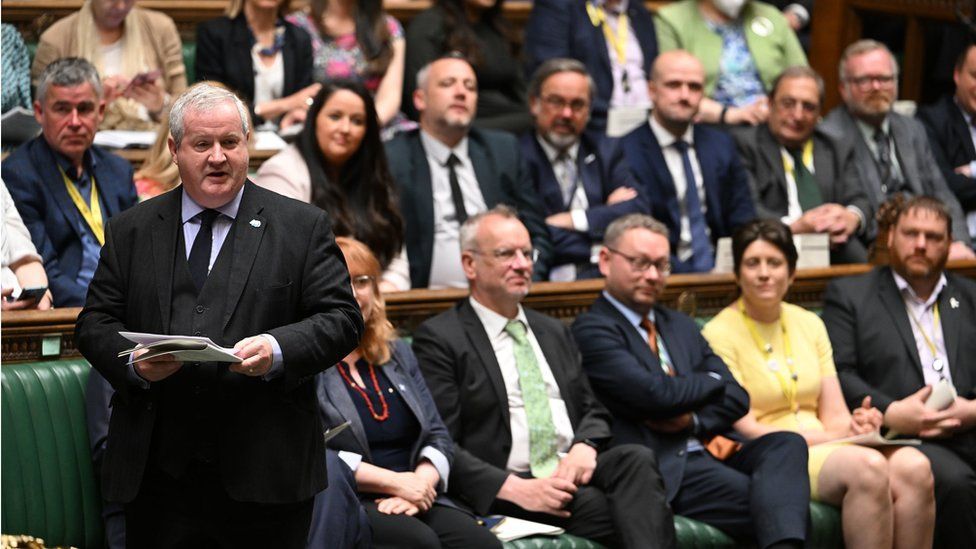 The staffer said he had only received support from a "couple" of the SNP's 45 MPs

He said he believed the SNP was more focused on limiting the damage to the party and finding the source of the leaked audio than it was in addressing what was said during the meeting.

He added: "It seems like the SNP under Ian Blackford at Westminster hasn't learnt a thing - they are still trying to close ranks and discredit the victim."

The staffer said he had been contacted by Ms Callaghan before she issued her apology, which he had accepted as he believed it was heartfelt and that she had "learned and reflected and realised why that was wrong".

But he said he had only received support from perhaps "a couple" of the party's other MPs, and that he believed this was due in part to Mr Blackford "directing them to support Patrick Grady instead of myself".

'Young and inexperienced'

The staffer welcomed Mr Blackford's announcement of an external review of support available to SNP staff who make complaints as a "good first step", but said nobody could believe the party was going to take it seriously.

He is currently off work, and said he did not believe he could return to his job while Mr Blackford and Mr Grady remained in their post - but that he hoped by speaking out he would give confidence to other victims.

He accused Mr Blackford of attempting to "ambush" him after he initially made his complaint by inviting him to a meeting without telling him Mr Grady was also going to be there.

He said he believed this was done because their view that he was "young and inexperienced" and that the complaint would be "over and done with" if Mr Grady offered an apology.

The staffer added: "For three years after that, he kept reappointing Patrick as the chief whip while I was working there.

"I had to go in every day and face him at work. It was torture. It was a living hell in that regard."

What has the SNP said in response?

First Minister Nicola Sturgeon was questioned by opposition leaders in the Scottish Parliament about the victim's interview, and said she would be willing to meet him to apologise in person.

Ms Sturgeon, the SNP leader, said she had already given a written apology to him, and described some of the comments made during her party's group meeting at Westminster as "utterly unacceptable".

She added: "I take these issues very seriously. But these issues are not unique to the SNP. All of us have lessons to learn."

Mr Blackford refused an invitation to appear on Good Morning Scotland to respond to the complaints made about his handling of the case, but did agree to speak to BBC Scotland on Thursday evening.

He said he was also willing to meet with the victim, adding: "If the complainant feels aggrieved, then I am sorry for that."

He said he had not yet had an opportunity to apologise in person because the investigation process had only just concluded, and said he also had a duty of "pastoral care" to Mr Grady.

He said he "regrets the fact the discussion took place the way it did" during the SNP group meeting, but denied his authority had been undermined by the situation.Mr Blackford also refused to directly call for Mr Grady to stand down but suggested he needed to "reflect on his behaviour".


A deeply uncomfortable afternoon for the first minister at Holyrood underlined the difficulty the SNP are in over this matter.

Nicola Sturgeon faced questions from both the Tories and Labour about the Patrick Grady case - and it was striking that she made no attempt to defend the MP, or how things have played out with her party's Westminster group.

She did not want to make the same mistake they did, when they were recorded giving their support first and foremost to Mr Grady rather than his victim.

The overriding concern will be that, in future, people who are subject to inappropriate behaviour feel supported to come forward.

This is a familiar concern to the Scottish government, which has just refreshed its own internal complaints process in the wake of the botched handling of allegations against Alex Salmond.

Ms Sturgeon faced almost two years of questions about that case. The last thing she wants is to be mired in similar difficulties again.

What did the report into Patrick Grady say?

In its report, the Independent Expert Panel - which recommends punishments for MPs over bullying, harassment or sexual misconduct - wrote: "An unwanted physical touching, with sexual intent, from a senior MP to a junior member of staff, even on a single occasion, is a significant breach of the policy."

It noted that Mr Grady had shown "genuine remorse" and made "efforts to address his behaviour".

But it recommended that he "be suspended for two sitting days, make a public apology in the House of Commons, and a private one to the complainant".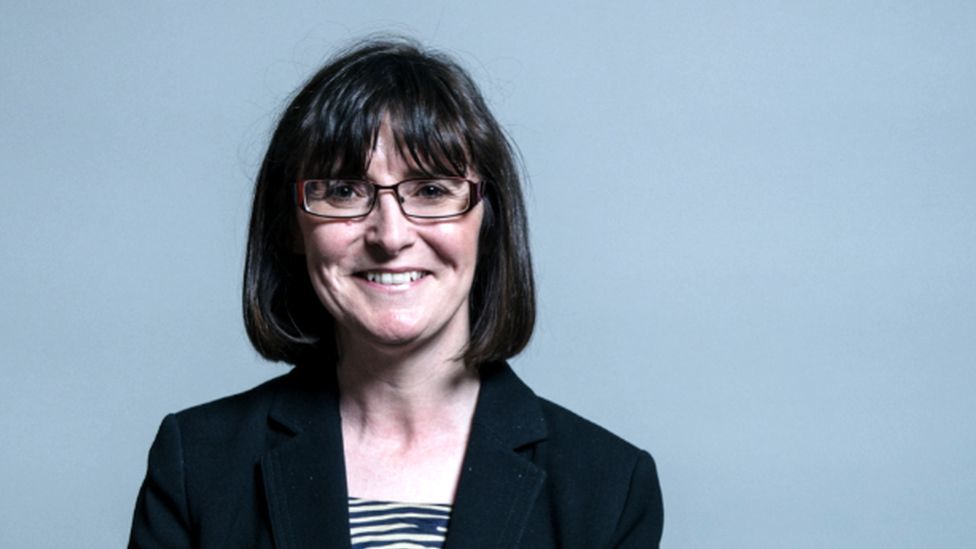 SNP MP Patricia Gibson has been cleared after appealing against a ruling of sexual misconduct against the same staffer

Mr Grady, the MP for Glasgow North, has admitted his behaviour and said he apologised unreservedly for it.

He told the Commons: "I am profoundly sorry for my behaviour and I deeply regret my actions and their consequences."

He also pledged that "such behaviour on my part will never happen again".

Meanwhile, SNP MP Patricia Gibson has been cleared of allegations of sexual misconduct against the same male staff member.

The complaint against her was initially upheld by the Parliament's Standard's Commissioner, which found that she had made unwelcome physical contact of a sexual nature in Stranger's Bar in Parliament in January 2020 while she was drunk.

But she appealed to the Independent Expert Panel, which has now ruled that the initial investigation "was materially flawed in a way that affected the decision of the Commissioner".

Ms Gibson said: "I have found this period extremely traumatic but I am pleased that my reputation has been restored and now wish to draw a line under this matter and look to the future".
Patrick Grady apologised after a report said he should be suspended from Parliament for two days for breaching policies.