Blair Paul qualified as a paramedic in the first six months of the Covid pandemic which means he has seen things that he would not have ordinarily seen.
The 28-year-old says the workload is relentless and the "new normal" means he is seeing younger, sicker patients and people who should be in GP surgeries rather than ambulances.

Despite being in high demand, Blair's job also involves a surprising amount of waiting.

He sometimes spends hours of his day parked outside hospital emergency departments waiting for space to become free so he can hand over his patient.

"Regardless of how difficult the job is, I like coming to my work," he says as he sits in the back of his empty ambulance outside Edinburgh Royal Infirmary's A&E.

It is a momentary place of sanctuary amid the bustle you would expect at the doors of one of Scotland's busiest emergency departments.

"I just worry about the people who are waiting hours and hours for ambulances," he says.

"It could be nine, 10 hours before they get an ambulance and actually these are the sickest people because, when you get there, what was a low-acuity call is now actually quite serious.

"These are the people that ultimately end up in resuscitation because they're the most sick because of waiting so long for an ambulance."

Blair says he worries about the fallout from people not having proper access to medical assistance for two years because of the Covid pandemic.

"I've been to a few people lately who have been diagnosed with stage four cancer and they are younger, in their 40s and 50s," he says.

"I have been to a female who had tumours in her chest that she brushed off and as soon as I saw her, I knew she was not in a good way."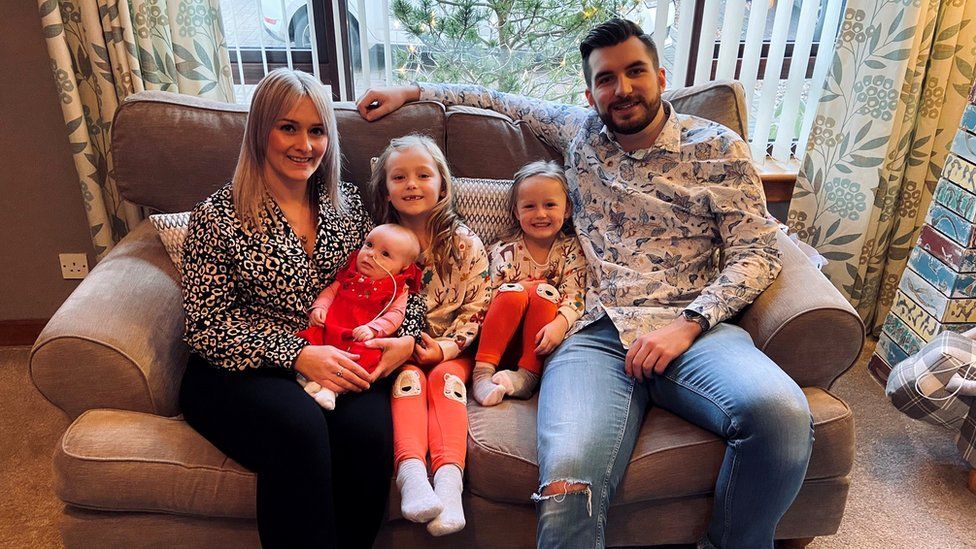 Blair with his step-daughters, partner Kayleigh and baby Erin

Six months ago Blair's partner Kayleigh, an A&E nurse, gave birth to their baby Erin.

She was born with heart complications and spent three months in paediatric intensive care.

"My daughter is amazing but we've had some challenges and we didn't know in the first two days if she'd actually survive," Blair says.

"They continue to treat her for pretty horrible things that she has going on, but we're getting somewhere. We're okay and she's home and she's doing good."

Blair says he strives to be a role model for Erin and his step-daughters and thinks that spending so much time in hospital with his daughter means he's "a better paramedic for it".

But it doesn't make his job any easier.

"I think dealing with people's families is the hardest thing, to be honest," he says.

"Some situations are heart-breaking because sometimes we know that it's kind of futile and they're not going to survive.

"I've always found it difficult to deal with sick children but I think even now, being a dad whose had a kid in intensive care, it still terrifies me. It's horrible."

Blair remains upbeat as he talks about his job despite the strains, both at home and at work, in the last two years and says that is because it can be so rewarding.

He says: "I do love my job.

"We get some good times and unfortunately some bad things with some patients. But if I can walk away at the end of my shift and feel like I know someone's life is better because I've intervened, then I go home happy.

"I recently attended a job with a woman who had a heart attack and I didn't think she would survive, but last week she was in the station bringing me some biscuits and it was really nice to know she is going about her daily life because I intervened and helped her in that situation."

The Scottish Ambulance Service recruited a record number of frontline A&E staff last year in a bid to cope with the pressures of the pandemic.

It came after the Scottish government gave the service £20m in extra funding.
Dealing with sick children "terrifies" paramedic Blair Paul