Plans to lift Covid restrictions in England should not "force the hand" of the Scottish government to change its own virus strategy, Humza Yousaf says.
Prime Minister Boris Johnson has said self-isolation could end south of the border this month.

But Scotland's health secretary warned that the public health advice recommended a more cautious approach.

It comes after one expert said removing the five-day quarantine rules now would be a "step too far".

Mr Yousaf told BBC Scotland's The Sunday Show that the country was on an "absolutely improving journey".

But he said: "The UK government has every right to make decisions for people in England but what they can't do, and shouldn't do, is then force our hand when it comes to our response to Omicron."

The health secretary also said that if Mr Johnson intended to withdraw the offer of free Covid tests at the end of this month then the Scottish government may have to respond "in a way that we don't want to at this time."

Mr Yousaf said such a move would involved setting up a procurement model for the tests, which are currently sourced on a four-nations basis, and finding a new way for paying for the kits.

And he again emphasised that decisions in England should not put pressure on the devolved administrations in Edinburgh, Cardiff and Belfast to follow suit.

Mr Yousaf added: "If we want to respond in a slightly more cautious manner then don't pull the rug from underneath our feet."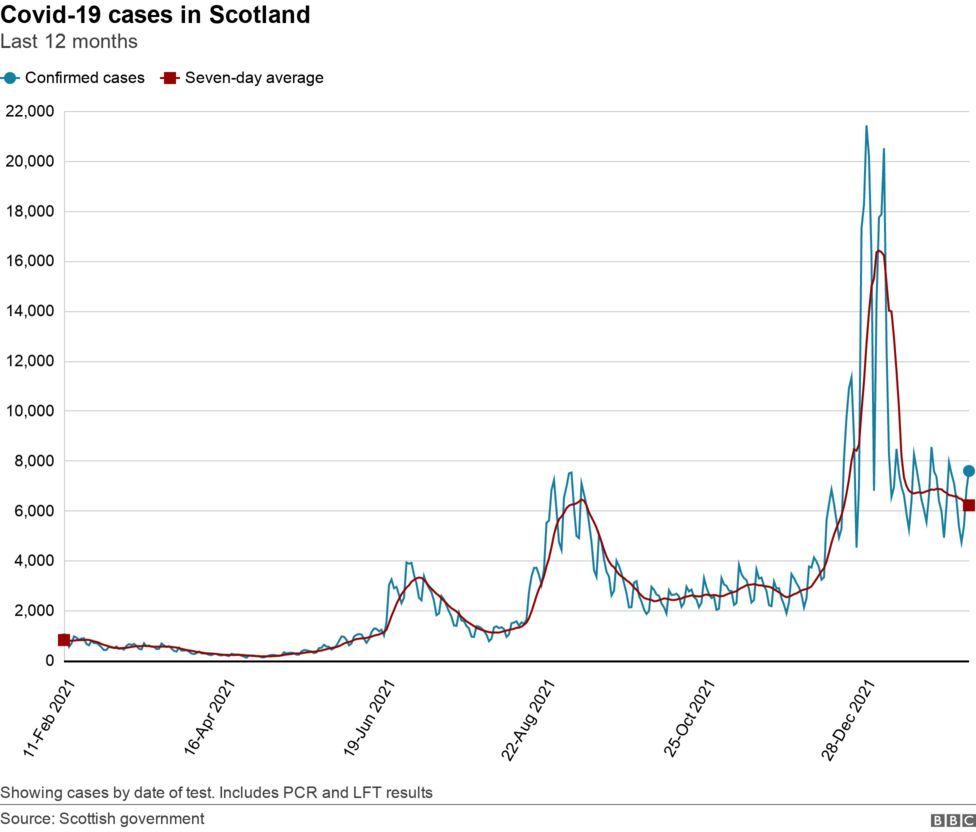 The health secretary credited Scotland's progress over the last 12 months to the success of the vaccination rollout and the less severe Omicron variant.

But he said: "We always have to follow that public health advice.

"Where we look to ease restrictions, and we will continue to do that, no doubt, in a cautious manner, it is really important to evidence the sound science behind it.

"My concern with the prime minister's announcement is that we haven't seen the public health advice, and we have been asking for it, and I haven't seen, for example, the UK government's CMO (chief medical officer) since that announcement."

Given the case numbers in Scotland at the moment he said it would be "too early" to follow England and lift the self-isolation rules at the end of the month.

He added: "We have got thousands of cases of Omicron at the moment. Do we really think it would be wise for somebody who is positive with Covid and is a social care worker to go and work in a care home?"

The health secretary said the Scottish government would outline its new strategic framework for dealing with Covid on 22 February.

Record test numbers

He also told the programme "automatic triggers" for easing restrictions do not work in practice.

To highlight this, he said that if Omicron had been as severe as Delta then Scotland would have been in lockdown following record-breaking case numbers over the festive period.

First Minister Nicola Sturgeon has been critical of Mr Johnson's approach and last week moved to extend the powers which underpin face covering and vaccine passport rules for another six months, although though there is no suggestion they will remain in place for this long.

On the provision of testing, a UK government spokesman said: "Everyone can continue to get free tests and we are continuing to encourage people to use rapid tests when they need them. Record numbers of tests are being delivered to pharmacies, homes and those who need them."We have built up a huge testing capacity, with over 450 million tests now completed and around two billion LFD tests distributed across the UK."Testing continues to play an important role in helping people live their day to day lives, keep businesses running and keep young people in school."

'Super alert'

Meanwhile, a panel of experts also appeared on The Sunday Show to reflect on the current state of the pandemic.

Prof Sian Griffiths, who helped lead Hong Kong's investigation into Sars, said she would be more comfortable with a "slow pace rather than an immediate release" of restrictions in the UK.

Infections expert Dr Christine Tait-Burkard told the programme she believed we are "on the way out of it being a severely consequential disease".

And Prof Linda Bauld, of the University of Edinburgh, said while "huge progress" had been made in recent months there was still a need for caution.

She added: "Despite the difference between the four nations we are all moving to a place where, of course, we will have a more open society but we have to be super alert to further waves and new variants on the horizon."
Humza Yousaf says scrapping Covid measures in England should not force Scotland on how it tackles the virus