City residents, most of them middle-aged or elderly, visited a national security exhibit at Edinburgh Place, and a booth in Statue Square where a mosaic was being made of photos of participants.
Undeterred by a drizzle on Thursday afternoon, dozens of Hong Kong residents – most of them middle-aged or elderly – visited a booth at Statue Square in Central to commemorate National Security Education Day, the city's first since the imposition of Beijing's legislation on the subject last June.

Started in 2016, the day was previously marked only by officials' speeches, but this year, with the government taking over as organiser for the first time, a series of events were staged across the city for politicians, pupils and the general public alike.

At Statue Square, in the shadow of the headquarters of banking giant HSBC, a large white-and-purple board printed with a tight grid was set up – with similar installations found in Tsim Sha Tsui and Sha Tin – as part of a participatory activity to mark the occasion.

Designed as a sort of jigsaw puzzle, each of the boards aimed to collect photos of around 2,000 residents and arrange them together to form a mosaic showing Victoria Harbour and the slogan "Uphold national security, safeguard our home".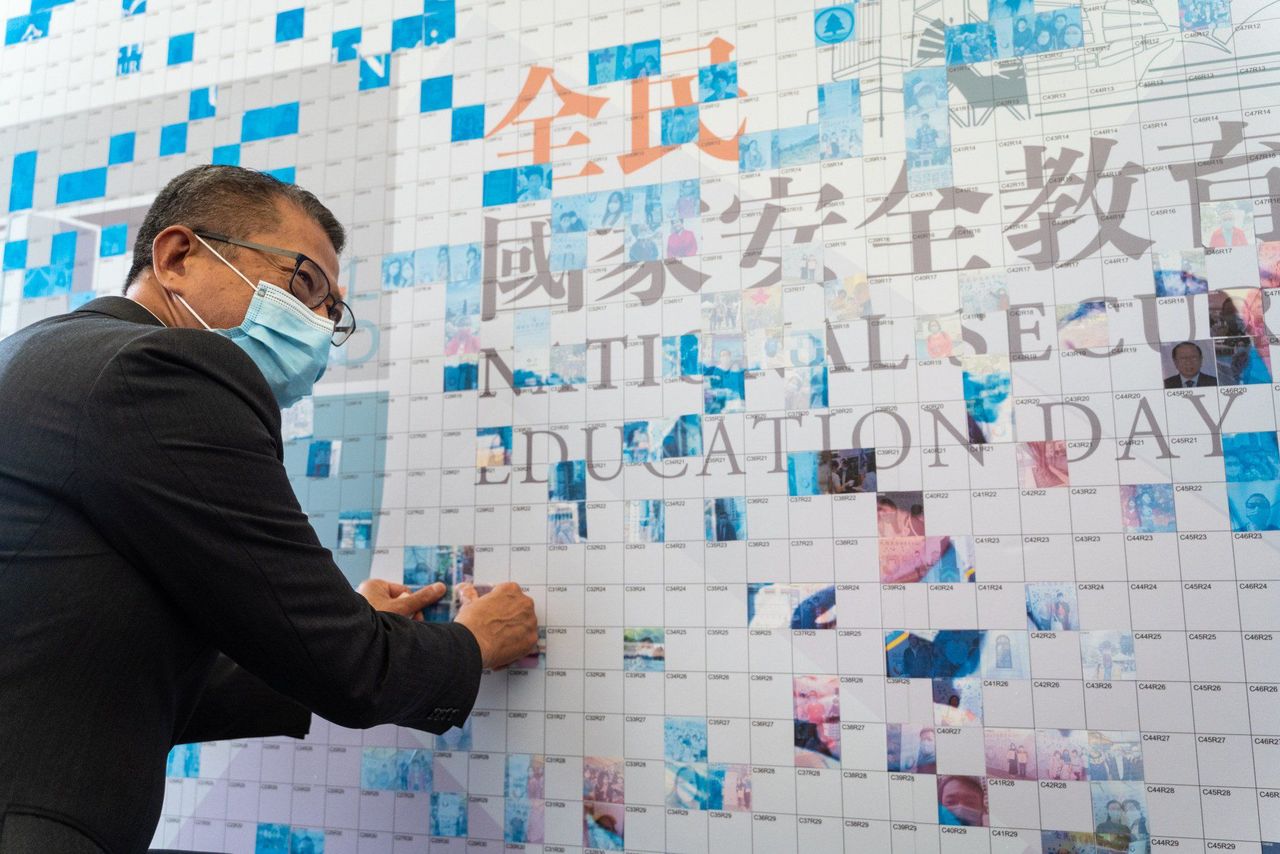 Finance secretary Paul Chan adds his photo to a mosaic of Hongkongers at an event marking National Security Education Day on Thursday.

Around a dozen people, most of them grey-haired, arrived at about 3pm and queued in front of the board to show support, they said, for the city's return to stability after the social and political conflict of recent years.

"I think this is really meaningful," said Michelle Lau, a 58-year-old retiree, after getting her photo taken and added to the mosaic. "I read in the news that there was such an activity here in Central, and today was the only day, so I thought I had to come support it, even though it's raining. Every country needs national security."

The progress of mosaic, however, appeared to be slower than expected. As of 4pm, two hours before the event was set to end, less than a third of the spaces were filled.

Mandy Poon, a 58-year-old community worker, said it was a pity that the activity was just for one day.

"Why is this only held on a workday? It should give Hong Kong people more opportunities to come and learn about national security," she said.

Many attendees were older residents visiting with their associations of townsmen, clubs for Hong Kong residents who share the same ancestral hometown or province in mainland China. During one half-hour stretch, people from at least four different associations came to add their faces to the mosaic, posing together afterwards holding their club's banner.

The Hong Kong Baoan Shiyan Clansmen Association, representing residents with connections to the Shiyan community in Boan, Shenzhen, was among them. After finishing up at the mosaic, the group of 20 moved over to a national security exhibit being held at City Gallery at Edinburgh Place – another highlight of this year's educational efforts.

"We came to the exhibition only to show our support, as we've all learned about the national security concepts previously," said 60-year-old Henry Cheung, executive vice-president of the association.

"More importantly, we want to educate our next generation to know more about national security," Cheung said. "The pro-independence group is still very active, so we can't ignore the importance of education."

In addition to the ordinary residents, Financial Secretary Paul Chan Mo-po and Secretary for Security John Lee Ka-chiu also visited the booths to show their support.