Residents who test positive are being forced to wait in makeshift outdoor holding areas for up to 16 hours, nurses' association head says.
Hong Kong's public hospitals are being overwhelmed with asymptomatic coronavirus cases, with medical workers showing "signs of exhaustion" and some new patients waiting in outdoor holding areas for up to 16 hours before being admitted, union chiefs have warned.

Residents have also rushed to buy up rapid antigen test kits, with those receiving positive results flocking to hospitals rather than staying at home to await official instructions, adding even more pressure to the system.

Until recently, health authorities had insisted on admitting all asymptomatic cases to hospital to prevent them from spreading the virus in the community. Officials only announced on Monday that those with mild or no symptoms could be isolated in quarantine facilities instead.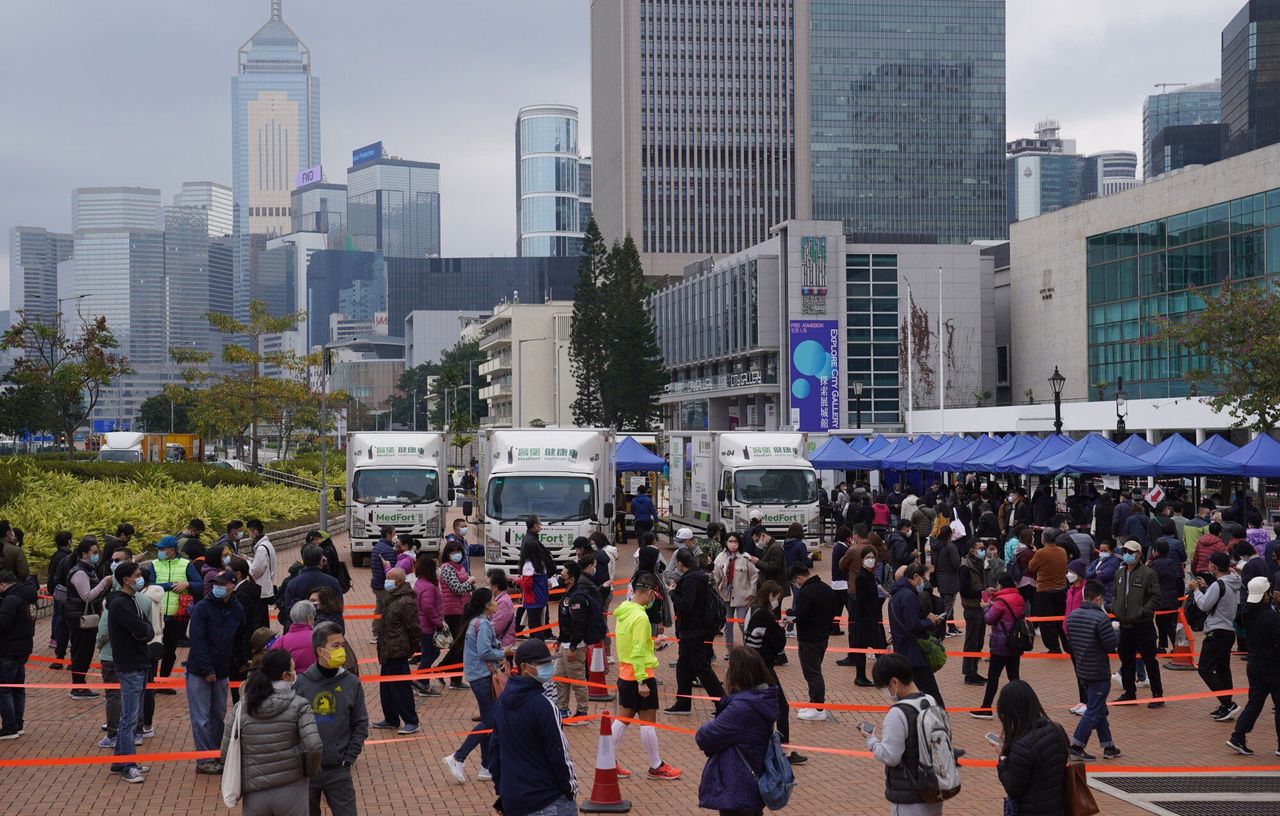 People line up to be tested at Edinburgh Place in Central on Sunday.

Dr Tony Ling Siu-chi, president of the Hong Kong Public Doctors' Association, said public hospitals were struggling with manpower shortages.

"Medical workers are showing signs of exhaustion," he told a radio programme on Tuesday. "We are dealing with our regular high workload in addition to the sudden surge of coronavirus cases, but with less staff."

As of Tuesday, hospitals were treating a total of 1,853 confirmed cases. One of the patients was listed as critical, two were in serious condition, while the rest were stable.

To better detect cases, authorities have distributed rapid test kits to cleaning workers and property management staff in areas where sewage samples tested positive for the coronavirus. They will also give a kit to every resident once new shipments arrive, but the rapid tests cannot replace the nucleic ones required for compulsory screening orders.

Residents who test positive with the kits have been instructed to stay at home and wait for instructions from health authorities, but some people are still going to hospital for help after finding out they are infected.

Ling said official communication with the public had been confusing and called on the Centre for Health Protection to set up a Covid-19 triage hotline so people would not rush to emergency rooms in the event of a positive result.

Ling added that he was concerned that non-emergency and endoscopic surgery in public hospitals would be slashed by as much as 50 per cent in the next two weeks due to the strain on resources.

As of Monday, 81 per cent of the isolation beds at government treatment facilities were occupied.

Anders Yuen Chi-man, chairman of the Association of Hong Kong Nursing Staff, raised concerns that asymptomatic patients had been made to wait in the cold at makeshift outdoor holding areas at hospitals for nearly a day.

Staff had taken about six hours to confirm patients' infection status with a rapid test and another 10 hours or so to admit them to a treatment facility.

Meanwhile, over-the-counter rapid antigen test kits have sold out in physical stores and online. Post reporters could not find any stock in several branches of Watsons, Mannings or Fortress in Causeway Bay, Tsim Sha Tsui and North Point on Tuesday, although some were available at a Sasa cosmetics store in Causeway Bay.

At Fu Tai Dispensary in North Point, 20 to 30 kits made by Boson were in stock at 2.30pm, selling at HK$168 (US$22) apiece. A 62-year-old housewife who did not want to be identified bought two kits and complained about the long lines at testing centers.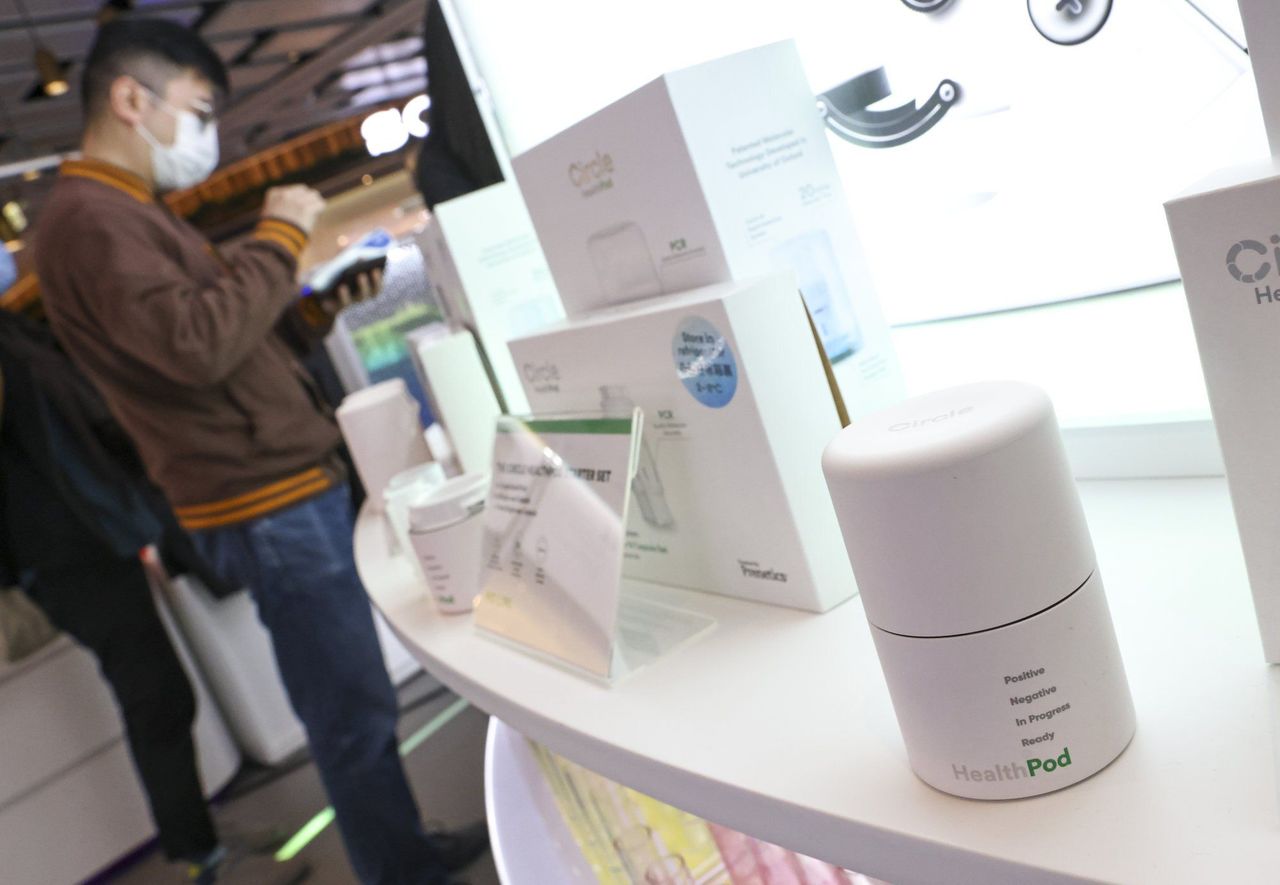 A Prenetics Circle HealthPod, an at-home polymerase chain reaction test, for sale at K11 Musea in Tsim Sha Tsui.

"I feel so sad for those people who have been lining up for more than five hours at the test centres, as there must be a higher risk of catching the virus in the crowd," she said.

She was buying the tests to help keep her family safe and admitted she had not been vaccinated due to suffering from hypertension.

"I am a housewife and seldom go out, so I think I have less chance to be infected, but I want to protect my family as well," she said.

According to sales staff at Mannings at Cityplaza in Taikoo Shing, the shop had sold out its supply of 100 kits on Monday and had ordered more. She suggested consumers queue up before the shop opened on Wednesday.

One of the options left is the Prenetics Circle HealthPod, which is an at-home polymerase chain reaction (PCR) test, retailing for HK$990 and which includes one single-use capsule and a pocket sized processing machine.