Travel plans of students overseas hoping to finally get home to Hong Kong thrown into disarray over decision to mothball the lifting of Covid-19 flight bans.
The travel plans of Hong Kong students stuck in Britain and desperate to return home have been plunged into disarray by officials deciding against lifting Covid-19 entry bans in favour of focusing on reopening the border with mainland China.

Some parents said their children felt abandoned by the Hong Kong government, with some stranded students complaining the abrupt policy U-turn, as revealed by government sources, had "messed up" their family reunion plans.

Representatives for foreign domestic helpers, meanwhile, urged the administration to exercise discretion and give special permission to allow the workers into the city, saying some were forced to live on their savings as they faced what they feared would be an endless wait to start their contracts.

Officials had been planning to ease the Covid-19 rules barring entry to Hong Kong from places deemed "extremely high risk" for city residents and people with work visas who were fully vaccinated.

Arrivals from eight such countries – including Indonesia, India, the Philippines and Britain – would have been allowed into the city under the relaxation, as well as unvaccinated students from Britain.

But sources said Chief Executive Carrie Lam Cheng Yuet-ngor told her top advisers on Tuesday that the easing slated to take effect this week had been put on hold and resuming quarantine-free travel between Hong Kong and the mainland would remain the top priority.

The proposal to ease the travel bans had been sharply opposed by legislators and health experts, for fear it could undermine the city's hard-fought success in controlling Covid-19.

Britain confirmed a total of 333,870 Covid-19 cases between July 15 and 21, about 36 per cent up from the previous seven days. On Tuesday alone, 44,104 infections were recorded.

Indonesia reported more than 38,000 new cases on Tuesday. The Philippines logged 6,500 infections on Wednesday, up from about 4,500 the previous day.

Education consultancies estimate there are about 20,000 Hong Kong students studying in Britain, and that some 70 per cent of them might choose to return home during the summer break.

May Tsang's 21-year-old son graduated from university in Hampshire in May but has been stranded by the flight ban.

"We parents understand the worries that Hongkongers have about the virus. But those of us with children overseas feel very frustrated, helpless and upset," she said.

Tsang originally booked a flight for her son to return this month, but was forced to delay it to August after the government's June announcement of the entry ban.

"I miss my son very much," said Tsang, who has not seen him for a year.

"The students might think that Hong Kong has given up on them, and that Hong Kong does not want them. But their home is in Hong Kong.

"When in fact there are many students who want to come back to find work in Hong Kong and contribute to the city."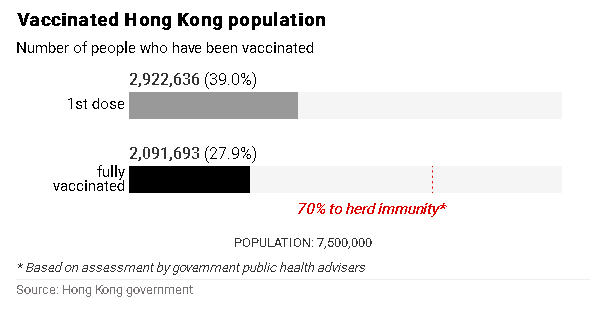 Kelly Tse, a 22 year-old health care student studying in Norwich said the mothballing of the government plan "worried her" because she had already booked her flight for next month and a hotel for quarantine.

"There are too many uncertainties. I'm very insecure about not knowing what should be the next step," she added.

If the flight ban was still in place on the day of her flight, the same day her accommodation term ended, Tse said she might have to travel to another part of Britain and stay at her friend's place.

Another student, Beth Chan, of Edinburgh, said she was now used to the regular changes in travel restrictions imposed by the Hong Kong government.

"They have already changed [entry restrictions] many times before. So, I am not surprised. You get people's hopes up … and then their plans are going to become all messed up," she said.

Another final year student, Tina Fan, who studied physiotherapy in Norwich, said she felt "a bit miserable and powerless".

"If the government further delays it, then summer holiday will be gone already, which doesn't meet their intention [to cancel the ban] in the first place," she said.

Meanwhile, Eman Villanueva, spokesman for the Asian Migrants' Co-ordinating Body, said many foreign domestic helpers were also disappointed by the U-turn.

"We cannot blame the Hong Kong government for the entry restrictions. We only blame the Indonesian and the Philippine governments for failing to contain the Covid-19 in their countries," he said.

"But we hope Hong Kong can be more considerate and understand the plight of many of the helpers waiting to come."

He cited the situation in the Philippines capital, where his group was in contact with a group of about 70 domestic helpers.

"They have been stranded in dormitories supplied by employment agencies in Manila for months. They are jobless and have no income and they can't afford to stay put much longer. They have been fully vaccinated and they were willing to undergo quarantine after arriving in Hong Kong."

Thomas Chan Tung-fung, chairman of the Hong Kong Union of Employment Agencies, also said: "The delay would help nobody.

"With decrease in supply, the wages for helpers will only go up and employers will have to pay more. And if the government thinks it should only ease border restrictions after a zero infection can be achieved, I can tell the officials that it will be mission impossible and that day will never come."

Betty Yung Ma Shan-yee, chairwoman of the Hong Kong Employers of Overseas Domestic Helpers Association, however said employers were not in a rush.

"Health is our topmost priority. No employer would like to hire an infected helper," Yung said.