The Duke of Sussex says life is in public service - but he left UK because his mental health was being destroyed
Prince Harry today insisted that he will "never walk away" from the royal family and he did "what any husband or father would do" by emigrating to America.

In an extraordinary interview, the Duke of Sussex said he had "stepped back not stepped away" because his mental health was being "destroyed" and maintained that his "life is public service".

In a wide-ranging chat with friend James Corden, Harry opened up about his relationship with Meghan, their son Archie, the Queen — and even rapped the theme tune to The Fresh Prince Of Bel-Air outside the mansion where it was filmed.

Describing his and Meghan's decision to leave the UK, he said: "It was never walking away. It was stepping back rather than stepping down.

"It was a really difficult environment, which I think a lot of people saw. So I did what any father or husband would do and thought 'how do I get my family out of here'.

"But we never walked away and as far as I'm concerned, whatever decisions are made on that side, I will never walk away, I will always be contributing."

His TV appearance came as the Queen gave a rare public statement encouraging all Britons to have the Covid-19 jab.

Other members of the royal family, including Prince Charles and Prince William, are expected to follow her lead over the coming days as part of efforts to increase the take up of the vaccine across all communities.

One senior source told the Standard there was a risk of "mixed messages" because of "a lack of co-ordination" with what other royals were doing.

Harry's interview was carried out before the Sussexes were stripped of their royal patronages, but the prince insisted he would continue to dedicate his life to helping others, saying: "My life is public service, so wherever I am in the world it is going to be the same thing."

During the interview — much of which was carried out on an open-top bus tour around Los Angeles — Corden video-called Meghan, who revealed that her nickname for the prince is "Haz."

In the 20-minute segment for Corden's The Late Late Show, Prince Harry also reveals how:

- His relationship with Meghan "went from zero to 60 in the first two months". He said dating for him or any member of the royal family is "flipped upside down", telling Corden that early dates take place at home and only when they are a couple do they venture out in public.

- A typical night in for them includes Meghan cooking or "getting a takeaway" before they relax watching Netflix and game show Jeopardy!

- Son Archie's first word was "crocodile."

- The Queen bought Archie a waffle maker for Christmas, which they use most days.

- They stay in touch with the Queen and the Duke of Edinburgh on Zoom.

Harry also defended Netflix drama The Crown, which has been criticised for inaccurately portraying historic events in the Royal Family.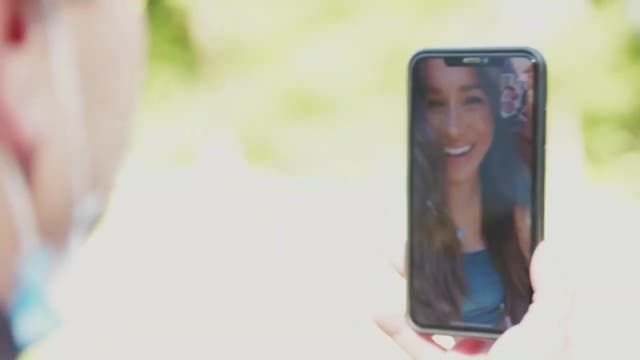 Meghan appeared via video call
He said: "It's loosely based on the truth. Of course it's not strictly accurate but it loosely gives you an idea of that lifestyle and the pressures of putting duty and service above everything else and what can come from that. I am way more comfortable with The Crown than I am seeing the stories written about my family, or my wife or myself," he added.
Harry joked that he would want Homeland star Damian Lewis to play him in the show.

The segment opened with Corden telling the duke to pay the fare before jumping on the bus. Harry quipped: "You know us royals — we don't carry cash."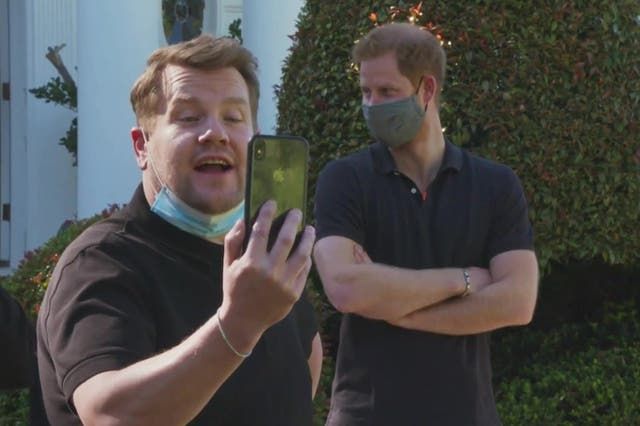 Harry opened up about his family life

The prince also had tea served to him on board before taking part in an army-style assault course.

Corden also tried to convince him to buy the sprawling Prince of Bel Air mansion before the duke went inside to use the bathroom.

The pair then video-called Meghan, who, in response to Corden's suggestion they buy the house, joked: "I think we've done enough moving."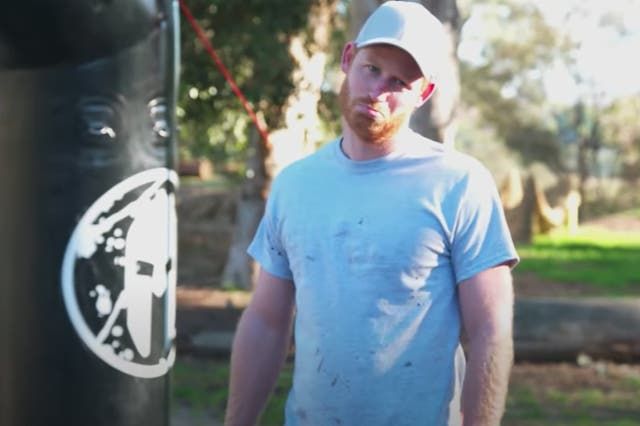 Prince Harry rapped the Fresh Prince theme
Harry, 36, and Meghan, 39, announced they would be stepping back as senior royals in March last year and would become financially independent.

The couple, who are expecting their second child, now live in Montecito, California. Archie turns two in May.

When asked by Corden what life would be like for the couple post-pandemic, Harry replied: "I have no idea. A slightly different version, but a continuation of what we were doing back in the UK.

"My life is always going to be about public service, and Meghan has signed up to that and both of us enjoy doing it."

The prince said the couple wanted to continue "trying to bring some compassion, and make people happy and try and change the world in any small way we can".

Harry and Meghan will appear in a US primetime TV interview with Oprah Winfrey, which is set to be broadcast on March 7.

The couple are expected to discuss their life in America.