The Scottish government has admitted it does not have the capital funding it needs to meet its public commitments to major infrastructure projects.
Spending on infrastructure such as roads faces delay or cancellation under plans currently being drawn up.

Funding for major projects running to the end of the decade is no longer being confirmed.

The shortfall in funds was set out in a "targeted capital review" that was published last week.

It was published at the same time as a much wider "resources review", which saw a "reset" of day-to-day spending and real-terms cuts for a wide range of public services.

The capital review was lower key and unclear about the implications. Finance Secretary Kate Forbes stated: "It will not be possible to meet all of our commitments within the funding available."

The Scottish government capital spending review document puts some of the blame for the changes on allocations of capital funds by the Treasury in its spending review published last autumn. These are 5% lower than the Scottish government expected.

The St Andrew's House review says the allocation of capital funds by the Treasury "places significant additional pressure on our capital programme and will curtail efforts to reduce emissions and adapt to the changing climate".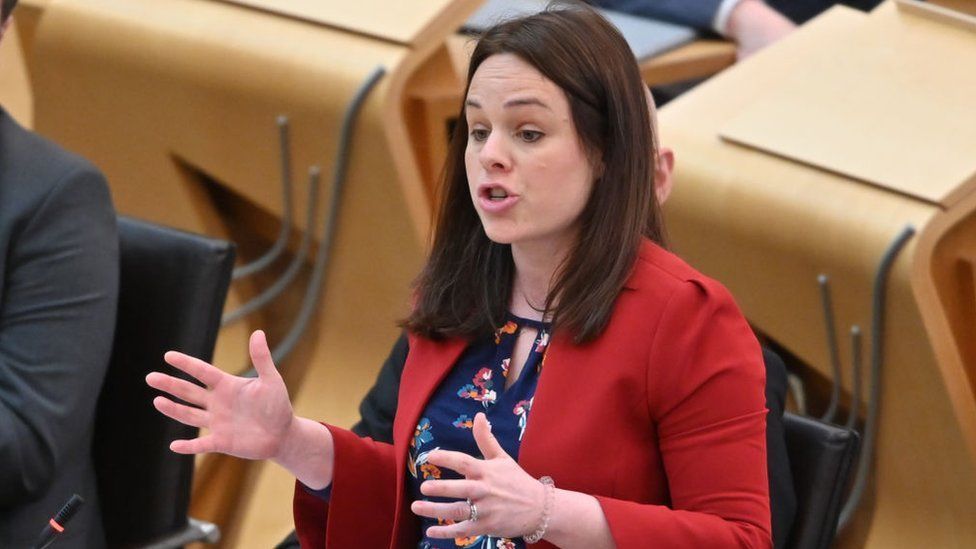 Finance Secretary Kate Forbes set out plans for real-terms cuts to many public services

More significant problems are arising from the inflation of costs and supply chain disruption to construction projects, which the finance secretary blames on Brexit, energy inflation and war in Ukraine.

The Office for National Statistics estimates inflation on new construction projects is running at 8%, and on housing at nearly 11%.

The document states: "The challenging external market conditions of inflation and supply chain impacts are already causing delays and placing pressure on budgets associated with certain projects.

"Reflecting this, as well as the challenging fiscal position, within this targeted review of the 2021 Capital Spending Review, there are a number of areas where the funding profile has had to be slowed down - such as road improvement programmes."

That could have an impact on upgrading of the A9 between Inverness and Perth, the A96 between Aberdeen and Inverness, and the A75 linking Dumfries with Stranraer.

A Scottish government spokesman said it was "firmly committed" to completing the dualling the A9.

He added that a review of the A96 corridor programme would report by the end of the year.

The spokesman said: "The Scottish government remains committed to improving road transport infrastructure throughout Scotland to improve road safety and bring economic benefits to users and local communities alike.

"We will continue to progress key road infrastructure commitments as set out in the original Capital Spending Review, with all spending as set out in the Scottish Budget 2022-23 confirmed. The Capital Spending Review differs from a detailed annual budget, project and programme level commitments will be outlined during the annual Budget process."