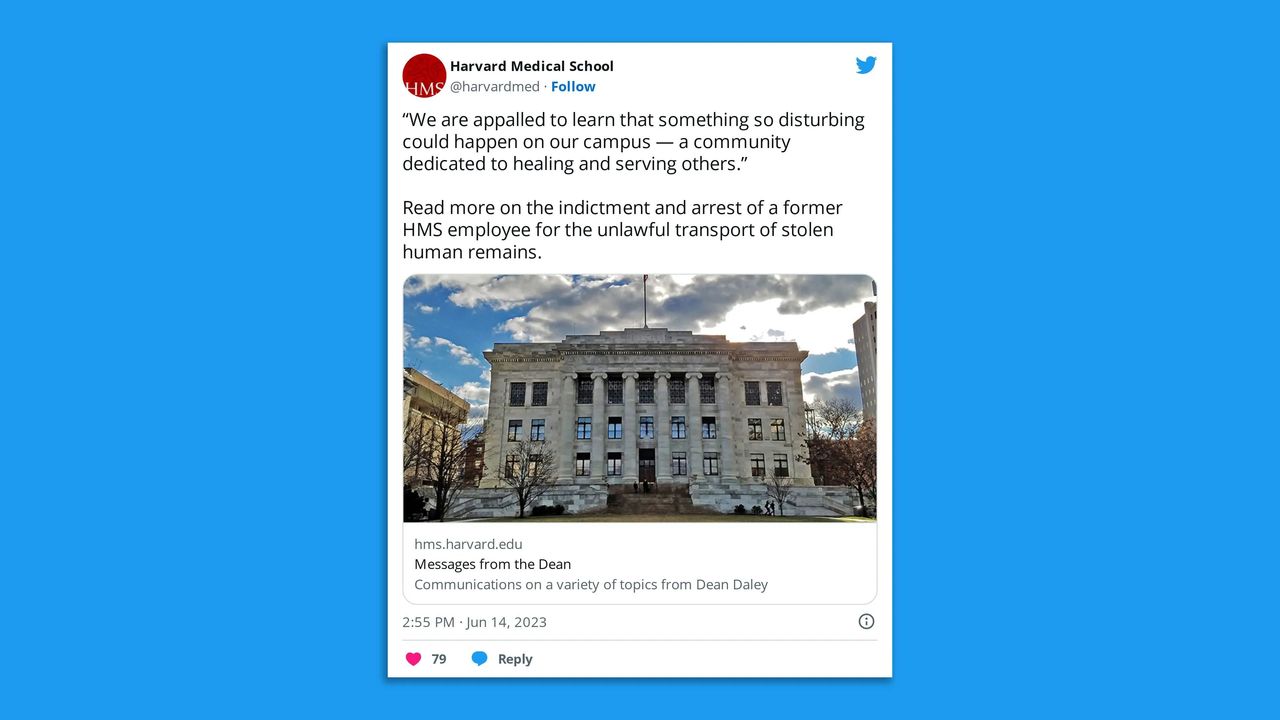 Former Harvard Medical School Morgue Manager Accused of Selling Donated Body Parts
A nationwide scheme implicates ex-employee and accomplices in a shocking case of stolen human remains
In a startling revelation, a former morgue manager at Harvard Medical School has been accused of pilfering and selling body parts donated to the institution for medical research and education purposes. The alleged scheme, which spanned from 2018 to 2022, has led to federal charges against the ex-employee and several others involved.

Cedric Lodge, 55, and his wife, Denise Lodge, 63, residents of Goffstown, New Hampshire, were indicted alongside other co-conspirators by a federal jury in Pennsylvania. They now face charges of conspiracy and interstate transport of stolen goods, with the Justice Department confirming that Harvard Medical School was a victim in this case.

As the former manager of the anatomical gifts program at Harvard Medical School in Boston, Massachusetts, Lodge stands accused of appropriating organs and body parts that were meant for scheduled cremations. According to the U.S. Attorney's Office in the Middle District of Pennsylvania, Lodge would allegedly transport the stolen remains to his home and subsequently sell them to Katrina Maclean, 44, of Salem, Massachusetts, and Joshua Taylor, 46, of West Lawn, Pennsylvania. These illicit transactions were reportedly coordinated through cellphones and social media platforms.

Another defendant, Jeremy Pauley, 41, from Bloomsburg, Pennsylvania, faces separate charges in connection to the case. Candace Chapman Scott, 36, of Little Rock, Arkansas, was previously indicted in the Eastern District of Arkansas for her involvement. Scott, who pleaded not guilty in April, is accused of stealing human remains from her employer, a Little Rock mortuary and crematorium, and selling them to Pauley. Maclean and Taylor are alleged to have profited from reselling the stolen remains, including to Pauley.

Prosecutors have revealed disturbing details of the case, stating that Scott "stole parts of cadavers she was supposed to have cremated," including the remains of two stillborn babies, which were intended to be returned as cremains to their families. Scott and Pauley are accused of engaging in a prolonged exchange of stolen human remains, with over $100,000 exchanged through online payments.

Harvard Medical School officials expressed profound dismay and condemned the alleged actions, describing them as an "abhorrent betrayal" and "morally reprehensible." U.S. Attorney Gerard Karam of the Middle District of Pennsylvania emphasized the gravity of the crimes, stating that the theft and trafficking of human remains struck at the core of humanity.

While the defendants were unavailable for immediate comment, George Morledge, Scott's lawyer, urged caution before drawing conclusions, emphasizing the need for the legal process to unfold. As the investigation continues, the shocking nature of the accusations has sent shockwaves throughout the medical and legal communities, raising important questions about the protection and ethical handling of human remains.