Restrictions on large outdoor events in Scotland, including football matches and concerts, are to be lifted from next Monday
The move will allow fans to return to stadiums when the Scottish Premiership's winter break ends.

It will also avoid Scotland's Six Nations rugby matches having to be played behind closed doors at Murrayfield next month.

A limit of 500 people at outdoor events has been in place since Boxing Day.

Premiership football teams started their winter break early after the crowd limit was imposed, with many fans believing the sport was unfairly singled out by the restrictions.

Large Hogmanay events, including the famous street party in Edinburgh, were also cancelled.

First Minister Nicola Sturgeon told the Scottish Parliament that the limit of 500 people would be removed from Monday 17 January - which will allow Celtic's match with Hibernian on that day to be played before a full crowd at Celtic Park.

Event organisers will now have to check the vaccine certification of at least 50% of attendees, rather than the current 20%, or at least 1,000 people - whichever figure is higher.

From Monday, the definition of "fully vaccinated" for the purpose of vaccine passports will include having a booster if the second dose was more than four months ago.

And the government will also continue to consider whether the vaccine passport scheme should be extended to more venues.

Restrictions on indoor events and venues will remain in place until at least 24 January, when Ms Sturgeon said she hoped to be able to lift them too.

The Scottish Licensed Traders Association said the industry had been left in limbo by the first minister's statement, and warned that any extension of the vaccine passport scheme would have a "major negative impact" on businesses.

People will also still be required to wear face coverings in indoor public places, to work from home when possible, and to only meet indoors in groups of up to three households.

The measures were imposed by the Scottish government in an attempt to slow the spread of the Omicron variant, with the first minister saying there were now signs that the country was "starting to turn the corner" after a huge spike in cases.

Limits of 100 people were placed on indoor standing events or 200 if they were seated, while nightclubs had to close and pubs and restaurants had to bring back table service for alcohol and a one-metre distance between different groups of people.

But the latest Scottish government Covid report showed that average daily cases in Scotland (2,824 per one million population in the week to 6 January) were higher than in England (2,615 per one million), which has fewer Covid restrictions.


This is clearly the news that major sporting bodies and fans were hoping for. There were genuine fears, from within football at least, that the first minister would push the date back once again.

It now appears that the increase in Covid passport checks outside stadia has allowed her to throw the doors back open but with a sense of continued caution.

The Scottish government says the decision is based purely on the science, but there's no doubt that the move is timely, from a political perspective.

With the Six Nations fast approaching, could the first minister really have watched on if Scotland's home game's had been moved south for the sake of attendance? It was certainly being discussed.

As talk now turns to how we learn to live with Covid, this latest sporting sigh of relief will be accompanied by the hope that fans are be back for good.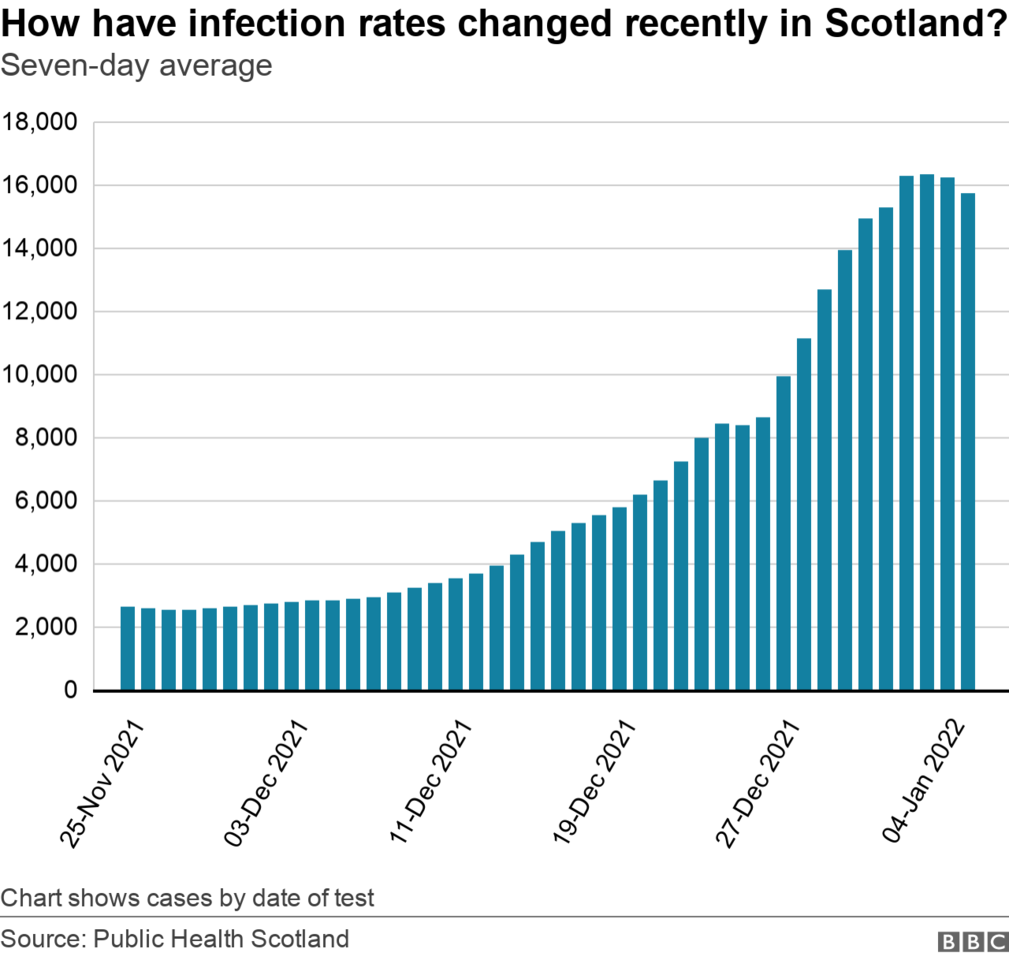 Some business leaders say said that the tougher coronavirus rules have failed to make a "meaningful difference" to infection levels and were causing "enormous damage" to some sectors.

And pressure has been growing on the first minister to set out how Scotland can begin to "live safely" with Covid and loosen restrictions.

Ms Sturgeon insisted that the restrictions had "helped to mitigate to some extent the impact of the Omicron wave", with positive cases estimated to be about 30,000 a day in early January rather than the initial projection of 50,000 per day .

She added: "It is very likely that the situation we face now, though serious, would have been even more challenging without the renewed sacrifices made by people across the country over these last few weeks."

The first minister also told MSPs that a revised framework for dealing with the virus will be released in the coming weeks, following input from parliament and business organisations.

In a marked change of language to earlier stages of the pandemic, the first minister said this would set out how the country might be able to live with the virus without the need for restrictive measures "that we are all tired of and which do harm in other ways".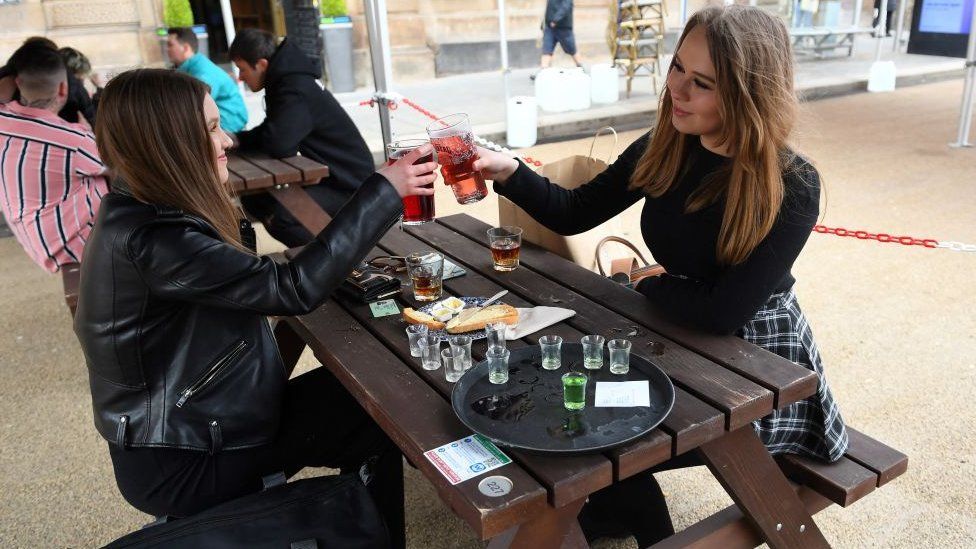 Pubs had to reintroduce table service and ensure distancing between groups of customers as part of measures aimed at slowing the spread of Omicron

Scottish Conservative leader Douglas Ross said it was "disappointing" that restrictions such as the vaccine passport scheme were continuing despite Scotland being in a "far more positive position than the government were expecting".

He said: "The outlook is much better now not because of government restrictions, but because of people's good sense. The people of Scotland got this right, not the government."

Meanwhile Labour's Anas Sarwar said that "a new phase of the pandemic must mean a new approach".

He added: "People can no longer live their lives waiting to hear on an ad hoc basis what the rules will be day by day.

"Businesses and workers cannot plan for the future properly if they cannot predict the government's response."
'Corner being turned' in Covid battle