The Met Office has extended an extreme heat weather warning for England and Wales until Tuesday, with temperatures expected to build across the UK.
That means there could be a danger to life or potential serious illness from the scorching heat.

The amber alert will run from Saturday until Tuesday - temperatures are expected to peak on Tuesday, with highs of 36C (96.8F) forecast.

On Wednesday the top temperatures have been in south and south-east England.

By late afternoon Gosport Fleetlands, Hampshire, recorded 30.1C - the highest temperature of the day so far, according to the Met Office.

In Frittenden, Kent, temperatures rose to 29.8C, and in Wiggonholt, West Sussex, it climbed to 29.4C. In London's St James's Park they hit 29C.

The heatwave is due to high pressure and hot air flowing to the UK from southern Europe, where temperatures in Madrid climbed to 39C.

After slightly lower temperatures in the UK for the next couple of days, the heat is set to build over the weekend, with temperatures in the high 20s and reaching 30C in some areas on Sunday.

The Met Office predicts maximum temperatures could be in excess of 35C in central and south-east England, by Monday.

Next week's amber warning covers most of England, going as far north as Darlington and to Plymouth in the south-west, and parts of Wales - although Scotland, Northern Ireland and parts of Cornwall and the north are excluded.

The Met Office said there could be "widespread impacts on people and infrastructure", with the possibility of road closures and cancellations or delays to rail and air travel.

The latest warning comes after temperatures exceeded 30C in parts of the country on Tuesday.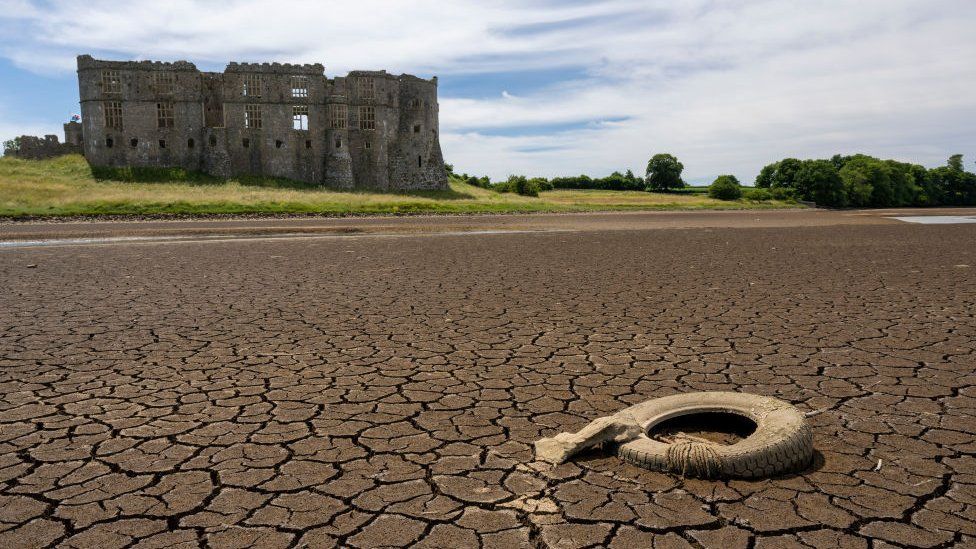 This is the scene at Carew Castle in Pembrokeshire, Wales, where parts of the River Carew have dried up

Wednesday has seen temperatures drop slightly but the weather remains warm and sunny in much of the country.

The UK Health Security Agency has also issued Level 3 heat-health alerts across the south and east of England, the Midlands and London - which are in place until Friday morning.

Further Level 3 alerts have been issued across all of England from Saturday until Tuesday.

These require health and social care workers to pay particular attention to high-risk groups of people such as the elderly and vulnerable.

Ambulance services are already on the highest level of alert as difficulties with the hot weather combine with Covid-19 absences among staff.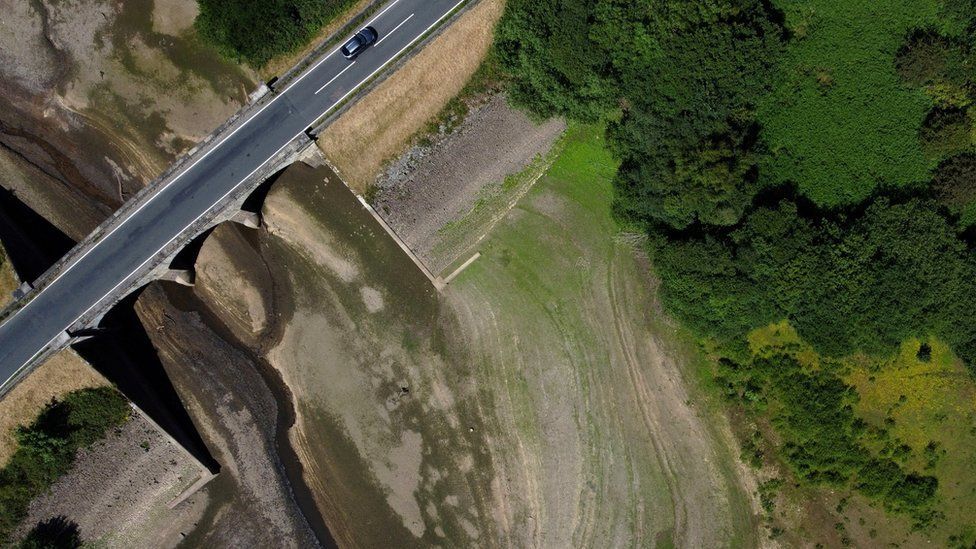 A parched-looking Linley Wood reservoir in Otley, West Yorkshire

London Ambulance Service wants people to only call 999 if there is a life-threatening emergency, and advises people to keep hydrated and stay out of the sun during the hottest times of the day.

London Mayor Sadiq Khan has triggered a severe weather emergency response to support the city's rough sleepers and wants borough leaders to check on vulnerable people.

Labour's shadow health secretary Wes Streeting asked in the Commons about what contingency plans were in place and what the consequences of a national heat wave emergency would be for public services.

Health minister Maria Caulfield replied: "There is significant pressure on the system. As well as that, we will also have to be mindful of the weather in the coming days.

"We do have a heatwave plan for England which was published earlier this year... and we also have the hot weather plan... NHS trusts have also put in place."

In other heatwave news the UK: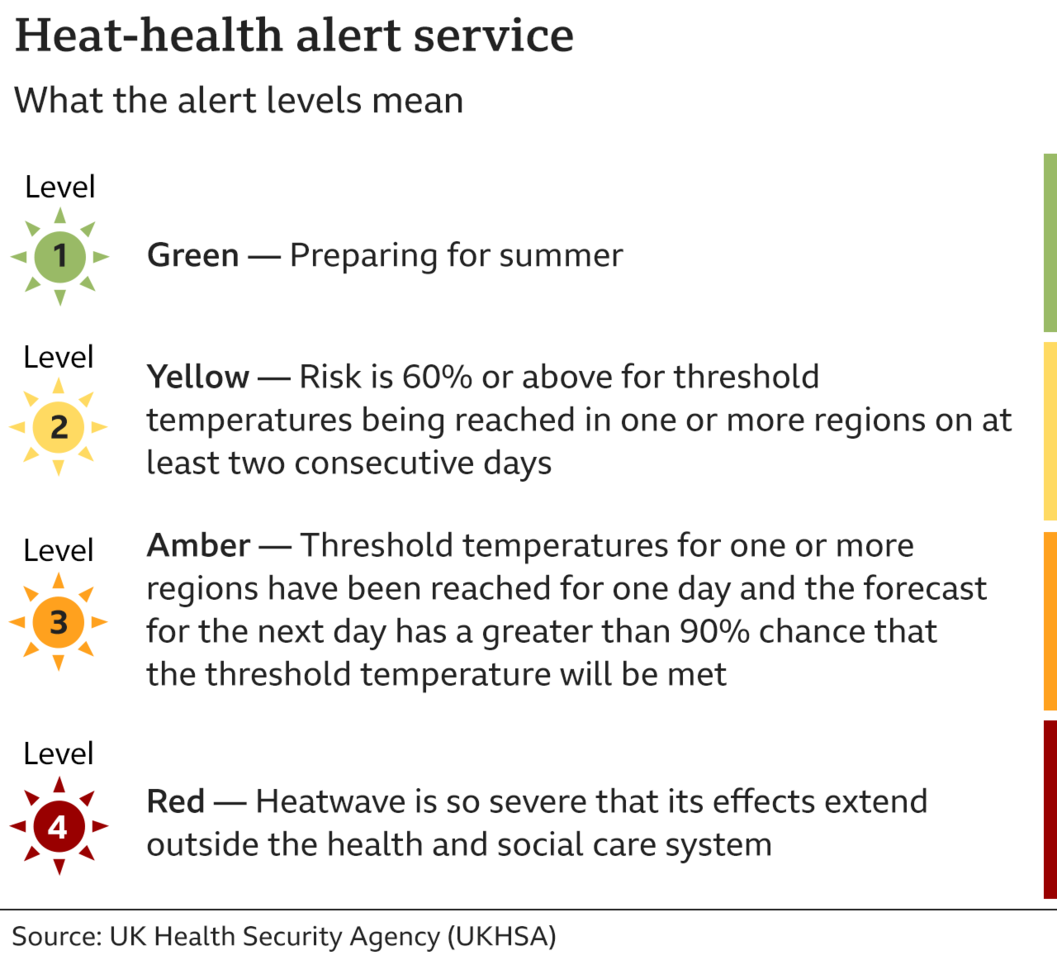 The TUC wants employers to keep workplaces cool, relax dress codes and allow flexible working to make use of the coolest hours of the day.

It said bosses still have a duty of care to employees work at home, adding: "If you need to cool yourself down at home, it's your employer that should paying for you to get a desk fan for example."

Forecasters predict that the UK could face its hottest day ever next week, with the current record set in July 2019 when 38.7C was recorded at Cambridge Botanic Garden.

Heatwaves are becoming more likely and more extreme because of climate change.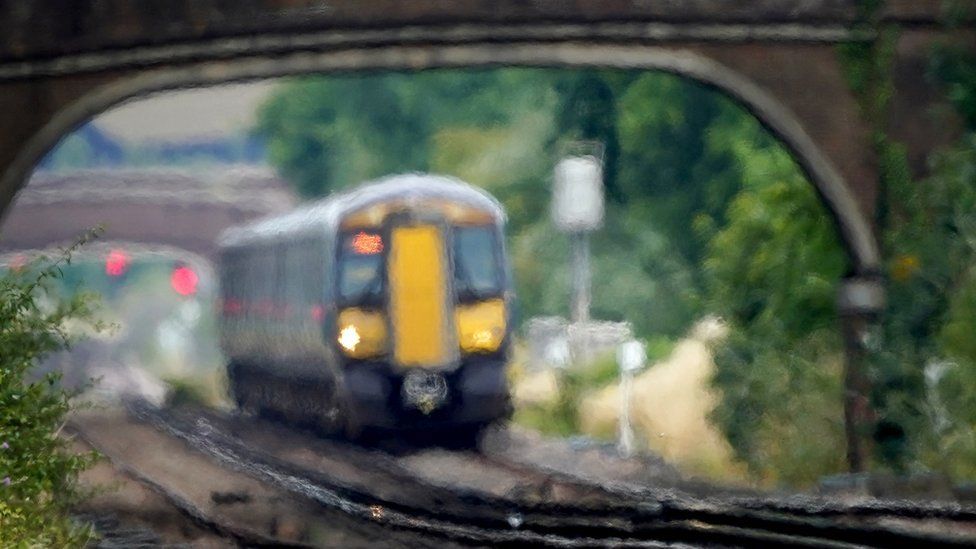 A train passes under a bridge amid a heat haze during the hot weather on Tuesday

The world has already warmed by about 1.1C since the latter half of the 18th century, and experts predict that temperatures will keep rising unless governments make steep cuts to emissions.

University of Bristol climate scientist Dr Eunice Lo told the BBC: "The more greenhouses gases we put into the atmosphere, the warmer the climate is going to get. And that makes high temperatures like this more likely to happen.

In England, there were 2,500 excess deaths in the summer of 2020 due to hot weather, and the Red Cross predicts that heat-related deaths in the UK could treble in 30 years.

Extreme heat and drought are fuelling wildfires in Portugal and Spain - temperatures in parts of Spain are forecast to hit 44C (111F).

In France, hundreds of firefighters supported by six water-bomber aircraft have battled to control two wildfires in the Bordeaux region - the one in the Aracachon Bay area saw 6,000 people evacuated from five campsites.

How to cope with the heat

Hot weather can strain the heart and lungs, with older people, those with pre-existing health conditions and young children particularly at risk.

It can cause dehydration, heat exhaustion or heatstroke, and affect the ability to concentrate.

People are being encouraged to try to keep their homes cool, drink plenty of fluids and stay out of the sun during the hottest periods.

The Royal Life Saving Society UK has warned people about the dangers of trying to cool off in lakes, quarries, rivers and other waterways.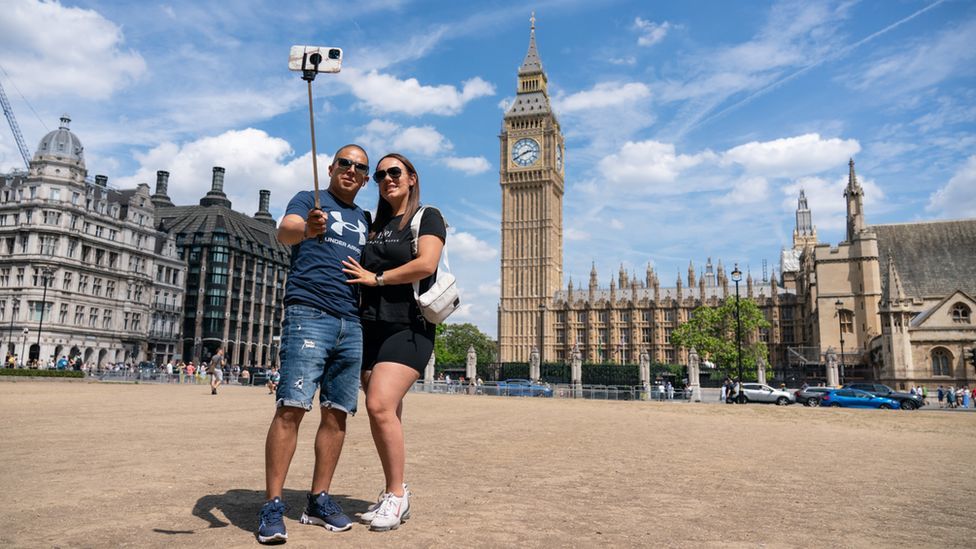 A man and woman pose for a selfie on dried-up grass in Parliament Square in Westminster

Animal charity Blue Cross wants people to look out for signs their pets are suffering heatstroke, which include collapsing, excessive panting, and dribbling.

People are advised to walk dogs during the cooler times of the day, provide shade for horses and smaller animals such as rabbits and to ensure they have a constant supply of cool water.