The Met Office amber warning for extreme heat has been extended to cover a larger part of Scotland.
The extreme heat was originally forecast to affect only parts of southern Scotland.

But now the Met Office has extended the amber warning to eastern areas.

This includes Fife, the Lothians and parts of Tayside, Perthshire and central Scotland. Temperatures are expected to hit 30C (86F) on Monday and Tuesday.

First minister Nicola Sturgeon has urged the public to "take care and follow sensible advice".

In a social media post, she advised people to "keep out of direct sun, stay well hydrated and look out for others who may be suffering from the heat."

A national emergency has been declared in the UK, with the first ever red extreme heat warning issued in England.

Temperatures could reach 41C (106F) in England next week, while the rest of the UK could also see new record highs.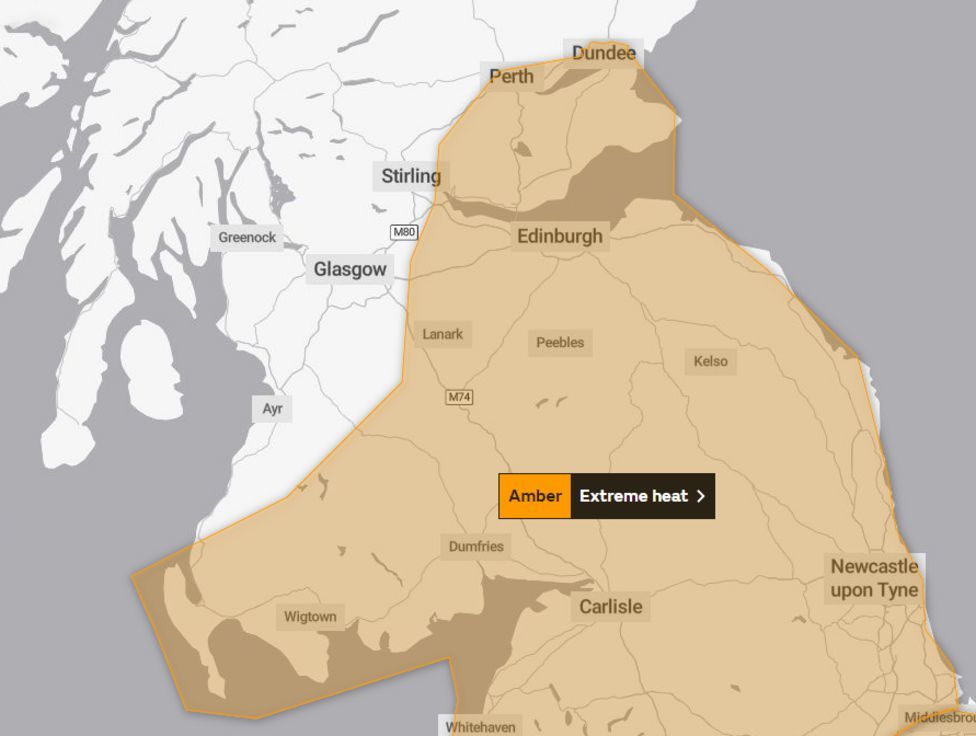 The highest temperature recorded in Scotland was 32.9C (91.2F) at Greycrook in the Borders in August 2003.

The Met Office warned that this figure could be topped this week.

Meteorologist Becky Mitchell told BBC Radio Scotland's Sunday Show: "It looks like we could potentially beat that, probably on Tuesday but temperatures will be hot on Monday as well.

"On Tuesday we could see temperatures that are potentially in the mid-30s."

The amber warning now affects the Scottish Borders, Dumfries and Galloway, East Lothian, West Lothian, Midlothian, Edinburgh, Fife, Dundee and parts of Perthshire, Falkirk, Ayrshire, Stirling, Clackmannanshire and Lanarkshire.

Threat to health

Dr Margaret Harris, of World Health Organisation, told BBC Scotland that people need to plan ahead.

She said: "We need to take this one very seriously, heatwaves are one of the most serious threats to human health, but it is often underappreciated how much of a natural disaster they can be.

"People at either end of the age span, either young or very old, cannot regulate their body temperature like those in the middle so they need to be looked after."

The heatwave is already causing travel disruption with LNER, which runs services between Scotland and England, cancelling all trains south of York on Tuesday.

Avanti West Coast said it would be running a much reduced service on Monday and Tuesday. Passengers are being asked to only travel if necessary.

Track operator Network Rail said the heat is expected to cause rails to expand and buckle or overhead lines to sag.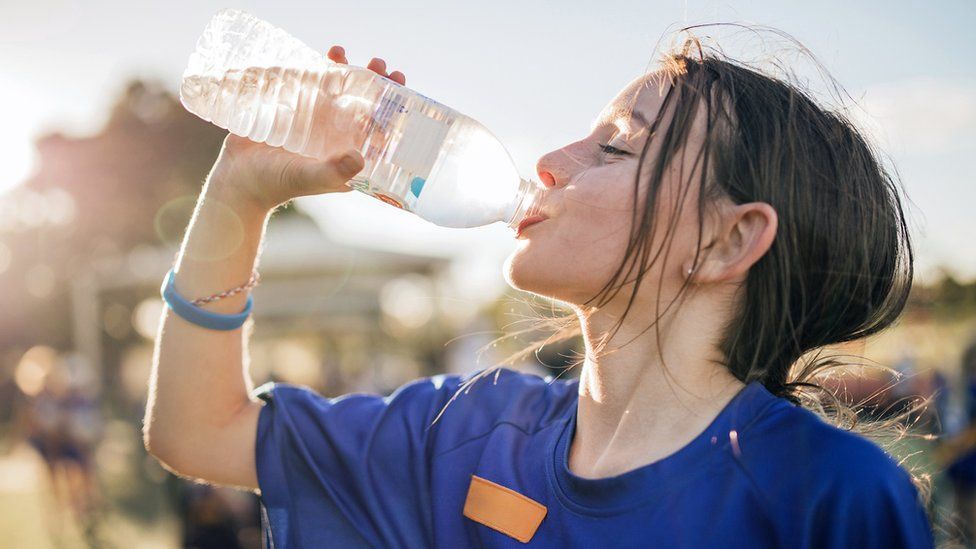 People are being urged to keep well-hydrated during the high temperatures

Scotland's justice secretary Keith Brown, who attended the UK Cobra emergency committee on Saturday, also urged the public to prepare for the heat.

He said: "We are aware of the extension to the weather warnings currently in place and are receiving regular updates from partners including the Met Office and emergency services.

"Our resilience arrangements have been activated and stand ready at all times to coordinate a response to severe weather issues where required. We will continue to closely monitor developments."

Scottish Water has requested that people help maintain normal supplies by being as efficient as possible with water use.

It urged the public to use watering cans rather than hoses in gardens, not to fill up paddling pools and to take shorter showers.

The Scottish Environment Protection Agency (Sepa) has also advised businesses to reduced their water usage.

It said there had been a water scarcity warning every year since 2018 - but this year was "particularly bad".

The Met Office red warning - the highest level - covers an area including London, Manchester and York on Monday and Tuesday.

Parts of Scotland and the rest of England and Wales are under an amber warning for extreme heat - while in Europe, deadly wildfires have broken out in Portugal, Spain and southwestern France.