Excited fans across the country are watching England play Italy in the Euro 2020 final.
Around 60,000 supporters at Wembley watched the team take an early lead, with a goal from Luke Shaw just two minutes into the match.

But the second half saw Italy hit back with an equaliser from Leonardo Bonucci, taking the game to penalties.

Earlier, footage showed dozens of fans trying to force their way past barriers to get into Wembley stadium.

The Met Police said there was a "breach of security" in the afternoon "which resulted in a small number of people getting into the stadium without a ticket".

"Officers worked closely with security officials to prevent any further breaches," the force said in a statement.

"We will also support action by Wembley Stadium officials to identify those without tickets and eject them."

A spokesperson for Wembley Stadium said it was working closely with stewards and security to remove "a small group of people" who got into the stadium without a ticket.

"Anyone inside the stadium without a ticket will be instantly ejected," the spokesperson added.

In the beer garden at the British Oak in Mosborough - the village near Sheffield where Harry Maguire grew up - BBC reporter Olivia Richwald said umbrellas shook, tables rattled and beer was slung in the air as more than 100 fans watched England score.

Meanwhile, on the Limeside Estate in Oldham, BBC special correspondent Ed Thomas said "the whole place shook" when the goal went in, with an atmosphere of "pure joy".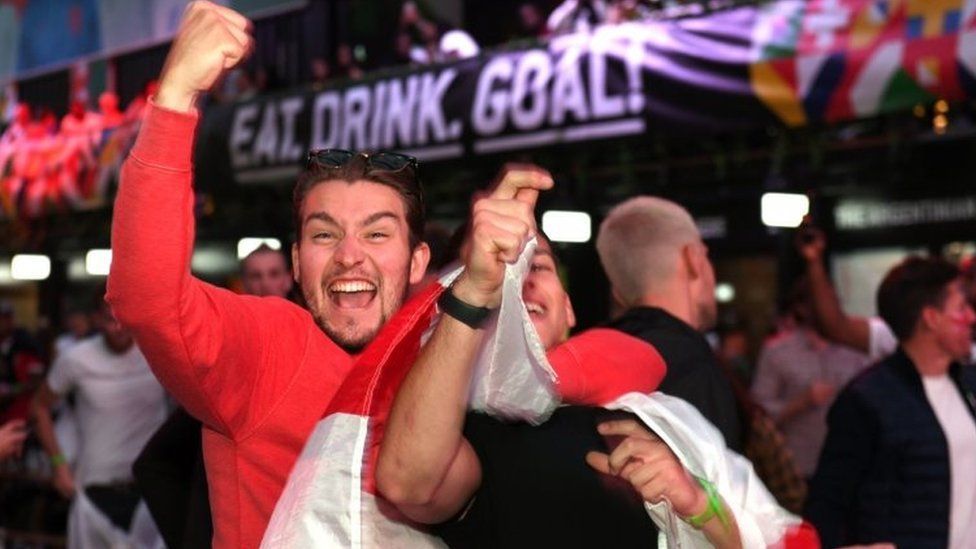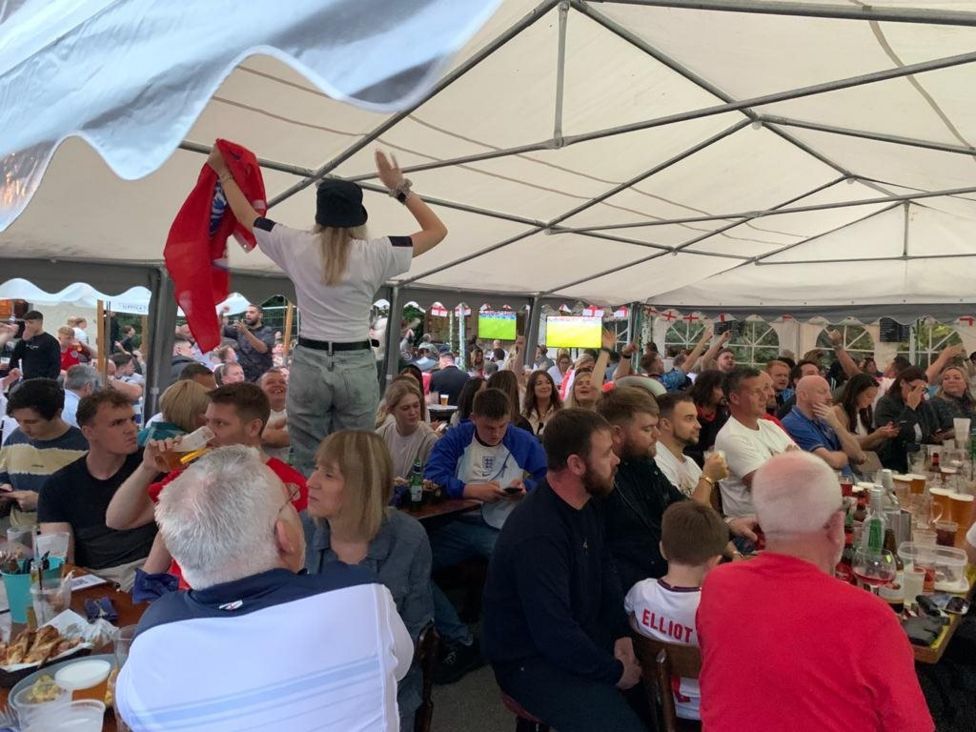 The force said there were no more tickets or seats available in the fan zone and it was engaging with the crowd and telling them to disperse.

Fans also gathered at Leicester Square in central London, with many pubs in the area fully booked.

Those turned away have filled the streets, chanting and blaring air horns.

Ahead of the game, flares were set off outside King's Cross station, while some fans climbed on top of a bus near Wembley Stadium.

Videos on social media also showed bottles being thrown in Leicester Square.

In a tweet, the Met Police urged supporters to "keep themselves safe", adding that people had been seen jumping off street lamps or hoardings in central London.

Fans have been told not to come to the capital unless they have match tickets, or somewhere booked to watch the game.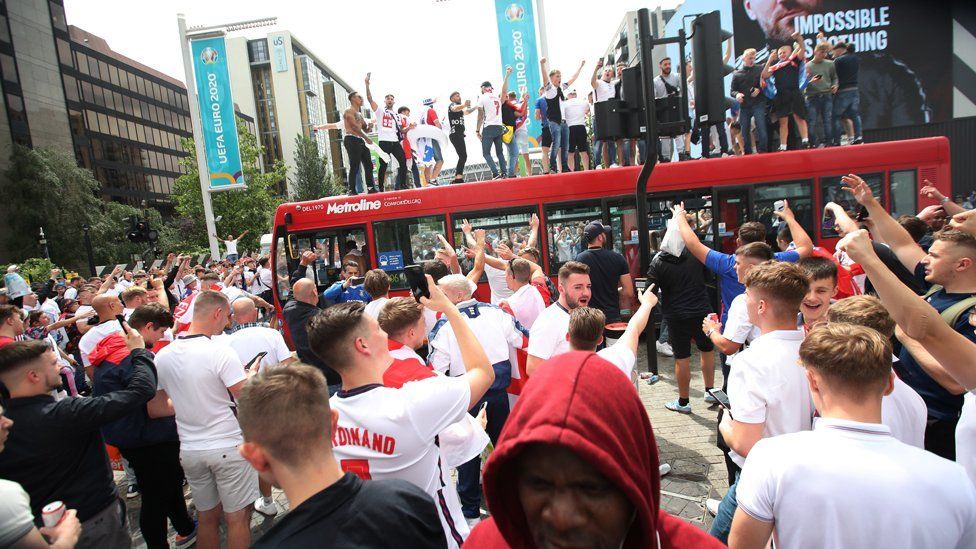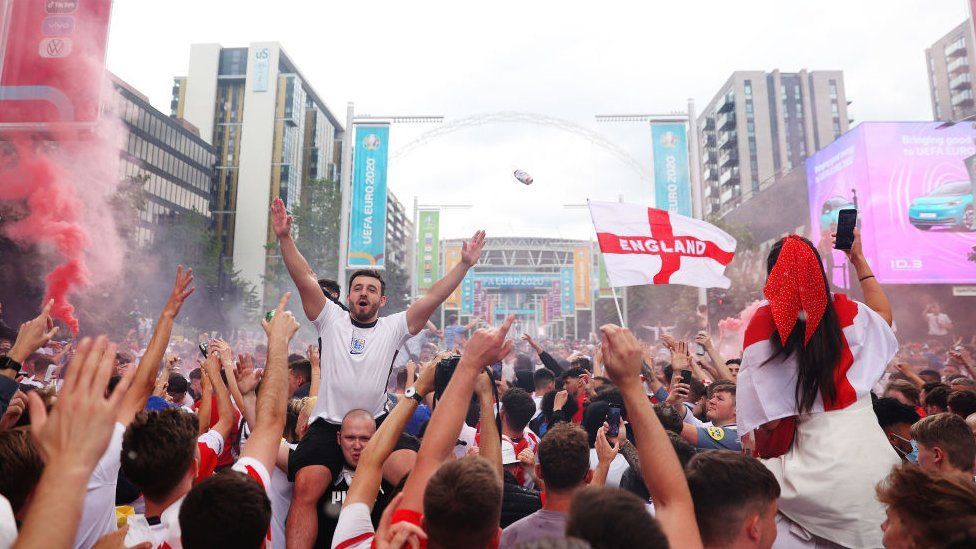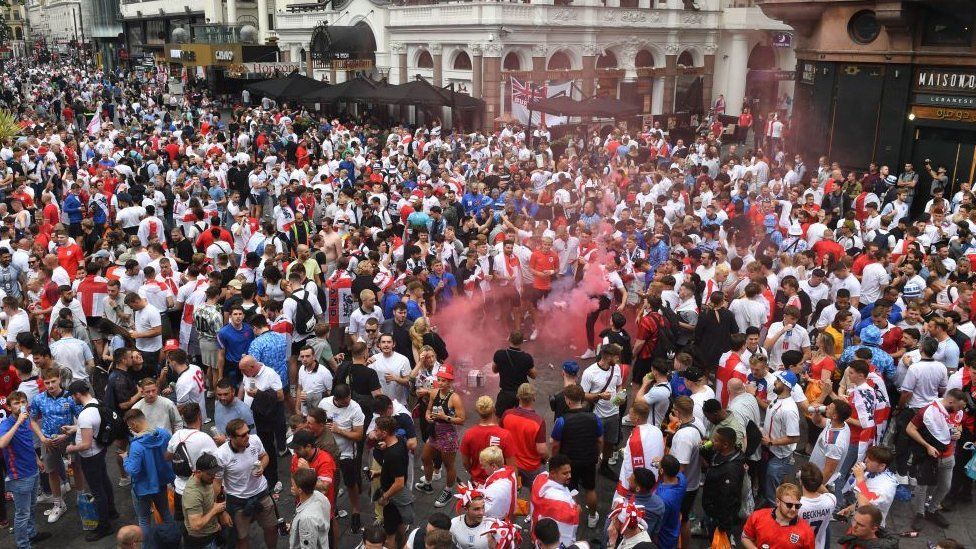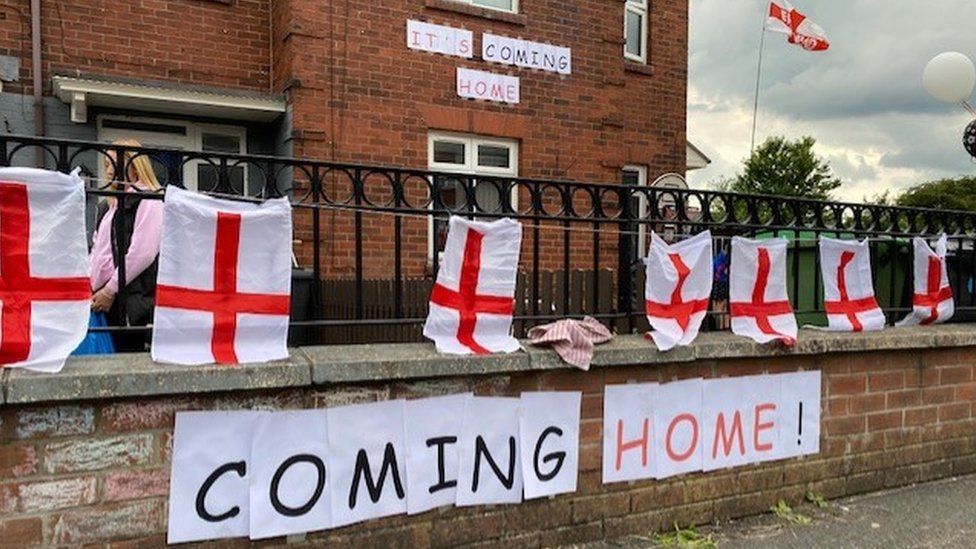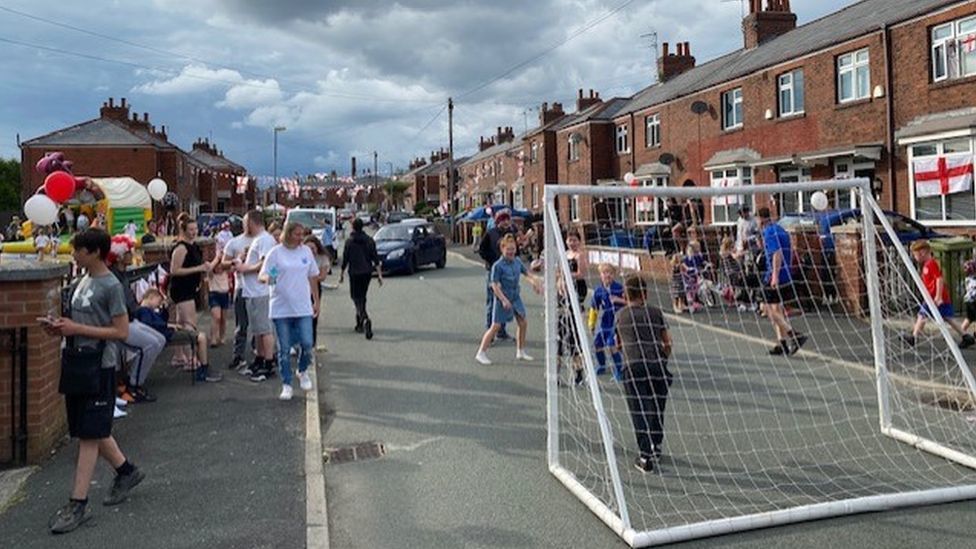 They were introduced by Sir Geoff Hurst, who scored a hat-trick as England won the 1966 World Cup Final, in front of a jubilant crowd.

Italy has several thousand UK-based supporters at the game, while a maximum of 1,000 fans were given special permission to fly from Italy for the final.

England's coronavirus restrictions are not due to be lifted until 19 July, so certain rules still apply - such as up to six people or two households being able to meet indoors.

Pubs will be allowed to stay open an extra 45 minutes in case of extra time and penalties, while thousands of schoolchildren will be allowed to arrive later on Monday so they can watch the final.

The Queen and Boris Johnson have led messages of support to the team, who are aiming to win their first major football tournament since 1966.

The prime minister and his wife Carrie were among those watching the game at Wembley.

The Duke and Duchess of Cambridge were also in the crowd with their seven-year-old son Prince George.

How can I follow the Euro 2020 final?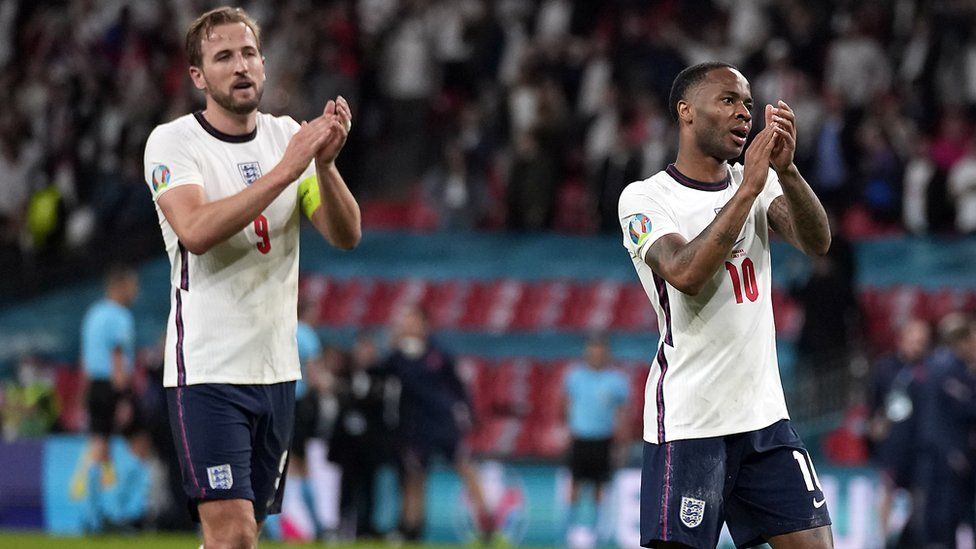 You can watch England v Italy live on BBC One. The match kicks-off at 20:00 BST tonight, but the TV coverage starts at 18:20.

You can also stream the match via BBC iPlayer or the BBC Sport live page.

For radio listeners, build up to the match will begin on BBC Radio 5 Live from 18:00, with live commentary from 20:00.

England's route to the final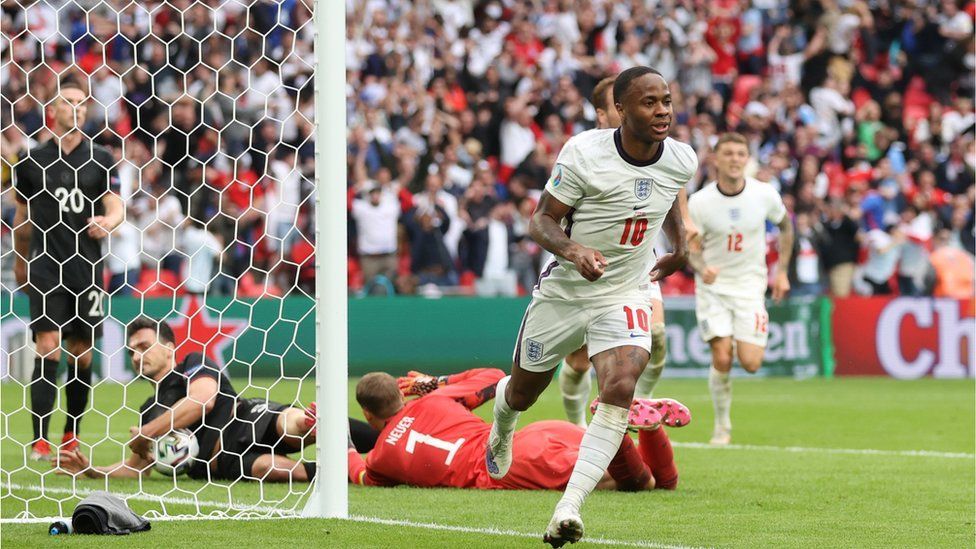 13 June, group stage: England beat Croatia 1-0, with Sterling scoring the only goal of the game

18 June, group stage: England and Scotland draw 0-0 at Wembley

22 June, group stage: England beat Czech Republic 1-0 to top Group D, with Sterling scoring again

29 June, round of 16: England beat Germany 2-0 thanks to goals from Kane and Sterling

3 July, quarter-final: Kane, Maguire and Henderson score as England beat Ukraine 4-0

7 July, semi-final: England beat Denmark 2-1 after extra time, with Kane scoring the winner