Labour is losing ground to the Conservatives in elections across England, in the first big test of Sir Keir Starmer's leadership of the party.
The first blow for Labour came when the Tories took a Westminster seat from it in the Hartlepool by-election.

It has also lost control of several councils, while the Conservatives have made gains.

And the Tories won more than 70% of the mayoral vote in Tees Valley - an area that used to vote Labour.

Sir Keir said he was "bitterly disappointed", but pledged to lead a fightback for his party and to set out a "bold vision" in the next few days.

More than half the results from Thursday's English council elections have been announced.

The rest, as well as those for mayoral and police and crime commissioner contests, will continue to come in through over the weekend.

Among the details so far, the Conservatives have taken Pendle, Maidstone, Cornwall, Nottinghamshire, Basildon, Northumberland, Dudley, and Nuneaton and Bedworth councils from no overall control.

They also took control of of Harlow council, in Essex, from Labour.

And Labour has lost Sheffield, Plymouth and Rossendale to no overall control.

The Green Party has increased its number of seats across England, while the Conservatives lost Cambridgeshire and the Isle of Wight to no overall control.

Conservative Ben Houchen was re-elected mayor of Tees Valley, which includes Hartlepool, receiving 73% of the vote. This involved a swing from Labour to his party of 23%.

Mr Houchen said there was "pride returning" to the area, adding that it was "not true" that the government had pumped lots of money into it over the past few years only because it was run by a Conservative.

Polling expert Sir John Curtice, of Strathclyde University, said "what was once traditional Labour territory" in north-eastern England had "now been well and truly painted blue".

England is electing 143 councils, 13 mayors.

It is also choosing 35 police and crime commissioners, of which the Conservatives have so far gained three, for Dorset, Cleveland and Avon and Somerset.

The prime minister described results declared so far as "very encouraging" for the Conservatives.

"I think that's really because we have been focusing, as a government, on our priorities, the people's priorities, and bouncing back from the pandemic as much as we can and getting through it," he added.

Results so far

Sir Keir offered a stark assessment of Labour's performance, which follows its worst general election outcome since the 1930s in 2019.

He told the BBC the party, which he has led for just over a year, had "lost the trust of working people, particularly in places like Hartlepool", adding: "We have not made a strong enough case to the country."

He said that he intended to take "responsibility for fixing things".

Former Labour leader Jeremy Corbyn criticised the party under Sir Keir for "offering nothing" but "insipid support for the government".

"We have to make a very clear pitch for what real social justice would look like," he told Channel 4 News. "You don't succeed in beating the government if you agree with their strategy."

But Labour has won some key votes, including in Doncaster, where Ros Jones was re-elected as mayor.

It has also retained control of councils including Liverpool, Manchester, Hastings and Exeter.

Liberal Democrat leader Sir Ed Davey, whose party has lost a few seats with more than half of councils still to declare their results, said it was "moving forwards and making progress".

Reacting to the gain in seats in Cambridgeshire, he added: "If you want to beat the Conservatives, it's the Liberal Democrats that can do it."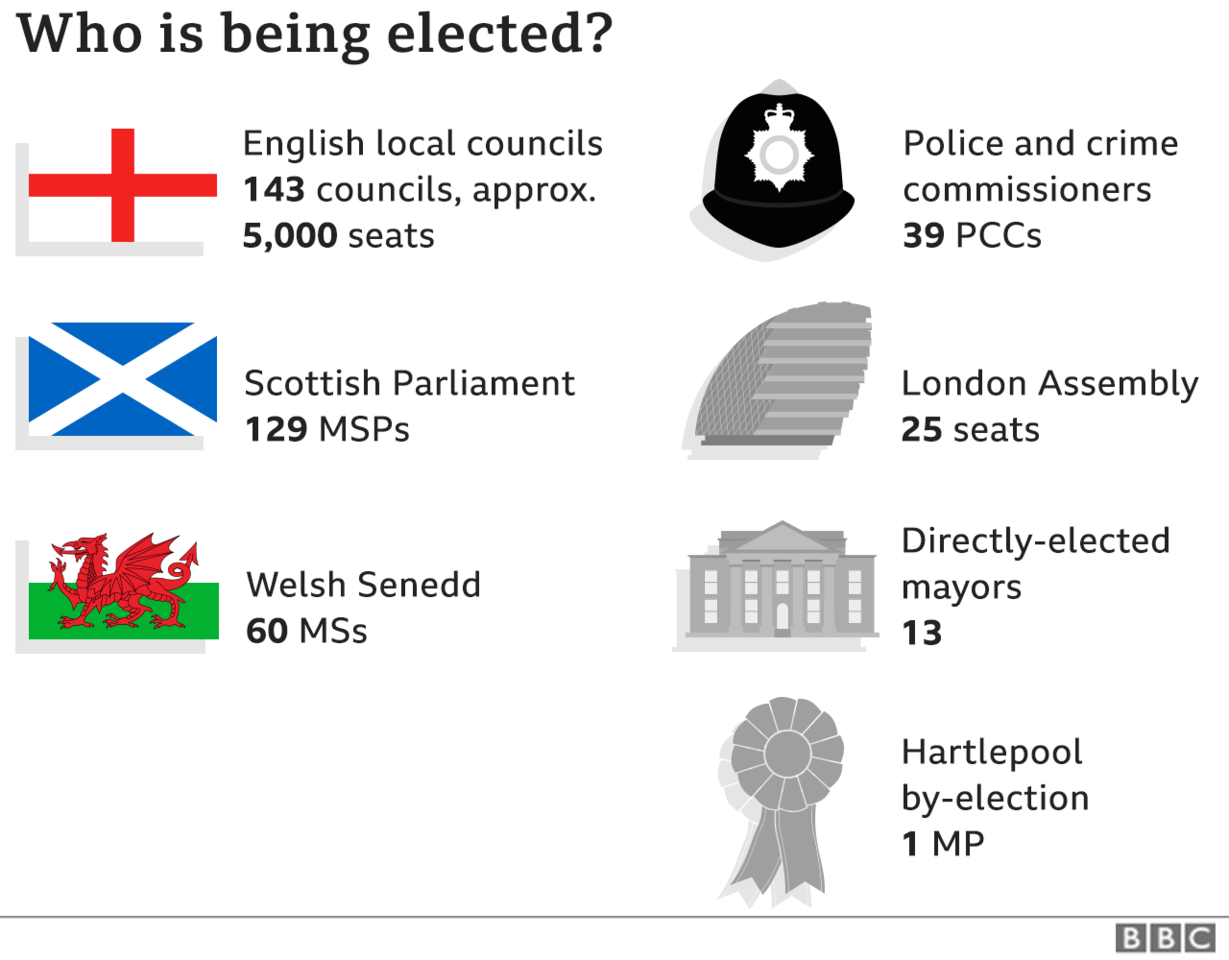 England is seeing a bumper set of local council elections this year, after polls in 2020 were postponed due to the pandemic.

In Scotland, parliamentary results will give an indication of the public level of support for a second independence referendum, as proposed by the SNP.

Meanwhile, Welsh Labour is aiming to remain the largest party in the Senedd, where it has held power since the parliament was founded in 1999.