There are early signs of a possible increase in the number of people testing positive for Covid in England and Northern Ireland, officials from the Office for National Statistics say.
Their report suggests the small rise is likely to be driven by the BA.4 and BA.5 variants of Omicron.

Studies show these variants may be able to spread slightly more easily than "older" Omicron variants.

The latest estimates suggest around 990,000 people in the UK have Covid.

That is about 1.5% of the population (roughly one in 65 people) - up from about one in 70 the week before.

The latest data from the Office for National Statistics (ONS) covers the week ending 2 June.

'Mixed picture'

While infections have risen in some parts of the UK, the overall trends in Wales and Scotland are uncertain.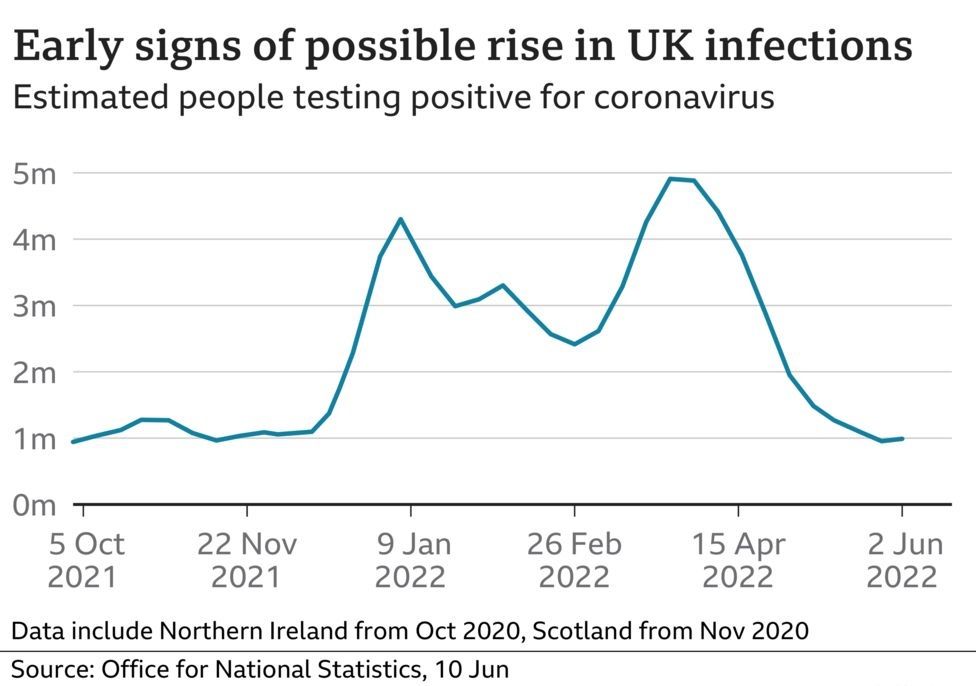 The ONS compiles the data by testing thousands of people from UK households at random - whether they have symptoms or not - to estimate how much virus is around.

They provide the most accurate picture of Covid infection since free testing for the public came to an end in England and Scotland.

Some free testing will continue in Wales and Northern Ireland until the end of June.

Sarah Crofts, from ONS, said: "Today's data shows a mixed picture for infection rates across the UK, with small increases in England and Northern Ireland, likely driven by increasing trends in Omicron BA.4 and BA.5 variants.

"Infections with Omicron BA.2 remain the most common variant of Covid-19 and continue to decrease across much of the UK."

In the week ending 2 June, ONS estimates suggest:

*  IIn England about one in 70 people had Covid

*  IIn Wales about one in 75 people had Covid

*  IIn Northern Ireland about one in 65 people had Covid

*  IIn Scotland about one in 40 people had Covid