Scottish Conservative leader Douglas Ross has said he will not take part in a "pretend referendum" if Nicola Sturgeon continues with plans for a second vote on Scottish independence.
He accused her of playing "games" and said there were more important issues facing the country.

The first minister is to set out details next week of how she plans to hold a second referendum.

She will make a statement in the Scottish Parliament on Tuesday.

Announcing her plan for a second referendum earlier this year, Ms Sturgeon insisted she won last May's election with a "clear commitment to give the people of Scotland the choice of becoming an independent country".

"The Scottish Parliament therefore has an indisputable democratic mandate," she added.

Her announcement next week is expected to include details of how she will seek to hold a referendum in October 2023 even if the UK government does not grant formal consent.

But the first minister has not yet formally asked for a section 30 order, and would still need to pass legislation to hold a referendum in the Scottish Parliament.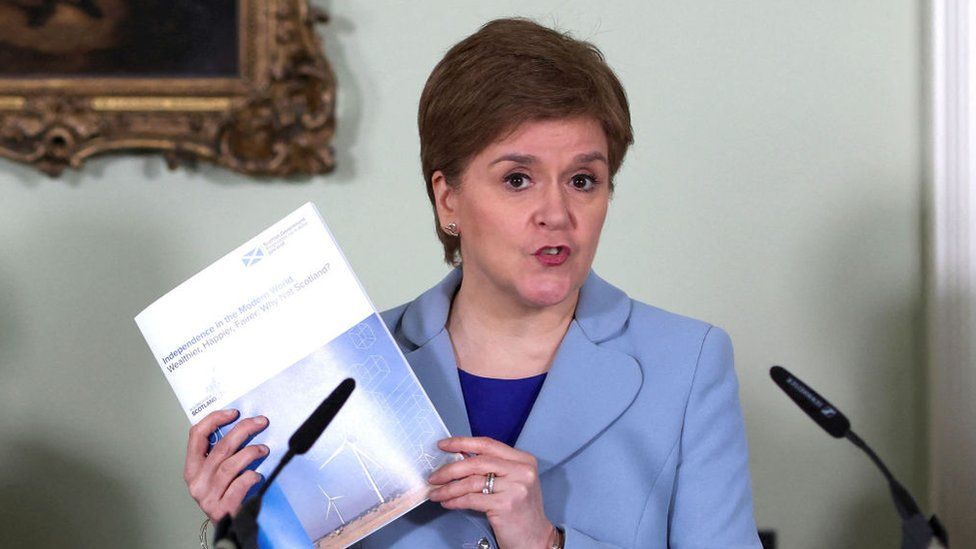 Nicola Sturgeon is due to make an announcement about her plans on Tuesday

Speaking on BBC Scotland's The Sunday Show, Douglas Ross said now was "not the right time" and that any referendum not sanctioned by the UK government would be "a waste of time and resources".

He said: "I'm not going to play Nicola Sturgeon's games on this issue, I'm not going to take any part in her pretend referendum when there's real work to be done."

He highlighted what he said were more important issues including the cost of living crisis, supporting the NHS, improving education and the justice system.

"These are all the priorities I hear from voters right across the country, not an other independence referendum where Nicola Sturgeon just wants to divide us once again," Mr Ross added.

Mr Ross also said he believed the constitutional question of independence had been answered in 2014.

What is a section 30 order?

A section 30 order refers to the section of the Scotland Act that allows Holyrood to pass laws normally reserved to Westminster.

These have been used 16 times since the Scottish Parliament was created in 1999, and have allowed MSPs to legislate in areas from the construction of railways to reducing the voting age in Scottish elections.

A section 30 order was granted by the UK government ahead of the 2014 independence referendum, after Prime Minister David Cameron and First Minister Alex Salmond signed the "Edinburgh Agreement".
Douglas Ross told BBC Scotland's The Sunday Show he would not play the first minister's "games"