A scheme allowing key workers to avoid Covid self-isolation in England has been significantly expanded following criticism it did not go far enough.
Police, fire, Border Force, transport and freight staff will now be able to join a daily workplace test scheme, whether they are vaccinated or not.

Some 10,000 supermarket depot and food factory workers will also be eligible. Testing is expected to start next week.

Several sectors have warned of staff shortages in recent days.

Transport for London warned of line closures and cancellations this weekend as more than 300 members of staff are self-isolating.

And Thameslink tweeted that fewer trains were able to run "due to unavailability of train crew having an impact across the network" and told the BBC "coronavirus has been affecting our business and colleagues".

Southern and Avanti West Coast said they would also have slimmed down services from Monday.

Currently, most people identified as close contacts of someone with coronavirus have to self-isolate for 10 days.

Prime Minister Boris Johnson and Chancellor Rishi Sunak are among those self-isolating after Health Secretary Sajid Javid tested positive last week.

Mr Javid tweeted that he had made a "full recovery" and but faced criticism after he added that people should get vaccinated "as we learn to live with, rather than cower from, this virus".

Labour's shadow justice secretary David Lammy accused Javid of having "insulted" people who followed the rules to protect others and Liberal Democrat health spokeswoman Munira Wilson said Mr Javid's tweet was "outrageous" and said he owed the millions who were shielding an apology.

Labour's shadow chief secretary to the Treasury, Bridget Phillipson, said the government needed to "give clear guidance" on self-isolation rules or "risk making this summer of chaos and confusion even worse".

Police forces, local authorities, transport providers and supermarkets have been among those calling for a review of the rules to avoid crippling shutdowns or skeleton operations.

Home Secretary Priti Patel said daily testing would keep frontline teams safe while they continued to serve the public and communities.

From 16 August anyone in England who is fully vaccinated - and unvaccinated under-18s - will be able to take daily tests instead of self-isolating. Similar rules come into force in Scotland from 9 August - and in Wales from 7 August.

Mayor of London Sadiq Khan has joined leading business figures in urging Prime Minister Boris Johnson to bring this date forward and end self-isolation for close contacts if they are fully vaccinated.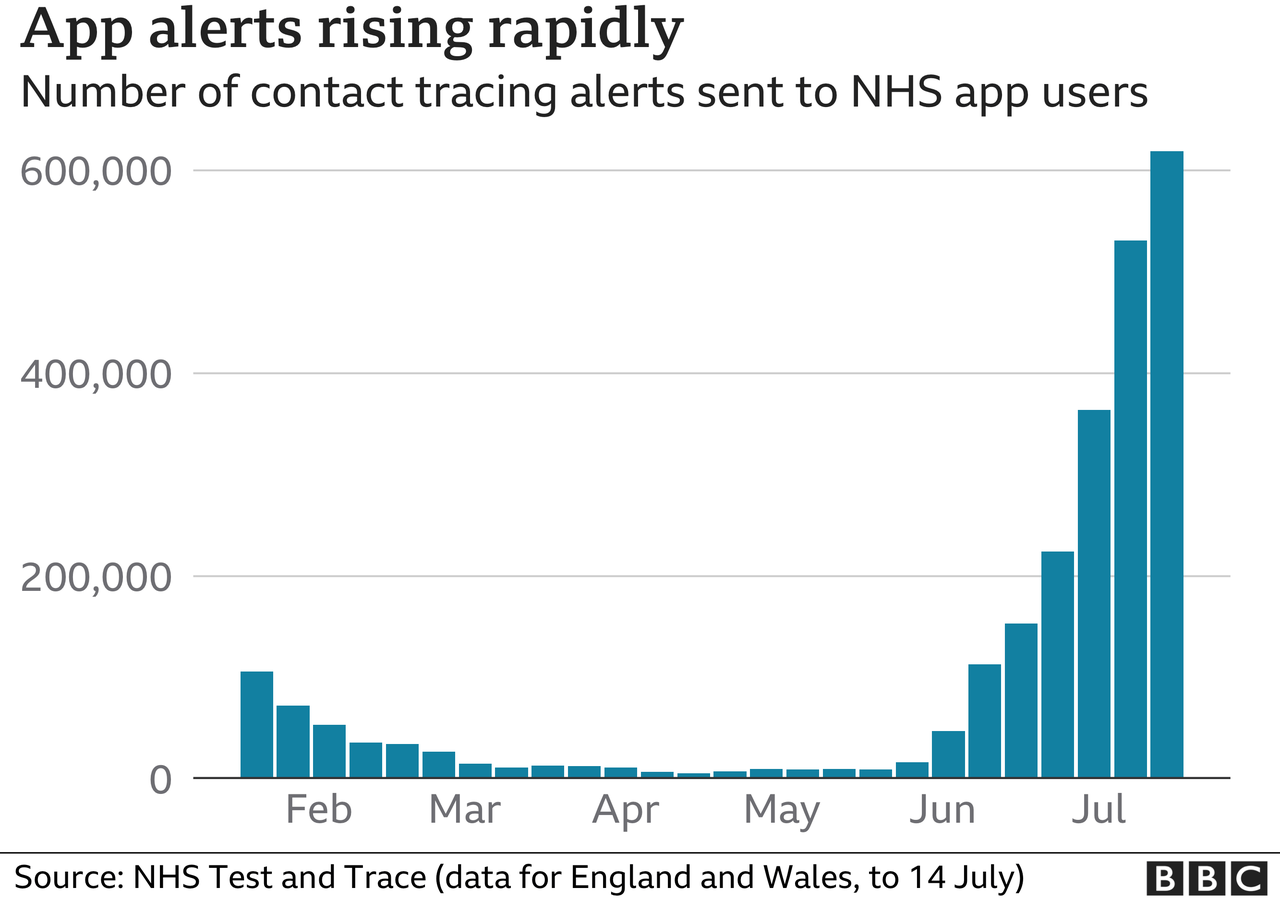 Growing numbers of people have been told to self-isolate, with almost 608,000 contact tracing alerts sent from the NHS Covid-19 app in the week to 15 July - a record high.

The number having to self-isolate has been blamed for shortages of some products in supermarkets and staffing problems for frontline services.

The daily test scheme means eligible workers who are alerted by the app in England - or contacted by NHS Test and Trace - will be able to continue working if they test negative each day, whatever their vaccination status.

Ports, airports, rail infrastructure and haulage workers, alongside frontline police, fire and Border Force staff will now be eligible.

The government has announced an extra 200 testing sites to help screen these workers - but these will not open until Monday at the earliest.

Analysis
By Lewis Goodall, BBC Newsnight correspondent

Confusion, if not some chaos, has reigned in Whitehall over the past 24 hours as ministers and officials grapple with the large numbers of people being told to self-isolate.

Departments have expressed concern about their ability to maintain key public services.

Ministers have now announced an expansion of workplace testing sites to include staff at the Border Force, police and fire services and key transport sectors.

The same measure was introduced on Thursday for food distribution workers.

However, a government official told me that they would be expected to leave self-isolation only for work.

Critics are already questioning how realistic or fair an idea that can be.

A separate scheme in England allows employers to apply in advance for exemptions for named fully vaccinated critical workers in a small number of industries, such as the energy sector.

In Scotland, critical workers in the health, food and transport sectors can apply to be exempt from self-isolation.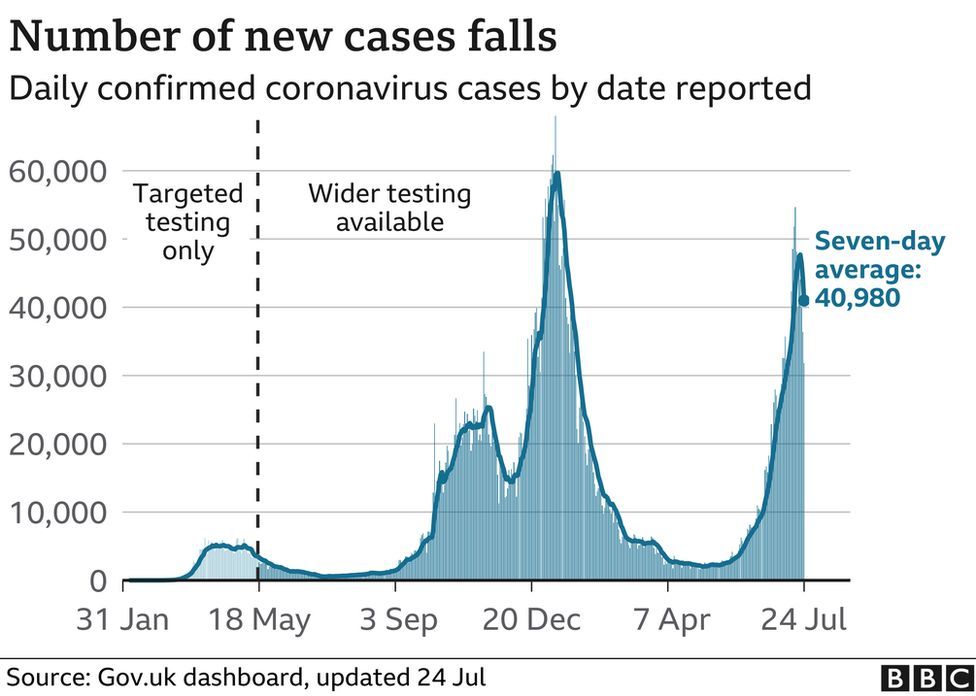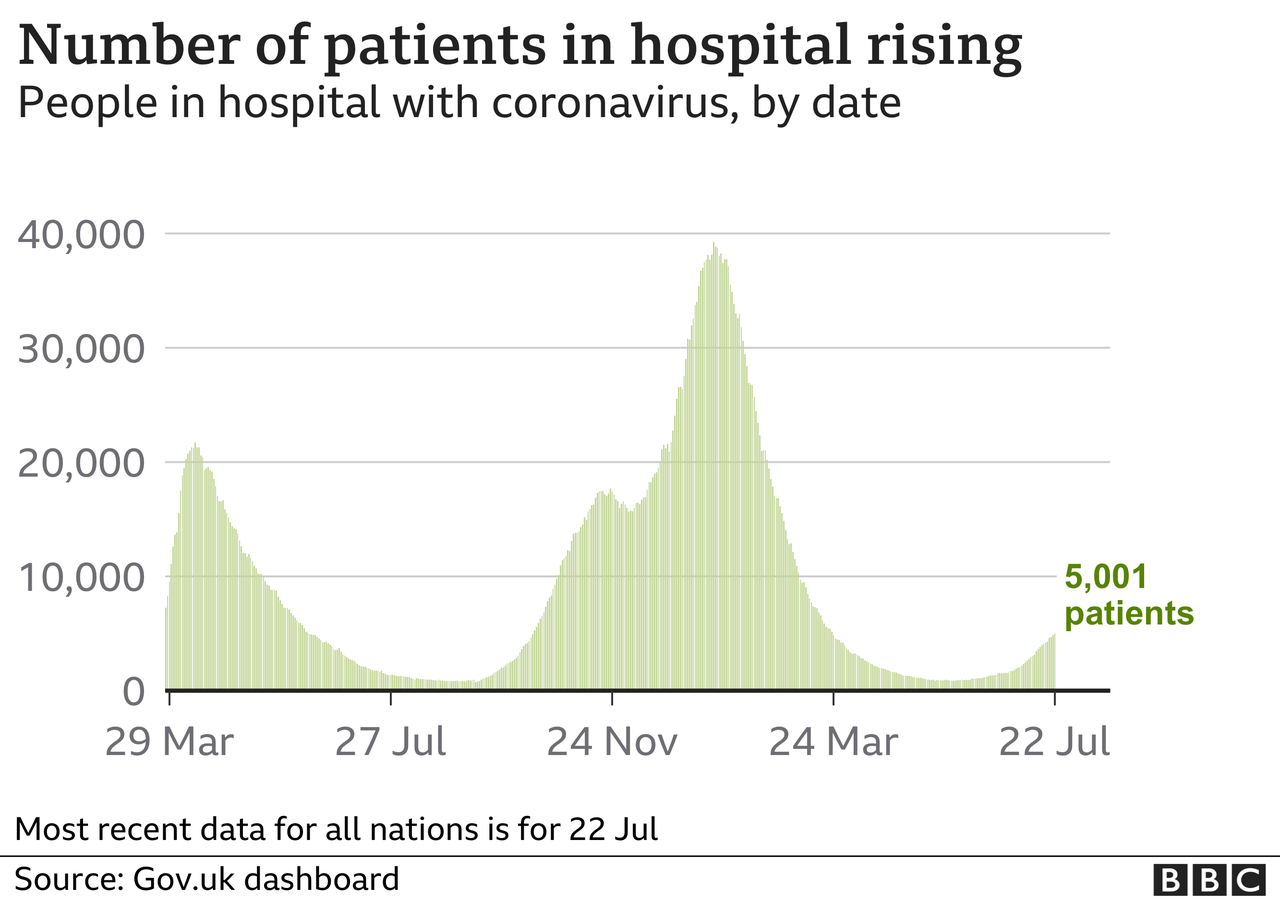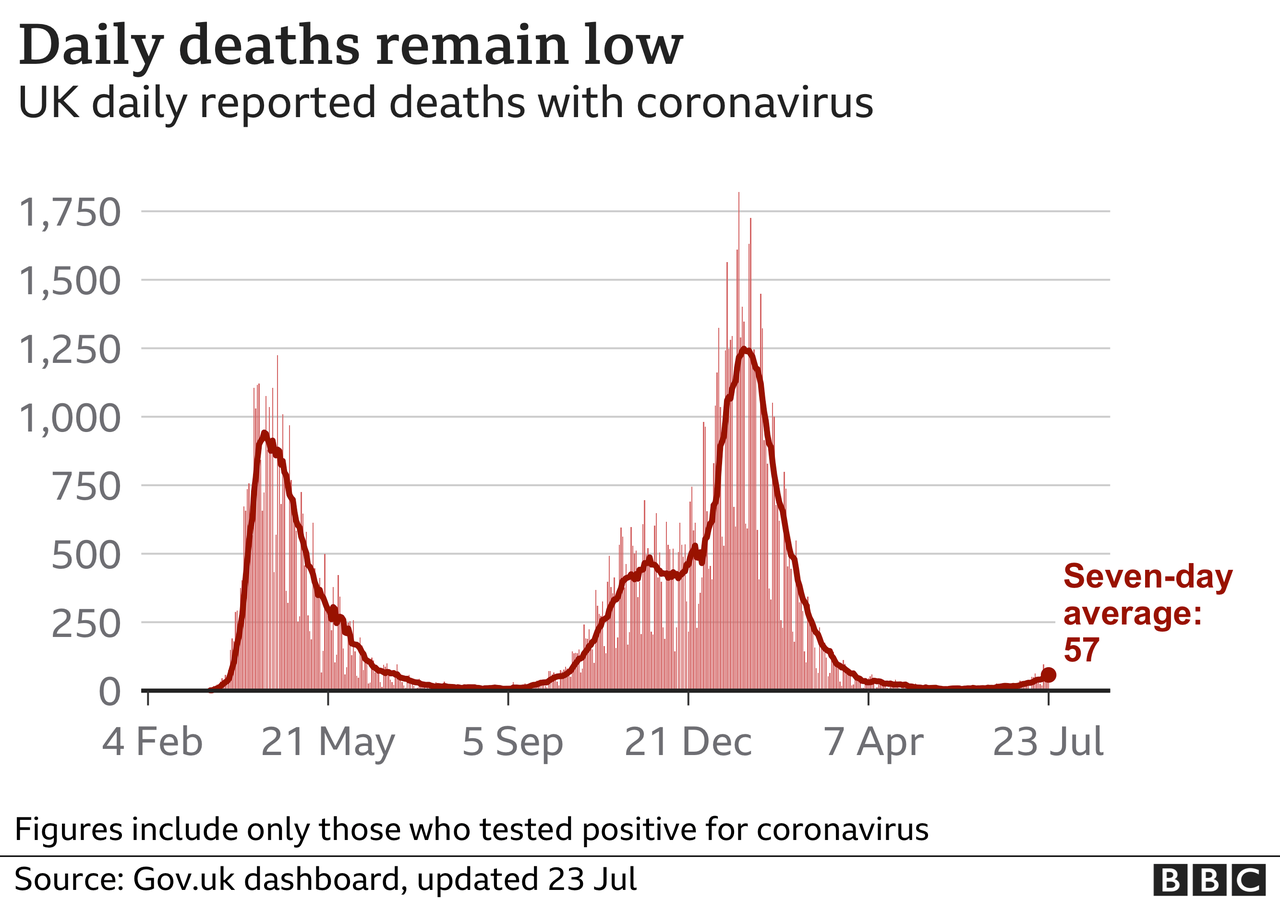 Meanwhile, England manager Gareth Southgate is urging younger people to get vaccinated, saying it is a chance to "get your freedom back".

About 34% of 18 to 29-year-olds in England - about three million people - have not been vaccinated at all. In Scotland, about 30% are not yet vaccinated.

A total of 83,239,491 vaccines have been given in the UK, 46,476,845 first doses and 36,762,646 second doses, according to the latest government figures.

Saturday's daily figures showed Covid cases were down for the fourth consecutive day in the UK, with 31,795 new infections, a fall of almost 5,000 from the previous day.

However, it is too soon to say whether cases have peaked given that the statistics do not capture the impact of unlocking that happened on 19 July.

The latest estimate of R - which measures how quickly the virus is spreading - is unchanged from the previous week at 1.2 to 1.4.

It means that on average, every 10 people infected with coronavirus goes on to infect between 12 and 14 others.