Ministers have been tasked with developing "robust contingency plans" for workplace absences, as the government warned rising cases could see up to a quarter of staff off work.
Public sector leaders have been asked to prepare for "worst case scenarios" of 10%, 20% and 25% absence rates, the Cabinet Office said.

The UK has seen record numbers of daily cases over the festive period.

Transport, the NHS and schools have already seen the effect of absences.

Rising case numbers have led to large numbers self-isolating and being unable to go to work. This has particularly affected industries where staff are unable to work from home.

Cabinet Office Minister Steve Barclay is chairing regular meetings with ministers to assess how the spread of the Omicron variant is affecting workforces and supply chains, the Cabinet Office said.

The prime minister had asked ministers working with their respective sectors to test preparations and contingency plans to limit disruption, it explained.
Mr Barclay said the highly transmissible Omicron variant meant businesses and public services "will face disruption in the coming weeks, particularly from higher than normal staff absence".

However, his department said that so far disruption caused by Omicron has been controlled in "most parts of the public sector".

What are the self-isolation rules at present?

People who test positive for Covid must self-isolate for at least seven days in England, Wales and Northern Ireland. Two negative lateral flow results, 24-hours apart, are required to end self-isolation - the first no earlier than day six.

In Scotland, positive cases must isolate for the full 10 days.

Unvaccinated contacts of positive cases must also isolate for 10 days in all parts of the UK.

In December, the education secretary urged retired teachers to return to classrooms to help with Covid-related staff shortages in the new year.

Some schools had to close early or move to online learning before the end of last term because of staff absences.

And several train operators have had to reduce services because of staff absences.

Rising cases are also affecting the NHS, with 24,632 staff at hospital trusts ill with coronavirus or self-isolating on 26 December, up 31% on the previous week and nearly double the figure at the start of the month, according to NHS England.

Labour's deputy leader Angela Rayner said Boris Johnson should have told ministers to start planning for workplace absences weeks ago.

"Boris Johnson's lack of leadership means his government has dithered and delayed, leaving contingency planning to the very last moment," she said.

"With record Covid infection numbers, the prime minister must immediately get a grip on workforce pressures, keep essential services moving, keep schools open and keep people safe."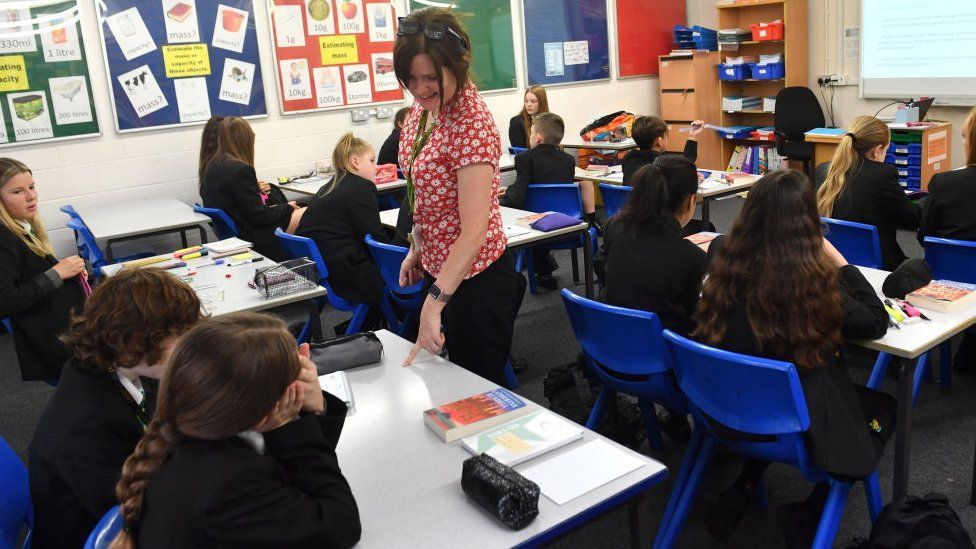 Retired teachers have been asked to return to the classroom due to concerns about staff shortages

England reported 162,572 new cases on Saturday - a record number for the fifth day in a row - and Covid hospital admissions are at their highest level since January 2021.

Scotland, Wales and Northern Ireland did not report figures on Saturday.

England is currently under Plan B restrictions, which includes mandatory masks in most indoor public places, Covid passes for nightclubs and other large venues and guidance to work from home if possible.

The measures are set to expire six weeks after implementation - 26 January, with a review after three weeks, which is expected on or close to 4 January.

Other parts of the UK have already introduced tougher restrictions for hospitality venues.

Health Secretary Sajid Javid has said any additional restrictions in England "must be an absolute last resort".