As students begin the new term, they'll find many Covid restrictions have been lifted.
There should be more in-person face-to-face teaching, but things won't be entirely normal.

Do students have to be vaccinated?

The government wants all students to get vaccinated, but won't exclude those who aren't.

All universities are urging undergraduates to get jabbed. Many have on-site vaccination centres, including UWE Bristol, Kingston and Stirling.

The University of Sussex is offering vaccinated students 10 jackpots of £5,000 to encourage take-up.

Hartpury University and College in Gloucestershire has gone further. It said all eligible students must be vaccinated to live in halls, or take part in sports and social activities on campus.

Some rules and restrictions will be different for fully vaccinated people - whether or not they are are university:

*  only double-jabbed people will be allowed to go to nightclubs and other venues in England and Scotland from the end of September
*  they won't have to self-isolate if a contact tests positive for Covid (as long as they themselves test negative)
*  they won't have to self-isolate after visiting amber list countries


What about Freshers' Week?

Freshers' Week events include parties, club nights, sports sessions and student society fairs.

Many universities are planning to hold in-person events for the first time since 2019.

But experts have warned any sessions where people from across the country mix could become "superspreader" events.
UCL professor Susan Michie, a member of the Sage group of scientists which advises the government, said freshers' events are high risk, especially if they involve alcohol.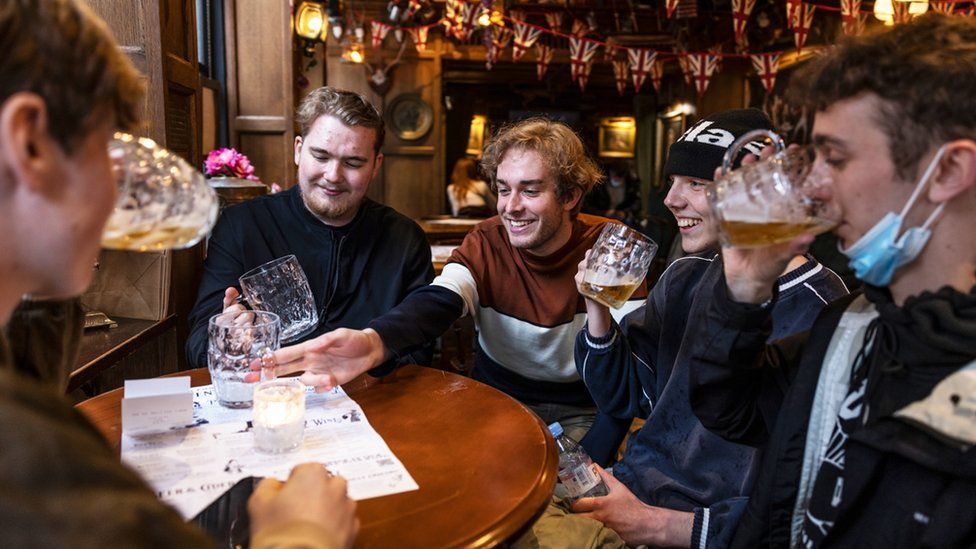 Earlier this year, Scottish universities were advised to postpone "mass activities" for freshers, but events are going ahead.

Will lectures and seminars be in-person?

Universities will offer much more face-to-face teaching than last year.

The Russell Group of leading universities says staff are preparing for most seminars, small group classes and lab work to be taught in-person. However it says some online learning will continue - partly to minimise disruption in the event of future Covid spikes.

Universities will make their own decisions based on their courses, buildings and facilities, and the local public health situation.

Students should ask their institution about plans for their course.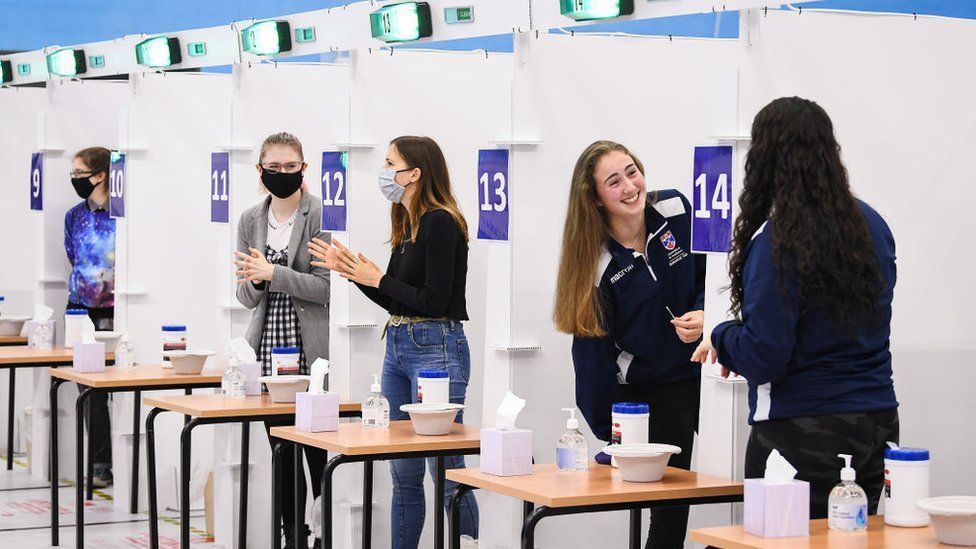 They're also likely to be asked to wear a face covering in crowded areas such as libraries, and will be encouraged to take regular Covid tests, even if they don't have any symptoms. Staff will be asked to test twice a week.

What help is there for students?

The pandemic cost pupils nearly a third of their learning time between March 2020 and April 2021, according to research from the LSE and the University of Exeter. This was especially damaging for those starting university this term.

The Office for Students also warned more than half of UK students felt their mental wellbeing hadn't been well supported.

The National Union of Students and the Student Minds mental health charity want the government to provide universal financial support for all students, with extra help for those on lower incomes.

They also want universities to make sure students aren't disadvantaged as a result of the pandemic, and to prioritise support for mental health.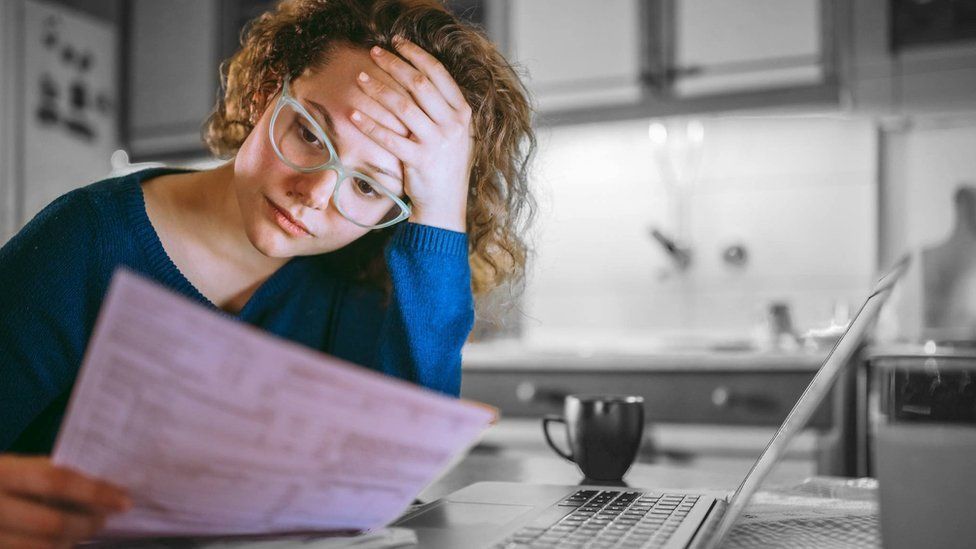 In July, England's Universities Minister Michelle Donelan said universities had access to up to £256m.

"We have set out clear expectations that the quality and quantity of tuition should be maintained," she said. "Students should be receiving good quality mental health support."

Working with the Open University, the Russell Group has launched "Jumpstart University", a free online information resource designed to help new students.

The programme - open to undergraduates in all universities - has advice on student finance, study skills and mental health, as well as a range of subject-specific courses.

What if I don't think I'm getting value for money?

Many students are frustrated that some teaching will continue online this term.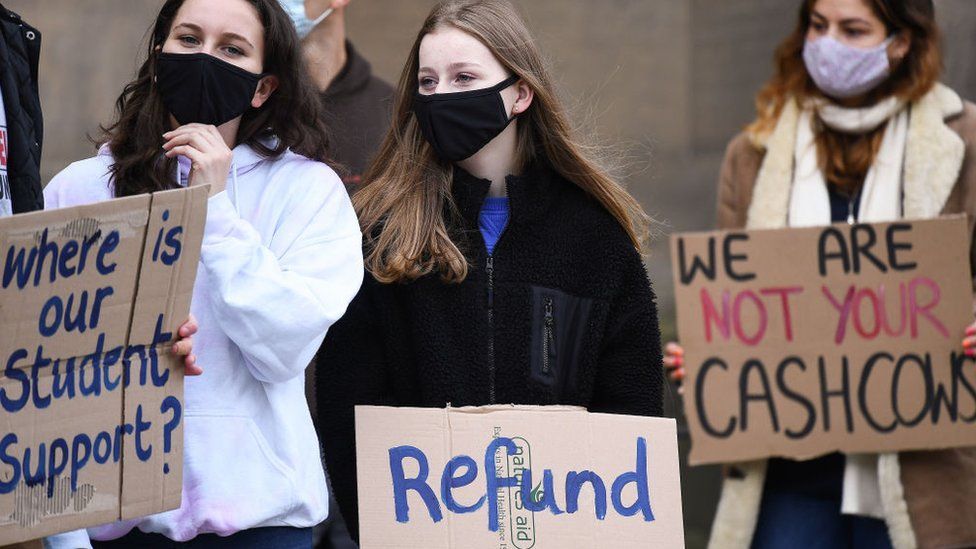 But Universities UK says there's no case to lower fees, as students can expect a "much fuller" educational experience this year.

Students who think they aren't getting value for money should first speak to their college or university.

They can take their complaint to the Independent Adjudicator for Higher Education (England and Wales), the Scottish Public Services Ombudsman or the Northern Ireland Public Service Ombudsman.