Changes to self-isolation rules in England and Northern Ireland come into effect on Monday 16 August.
It means that far fewer people will have to quarantine if they have been in contact with someone with Covid.

What rules are changing and when?

Fully vaccinated adults will no longer have to self-isolate for 10 days if they're told they have been in close contact with a person who has Covid.

This rule also applies to everyone under the age of 18.

These changes have already come into force in Scotland and Wales.

Anyone in this situation is now advised instead to take a PCR test as soon as possible. If the result is negative, no further action is needed. However, if the result is positive, they will need to self-isolate just like anyone else.

In Wales and Northern Ireland, people are also advised to take further PCR tests on day two and day eight.

And in England, people are advised to take extra measures like wearing face coverings in enclosed spaces and limiting contact with others, especially the clinically vulnerable.

It's hoped that easing the rules for children will mean fewer will miss school.

Each UK nation has its own contact-tracing service:

* England - NHS Test and Trace
* Scotland - Test and Protect
* Wales - Test, Trace, Protect
* Northern Ireland - Contact tracing service


When do I need to self-isolate?

You still need to self-isolate for 10 days if you:

* test positive for Covid-19
* live with someone who tests positive
* are approached by text, email or phone by contact tracers who identify you as a close contact of someone who has tested positive - adults who are not fully vaccinated will have to continue to do this
* arrive in the UK from a red list country
* arrive in the UK from an amber list country (under-18s and fully vaccinated people using the NHS Covid Pass in England and Wales, or equivalent schemes in Scotland and Northern Ireland, are exempt)

You must also self-isolate if you or someone you live with have Covid symptoms. You can stop self-isolating if the person with symptoms gets a negative PCR result.

What if I am 'pinged'?

If you are "pinged" by the NHS Covid app you're advised - but not legally obliged - to self-isolate.

The sensitivity of the NHS Covid-19 app in England and Wales was recently tweaked to ensure that fewer people were advised to quarantine.

What does self-isolation mean?

Self-isolation means staying at home and not going out for any reason.

You should order online groceries, or ask friends or family to help.

No-one from outside your household should come inside, unless to deliver essential care.

If you test positive and feel fine, but subsequently develop symptoms, you must restart your 10-day isolation.

If you have symptoms or test positive, you should:

* Keep your distance from other members of your household
* Leave windows open to improve ventilation
* If possible, sleep and eat in a different room, and use a separate bathroom
* If you share a bathroom, use it after everyone else and clean it thoroughly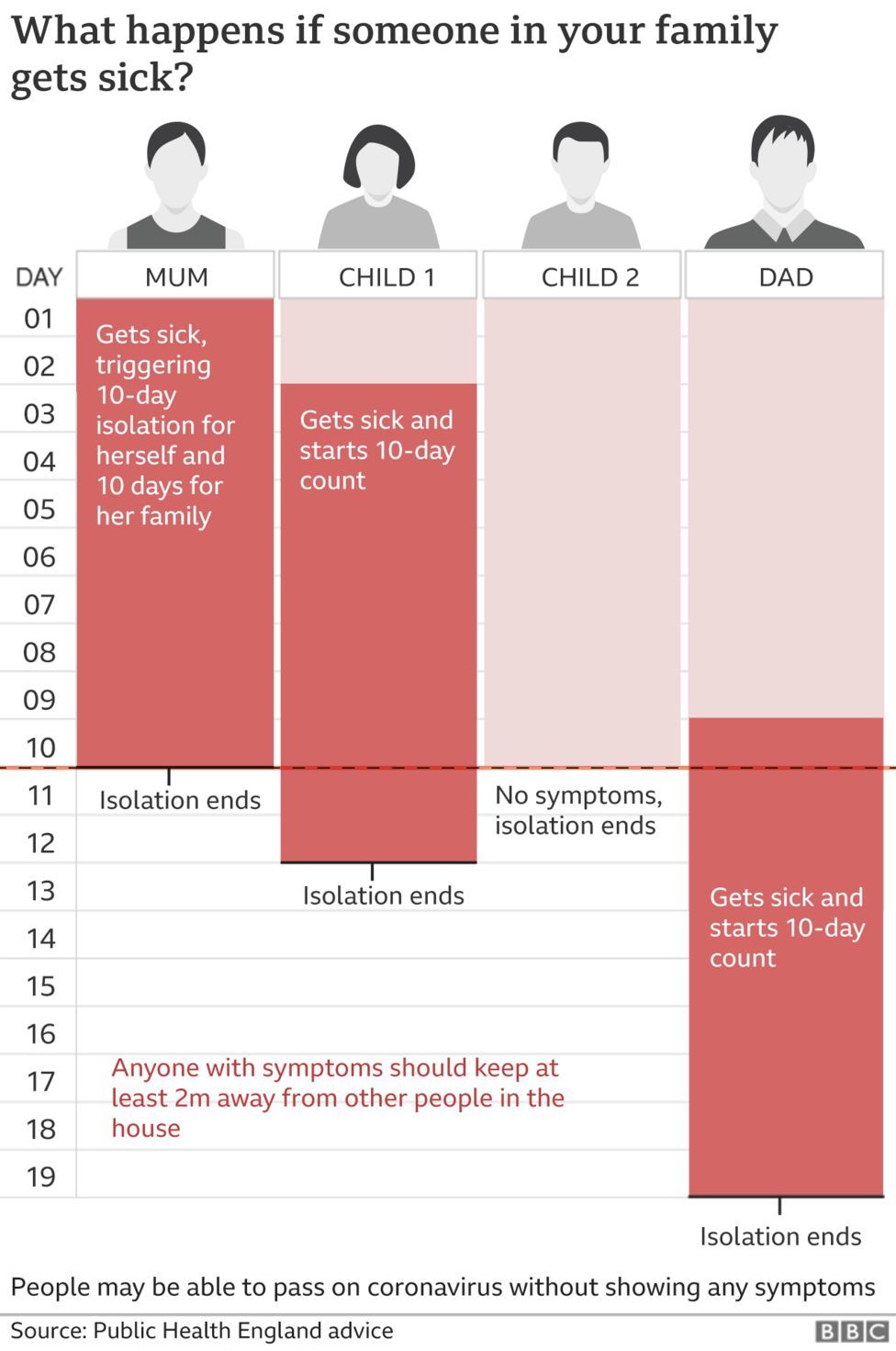 Will I be paid if I have to self-isolate?

A £500 grant is available in England to people on low incomes who have to self-isolate. This includes parents who can't work because their child has to self-isolate. It is a single payment to cover 10 days' isolation.

In Scotland people can apply for the Self-Isolation Support Grant, worth £500. There is a similar scheme in Wales. In Northern Ireland, a discretionary payment is available.

You may also be entitled to Statutory Sick Pay, which is worth £96.35 a week. Employers with their own sick pay scheme will pay more.

How are the rules enforced?

Anyone who does not self-isolate could be fined. In England, fines start at £1,000 rising to £10,000.

However, there have been concerns about how many people follow the rules. Some studies have suggested fewer than 20% do so.