People who have received a Covid-19 vaccine could still pass the virus on to others and should continue following lockdown rules, England's deputy chief medical officer has warned.
Writing in the Sunday Telegraph, Prof Jonathan Van-Tam stressed that scientists "do not yet know the impact of the vaccine on transmission".

He said vaccines offer "hope" but infection rates must come down quickly.

Matt Hancock said 75% of over-80s in the UK have now had a first virus jab.

Both the Pfizer-BioNTech and Oxford-AstraZeneca vaccines require two doses, and figures so far reflect those given the first dose.

The health secretary told the BBC's Andrew Marr that around three quarters of care homes had also been vaccinated.

Prof Van-Tam said "no vaccine has ever been" 100% effective, so there is no guaranteed protection.

It is possible to contract the virus in the two- to three-week period after receiving a jab, he said - and it is "better" to allow "at least three weeks" for an immune response to fully develop in older people.

"Even after you have had both doses of the vaccine you may still give Covid-19 to someone else and the chains of transmission will then continue," Prof Van-Tam said.

"If you change your behaviour you could still be spreading the virus, keeping the number of cases high and putting others at risk who also need their vaccine but are further down the queue."

Last week, the person coordinating Israel's Covid response reportedly suggested a single dose of the Pfizer vaccine might not be as effective as reported.

Israel has one of the highest vaccination rates in the world against coronavirus, with scientists keenly watching data shared by the country for signs of how effective the vaccine is when given to the whole population.

The country's health minister Yuli Edelstein told the Andrew Marr Show that some people "still get sick" with coronavirus after getting the first dose of the vaccine, but said there were "some encouraging signs of less severe diseases, less people hospitalised after the first dose".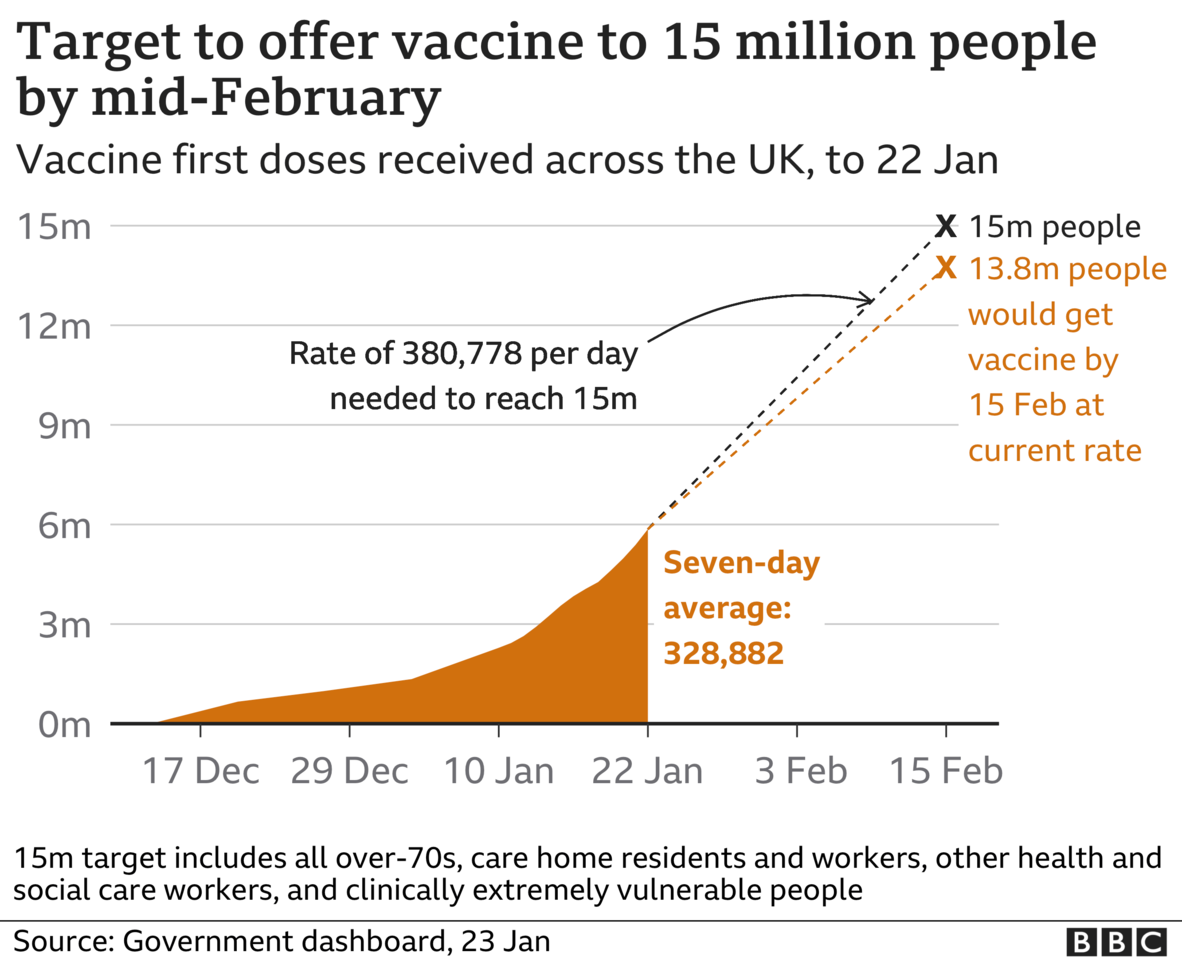 Senior doctors have called on health officials in England to cut the gap between the first and second doses of the Pfizer-BioNTech vaccine.

The maximum wait was extended from three to 12 weeks in order to get the first jab to more people across the UK.

But the British Medical Association said the policy was "difficult to justify" and the gap should be reduced to six weeks.

Its chair, Dr Chaand Nagpaul, told the BBC there were "growing concerns" that the vaccine could become less effective with doses 12 weeks apart.

Responding to the criticism, Prof Van-Tam said: "What none of these (who ask reasonable questions) will tell me is: who on the at-risk list should suffer slower access to their first dose so that someone else who's already had one dose (and therefore most of the protection) can get a second?"

A further 32 vaccine sites are set to open across England this week.

More than 5.8 million people in the UK have received their first dose of a vaccine, according to the government's coronavirus dashboard.

NHS England said new vaccine sites were preparing to open across England from Monday.

They include Dudley's Black Country Living Museum, which doubled as a set for TV series Peaky Blinders, Plymouth Argyle FC's stadium Home Park and an old Ikea store in Stratford, London.

The 32 sites will prioritise health and social care staff on Monday, and other priority patients from Tuesday.

They will bring the number of mass vaccination sites across England to 49 - as well as 70 pharmacies, more than 1,000 GP surgeries and 250 hospitals offering the jab.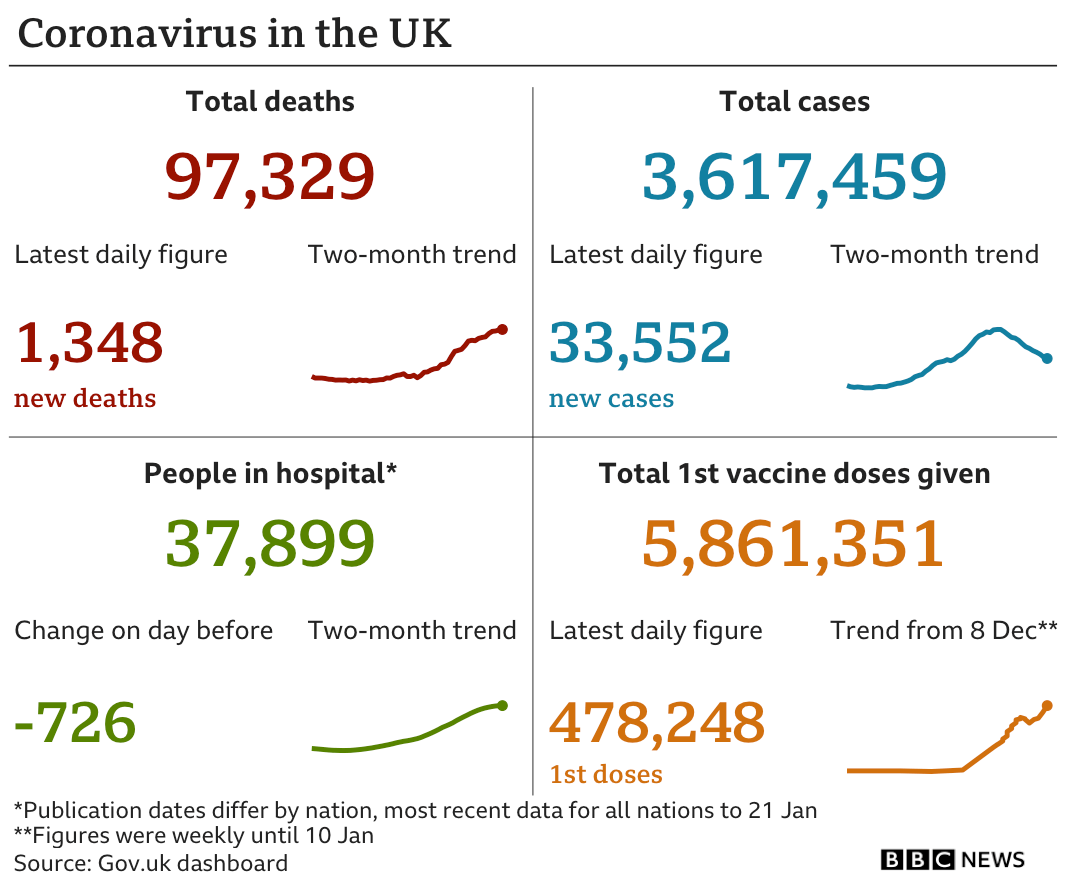 Scotland's First Minister Nicola Sturgeon said on Friday that more than a third of over-80s had received their first dose of a vaccine.

More than half of over-80s in Northern Ireland have had the jab, though Health Minister Robin Swann said "it will take time" for the programme to have a "major effect."

In Wales, four vaccination centres have been shut as officials brace for more snowy weather.

Prof Van-Tam stressed that the UK needs to "bring the number of cases down as soon as we can whilst we vaccinate our most vulnerable".

Another 1,348 deaths within 28 days of a positive coronavirus test were reported in the UK on Saturday, in addition to 33,552 new infections.

There were 4,076 Covid patients were on hospital ventilators in the UK as of Friday, according to government data.

That is higher than during the first wave, when the peak was 3,301 on 12 April.

Prime Minister Boris Johnson said this week there is "some evidence" the variant that emerged in the UK may be more deadly - but scientists have since said this should not be a "game changer" in the UK's response to the pandemic.