More than 80,000 people have died in the UK within 28 days of a positive Covid test since the start of the pandemic, official figures have shown.
A further 1,035 deaths in the UK were reported on Saturday, taking the total by that measure to 80,868.

The number of daily cases of people who tested positive for coronavirus increased by 59,937.

Only the US, Brazil, India and Mexico have recorded more Covid deaths, according to Johns Hopkins University.

It is the fourth day in a row that the UK has reported more than 1,000 daily deaths.

It comes as scientists advising the government have warned that lockdown measures in England need to be stricter to achieve the same impact as the March shutdown.

Ministers have launched a new campaign urging people to act like they have the virus.

Meanwhile, Buckingham Palace has said the Queen, 94, and the Duke of Edinburgh, 99, received Covid-19 vaccinations on Saturday.

The Office for National Statistics recently estimated as many as one in 50 people in England had coronavirus between 27 December and 2 January, while in London it was one in 30.

On Friday, mayor Sadiq Khan said the spread of Covid in the capital was "out of control".

Official figures from Public Health England showed London had the highest regional case rate in the UK, exceeding 1,000 per 100,000 people.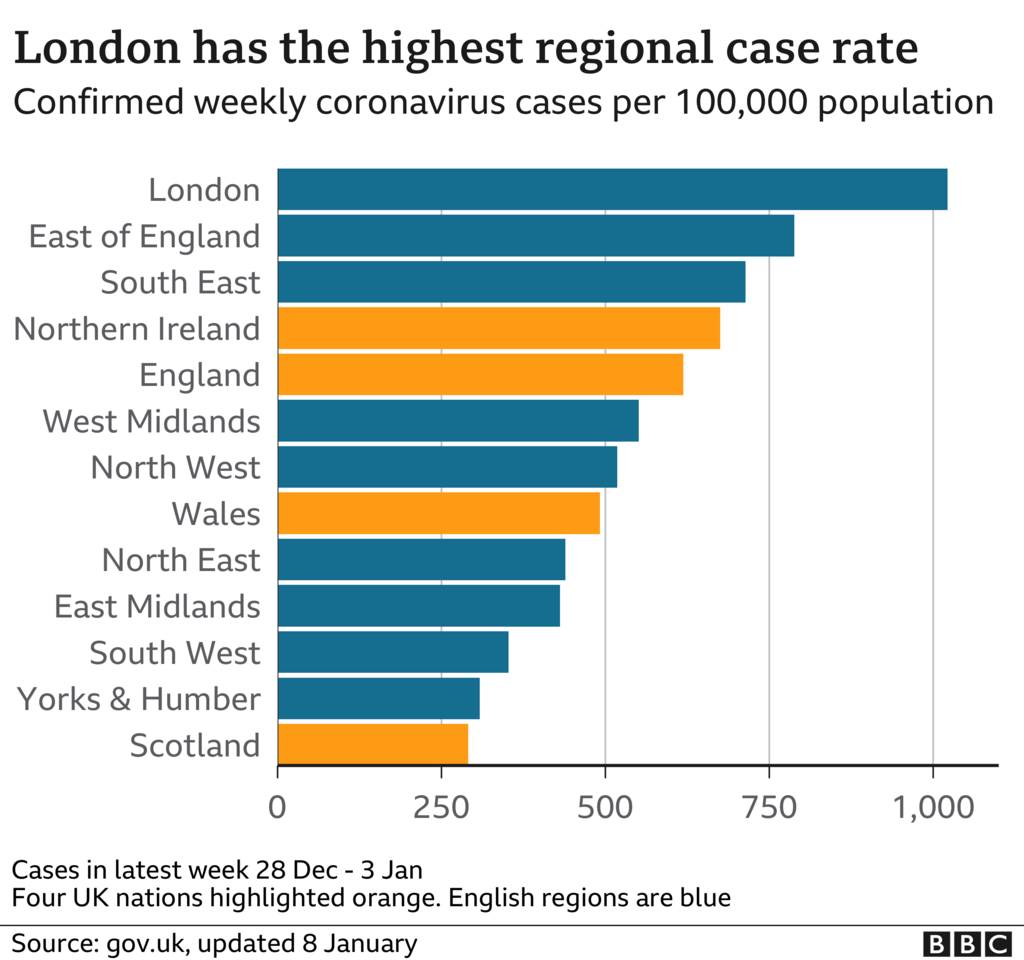 Under the national lockdown, people in England must stay at home and can only go out for essential reasons. Similar measures are in place across most of Scotland, in Wales and Northern Ireland.

Prof Robert West, a participant in the Scientific Pandemic Influenza Group on Behaviours (SPI-B), which advises the government's Scientific Advisory Group for Emergencies (Sage), said the current rules were "still allowing a lot of activity which is spreading the virus".

He said the new variant of Covid was around 50% more infectious compared to the virus that infected people last March.

"That means that if we were to achieve the same result as we got in March we would have to have a stricter lockdown, and it (the current regime) is not stricter," he added.

The professor of health psychology at University College London also told the BBC more children were going to school, compared to during the first lockdown.

He said schools were "a very important seed of community infection".

More children are at school, after the Department for Education widened the categories of vulnerable and key worker pupils allowed to attend. Attendance rates have risen to 50% in some places.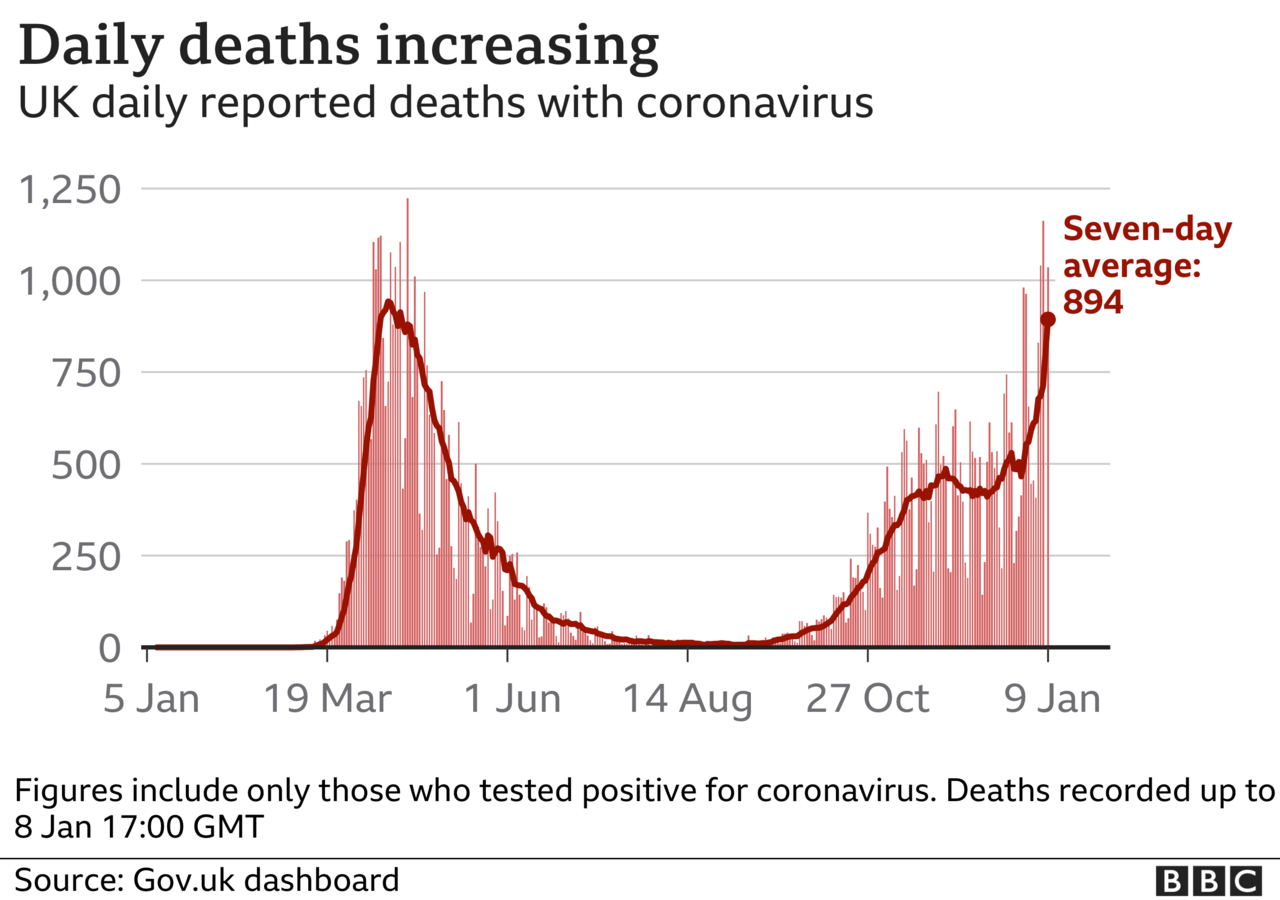 Prof Susan Michie, who is also a member of Sage, said the spread of the new, more infectious variant meant current restrictions were "too lax".

"When you look at the data, it shows that almost 90% of people are overwhelmingly adhering to the rules - despite the fact that we're also seeing more people out and about," she told BBC Radio 4's Today programme.

She said, in comparison to the first lockdown in spring 2020, more people were allowed to go out to work and children's nurseries were open, making public transport busier.

The number of people travelling by public transport in London has decreased since the latest national lockdown began, with tube journeys now at 18% of the pre-pandemic demand and bus journeys at 30%, according to figures from Transport for London.

However, during the first lockdown passenger numbers fell below 10% at some points.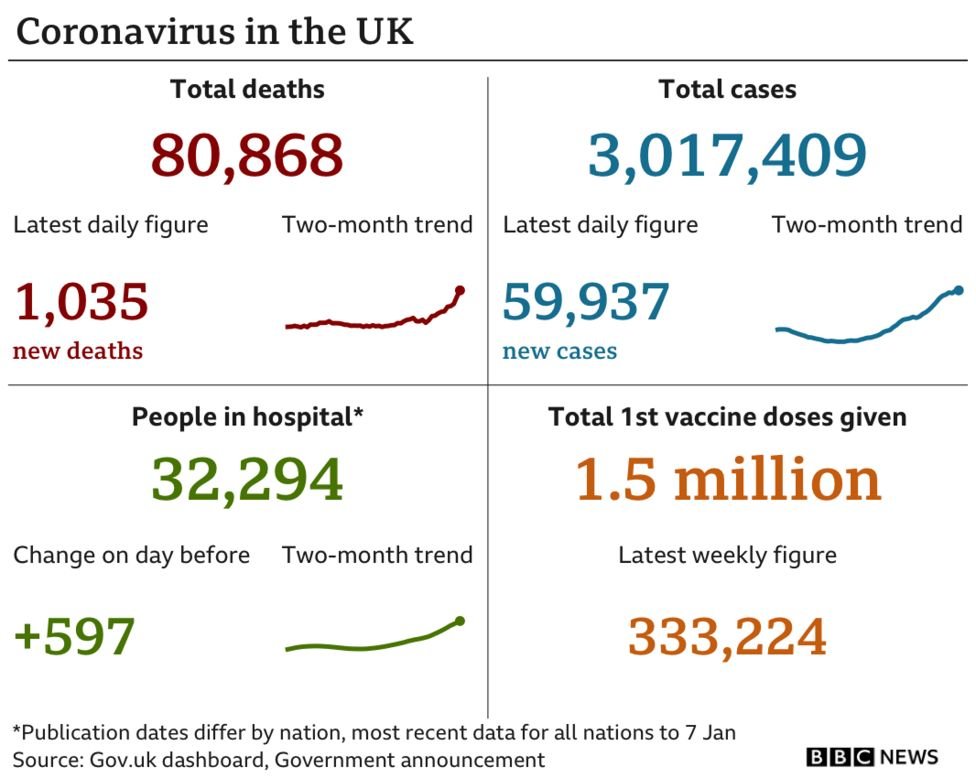 Scientists believe the new variant spreads between 50 and 70% faster compared to previous forms of the virus.

Prof Kevin Fenton, London regional director for Public Health England, said there were "things we could do better" to reduce the number of infections, including greater compliance with mask wearing and social distancing when shopping and using public transport.

Torsten Bell, chief executive of the Resolution Foundation think tank, told BBC Radio 4's PM programme that the UK's statutory sick pay system was "not fit for purpose for a pandemic" and more effective measures to encourage people to isolate were needed.

As cases and deaths soar, the government has launched an advertising campaign, which will be shared across television, radio, newspapers and on social media, urging people to stay at home and not to get complacent.

Prime Minister Boris Johnson said: "I know the last year has taken its toll - but your compliance is now more vital than ever."

Government sources say there is also likely to be more focus from police on enforcing rather than explaining rules.

On Saturday afternoon, 12 people were arrested during an anti-lockdown protest in south London.