Scotland's vaccine passport scheme could be expanded to more hospitality and leisure venues amid fears of a new wave of Covid-19 cases over winter.
Deputy First Minister John Swinney said the rules may need to be tightened in order to prevent a return to lockdown.

This could also include requiring face coverings to be used in more settings, and more home working.

Opposition parties said the "vague" announcement would be of "significant concern" to businesses.

Any changes will be confirmed at the next review of the restrictions on 16 November.

People over the age of 18 currently need to show proof of vaccination in order to enter nightclubs and large events such as football matches and concerts.

The move has been controversial, with all opposition parties at Holyrood voting against it.

There was also an unsuccessful legal challenge by the hospitality industry and teething problems with the apps used to administer the scheme.

Mr Swinney told MSPs that the range of venues required to check vaccine status could be expanded in an attempt to head off a "dangerous" situation over the winter - and in particular the Christmas period.

The deputy first minister said the country was in a "precarious and unpredictable" position, with case numbers remaining at a "concerningly high level" and "intense pressure" on the NHS.

He said it was reasonable to suspect case numbers could rise over the winter period, with colder weather increasing the amount of time people spend socialising indoors and concerns about the COP26 conference.

However, the test positivity results for Blue Zone pass-holders at the conference, based on lateral flow tests, was only about 0.1% last week.

All entrants to the central area of the climate conference must show proof of a negative lateral flow Covid-19 test, unless exempt, on each day they enter the site.

Mr Swinney said: "It is because we want to avoid more difficult restrictions that we cannot rule out strengthening the baseline protective measures currently in place as the best way to head off any prospect of future lockdowns.

"We have been considering whether we may need to extend the Covid certification scheme to bring more settings into scope, such as further indoor hospitality and leisure settings.

"Among other possible interventions, we are exploring how we can help improve ventilation, what we could do to increase home working, and whether changes are needed to extend use of face masks.

"I would stress though that we have not yet taken any decisions about strengthening the existing baseline measures, and we will be discussing options with business sector organisations this week."

'Massive step backwards'

Some business groups hit out at the suggestion that restrictions could increase ahead of the normally busy festive period.

Liz Cameron, chief executive of the Scottish Chambers of Commerce, said it was "essential we don't take a massive step backwards through the introduction of further economic deterrents".

She said ministers should "urgently get round the table with businesses to demonstrate the evidence for ramping up restrictions and detail what financial support they will make available if they choose to do so".

And David Lonsdale of the Scottish Retail Consortium said he was "sceptical of the value" of Covid passports in stores, coffee shops and restaurants, saying there would be "practical and operational challenges".

He also said a push for more working from home would impact on shopper footfall for city centre stores, saying this was still significantly below pre-pandemic levels.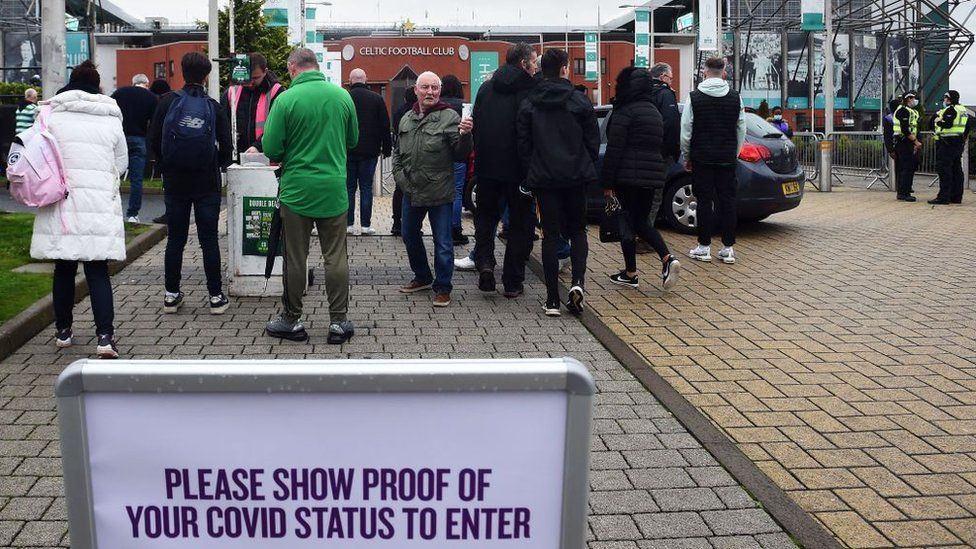 Football supporters have to show Covid certificates to get into larger games in Scotland

Opposition parties were critical of the lack of detail of Mr Swinney's statement, with Scottish Conservative leader Douglas Ross pressing for clarity about what venues could be affected.

He said: "How can this government take these plans forward when they know the damage the scheme is already doing to Scottish businesses, and the impact it is having on people's jobs?

"Exactly which venues will be impacted by this change? This only brings more uncertainty for businesses sat an extremely difficult time - they need to know if they are on the cusp of being hit by added costs and extra hassle."

Scottish Labour MSP Daniel Johnson questioned whether the government would consider allowing a negative test to be submitted in lieu of proof of vaccination, with the deputy first minister saying this was under consideration.

Mr Johnson added: "It will be of significant concern to all of those running hospitality businesses what the deputy first minister has stated in terms of the prospect of rolling out vaccine passports yet to more contexts, especially given the broad and non-specific nature of his statement.

"While nightclubs have door staff and a natural point to check these things, cafes don't tend to - so the practicalities of checking passports in these settings are hugely more challenging."

Meanwhile Scottish Lib Dem leader Alex Cole-Hamilton said there was "no evidence base" for the use of vaccine passports, adding: "They will not save Christmas."
John Swinney said Covid cases may rise over winter as more people socialise indoors