Scotland is facing a "tsunami" of Omicron cases, with the variant likely to replace Delta as the dominant form of the virus within days, Nicola Sturgeon has warned.
The first minister said the 110 cases that have been recorded in the country are only the "tip of the iceberg".

And she predicted that a new wave of the pandemic was about to begin.

She also announced changes to self-isolation guidelines, and urged people to cancel work Christmas parties.

Ms Sturgeon said that, from tomorrow, all household contacts of any Covid cases should isolate for 10 days, regardless of vaccination status and even if they initially get a negative PCR test.

Non-household contacts can leave isolation if they have had a negative PCR test and have had two vaccine doses.

The first minister said early action was needed, with Omicron cases rising "exponentially" in recent days, and that she could not rule out further measures having to be introduced.

She said cases of the new variant were doubling every two to three days - the fastest growth seen during the whole pandemic - which would potentially result in Omicron overtaking Delta by the beginning of next week.

The R number - essentially the rate at which the virus is transmitted - has been hovering at about one in Scotland recently, but is now expected to rise to "well over two and possibly closer to 3".

Scotland has recorded a further 5,018 cases of the virus in the past 24 hours - a sharp rise on the recent daily average of about 2,800 cases.

However, the number of people is hospital with the virus has fallen slightly to 573, with 40 patients in intensive care.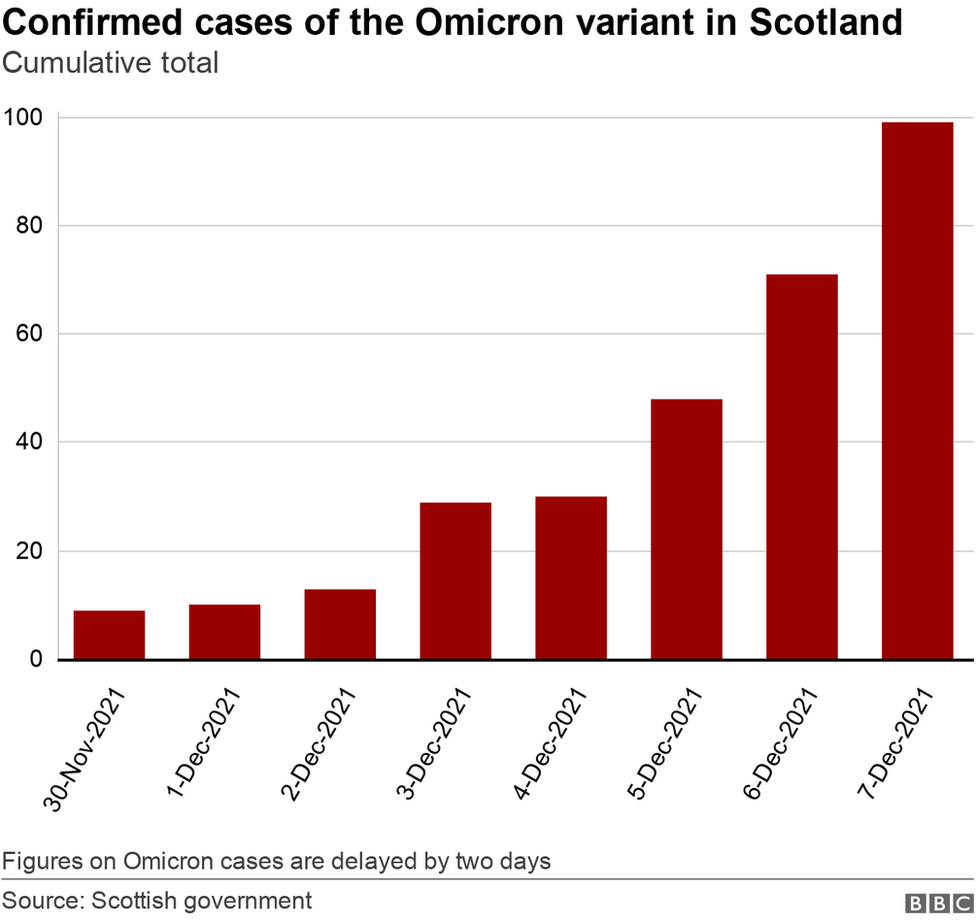 Scientists warned on Friday afternoon that two doses of a Covid vaccine are not enough to stop you catching the Omicron variant - although a third booster dose significantly increases protection to around 75%.

And vaccines are still likely to offer good protection against severe Covid that would need hospital treatment.

Ms Sturgeon said it was hoped - although not known - that Omicron may cause less severe illness on average than Delta, despite being much more transmittable.

But she said that even if this is true, the surge in cases that was now "virtually certain" would still result in a "massive" number of people needing hospital care.

And she said the numbers of people having to isolate after becoming infected, even mildly, would put a significant strain on the economy and public services.

She added: "It also means that the rapid rise in Omicron infections could put significant additional pressure on hospitals and other health and care services, close to the point in the winter when they are already likely to be at peak pressure."

ScotRail has already had to cancel 60 train services due to staff shortages as a result of Covid, while many staff at an accident and emergency unit in Lanarkshire are also having to isolate after attending a social event and becoming infected.

The first minister urged everyone to follow the existing Covid guidelines, and stressed that everyone who had been working from home at the start of the pandemic should be doing so again.


No new general Covid restrictions for Scotland were announced today but Nicola Sturgeon has made clear these cannot be ruled out.

The signs are that we may be headed towards some tightening.

The request to consider deferring Christmas parties and the change to self-isolation advice for household contacts of Covid cases both point that way.

The warning of a "tsunami" of omicron cases with the potential to put a big strain on the workforce, public services and in particular - the NHS - was an even clearer signal.

The first minister has already said an extension of the Covid certification scheme is one potential option.

The introduction of that approach in England is among the measures announced by Boris Johnson in his plan B this week.

His plan B is quite like Nicola Sturgeon's plan A. But as Omicron cases rise, governments across the UK will be considering what further action may be required.

Ms Sturgeon was speaking as the Scottish government published modelling which said infections could rise as high as 25,000 a day by 20 December in the worst case scenario.

The most-likely range of the worst-case scenario will see cases hit a little over 15,000 a day, while in the best-case scenario, cases will peak at just over 1,250.

It comes the day after Public Health Scotland urged people to cancel Christmas parties due to the rising number of Omicron cases.

Ms Sturgeon said she was focusing on work events in particular as they were resulting in rapid spread of the new variant which could pose a big risk to workplaces.


She said everyone should "be thinking a bit more carefully about unnecessary contacts, especially in crowded places", and said people should use "common sense" in deciding whether to meet up.

"My advice would be to consider deferring work Christmas events," she added.

"If they are small events that you wish to go ahead with, make sure you and everybody else in the group is testing beforehand."

'Really, really serious'

Scotland's National Clinical Director, Prof Jason Leitch, said incident teams around the country were finding evidence of big "attack rates" at larger work parties.

He told BBC Radio Scotland's Drivetime programme: "This wave of a fourth variant which is worse than the three preceding it is coming. And it is really, really serious.

"The attack rate - the number of people who get it from every index case in an environment when people are close together - appears to be high with Omicron.

"We are really worried about events we have seen where there are 100 people in a room, and more than half are testing positive after the event."

The hospitality sector has already reported a surge of last-minute cancellations since the advice against holding parties was issued.

The Scottish Chambers of Commerce said financial compensation must be made available to affected businesses immediately, adding: "We cannot see a repeat of March 2020 where the hospitality sector was essentially closed down without any financial support being put in place until weeks after the lockdown decision."
Nicola Sturgeon: "Omicron is going to very quickly overtake Delta as the dominant Covid strain in Scotland"