Chancellor Rishi Sunak has said he expects to stop wearing a mask "as soon as possible" after it is no longer legally required in England.
He told the Times that the situation was "looking good" for an end to lockdown restrictions by 19 July.

Mr Sunak also said it was his "strong expectation" that society could then "get back to normal".

The final easing of Covid-19 restrictions is set to be reviewed over the next few weeks.

Part of this will involve deciding whether to end social distancing and the need to wear a mask in indoor public settings.

Coronavirus infection rates have increased since the last easing of restrictions in May - which saw the indoor reopening of pubs, cafes and restaurants - with the more contagious Delta variant, which originated in India, being blamed.

This delayed the planned final stage from 21 June to 19 July, subject to review.

'Cautious'

But hospitalisations and deaths have not risen at anything like the same rate, while more than 43 million UK adults have had a first dose of Covid vaccine.

Speaking to the Times's CEO summit, Mr Sunak was asked if he expected to stop wearing a mask when it became legal not do so.

"Yes, as soon as possible," he replied. "Things are looking good for 19 July... and my strong expectation is we can lift these major restrictions then and get back to normal."

Earlier, Environment Secretary George Eustice said the "plan" was to remove the legal requirements for mask wearing on that date.

He told Sky News that there were "some people who might choose to wear masks or whether it may be advisory in some settings", adding: "That's a separate matter."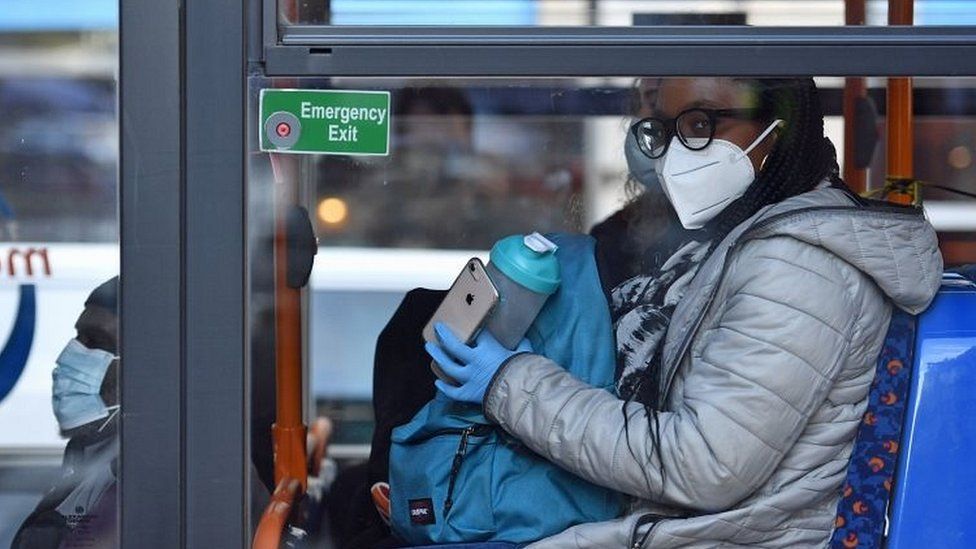 But tourism minister Nigel Huddleston said he "wouldn't be surprised" if he kept wearing a mask on the London underground after restrictions end.

Speaking to BBC Radio Sussex, he said: "No matter what happens in terms of legal requirements, some people will want to be cautious."

Face coverings - when worn over the nose and mouth - reduce the spread of coronavirus droplets from coughs, sneezes and speaking.

They currently have to be worn on public transport across the UK, unless people have a medical exemption.

Wearing coverings in shops was made compulsory in England last July.

They same thing happened in Scotland a few days earlier, with Northern Ireland following suit in August and Wales in September.