A major push to offer coronavirus jabs to every adult in England is under way, with queues forming outside pop-up vaccination centres.
Football grounds and parks are among the venues used across the country and it is hoped all adults will have had their first jab by 19 July.

It comes as Prof Adam Finn, who advises the government, warns the Delta variant is fuelling a third wave of infections.

Anyone aged 18 or over can book a jab in England online or by calling 119.

More than 42m people in the UK have had their first jab and more than 31m have had their second, according to the latest figures.

On Saturday the UK recorded more than 10,000 new coronavirus infections for the third day in a row - with 10,321 cases. The previous time the number was higher than 10,000 was on 22 February.

Latest figures also indicate there have been 14 deaths within 28 days of a positive test.
In London, clinics have been set up at sports grounds, including the London Stadium, Tottenham Hotspur FC and Selhurst Park.

Charlton Athletic opened its Valley stadium in south-east London as a walk-in centre focused giving over-40s their second doses.

A woman waiting in the queue told the BBC: "The most important thing was just to feel well, and a bit free in society - and to not be a danger to others either."

In Bristol, Muna Abubakar persuaded her 97-year-old mother to have the jab on Saturday at a walk-in clinic at Eastville Park, despite her previous reluctance.

"Today, finally she accepted the injection," Muna said.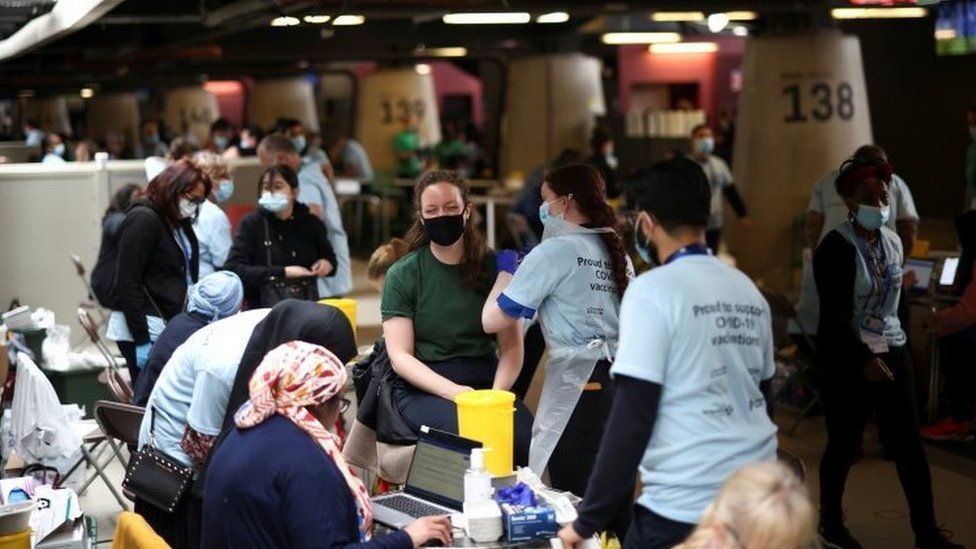 The government wants everyone aged over 50 - and the clinically extremely vulnerable - to have been offered a second vaccination by 19 July.

This is the date that the government has set to ease the final lockdown restrictions in England - removing the remaining curbs on social contact.

Prime Minister Boris Johnson has said he is "confident" that there will not be a further delay to the easing of restrictions, but he has not ruled out the possibility the date could be pushed back again.

Across the rest of the UK, people aged 30 and over can get their vaccine in Scotland - or those aged 18 and over in some parts of Glasgow.

In Northern Ireland those aged over 18 can book a vaccination.

In Wales, over 18s can get the vaccine. Earlier this week the Welsh government said all adults had been offered a first jab.

'Race is on'

Prof Finn, a member of the Joint Committee on Vaccination and Immunisation (JCVI), which advises the government, said cases were rising.

"Perhaps we can be a little bit optimistic it's not going up any faster, but nevertheless it is going up," he told BBC Radio 4's Today programme.

"We can conclude that the race is firmly on between the vaccine programme, particularly getting older people's second doses done, and the Delta variant third wave."

Dr Mike Tildesley, an epidemiologist and member of the SPI-M modelling group, told BBC Breakfast he was "cautiously hopeful" that the number of Covid-19 hospital admissions over the coming weeks will not be on the same scale as in January.

He said those who have been going to hospital tended to be "slightly younger" and "slightly less sick".

"Even if we're starting to see more people going into hospital they tend to be younger people who have higher likelihood of recovering successfully."

Dr Tildesley said these were all "cautiously good signs".

Prof Mark Jit, a vaccine epidemiologist at the London School of Hygiene and Tropical Medicine, told BBC News the UK is "well into the beginning of the third wave" of coronavirus.

He said the link between getting Covid and hospitalisation or death "has been weakened, but it's not been broken completely".

Most people in hospital with coronavirus have not been vaccinated, he said, "so there is a bit of a race to get the vaccination out as soon as possible before the third wave gets really big".

Meanwhile, people in England who have had both jabs and who come into contact with someone infected with the virus could be spared having to isolate for 10 days if trials prove the idea is effective.

Government sources have told the BBC the trials are examining whether it might be possible to scrap the quarantine period and instead allow double-vaccinated people to take daily tests.

If the test, done each morning, is negative the individual would not have to quarantine that day.

The trials are not expected to be completed until later in the summer.