Progress is being made to "close the gap" in the uptake of Covid vaccines, with more people from ethnic minority backgrounds booking jabs, the medical director of primary care for NHS England has said.
But Dr Nikki Kanani - who is also a working GP - said the government was not "tackling all of the hesitancy".

She said NHS staff were now preparing a "weekend of walk-ins" to get jabs done.

More than 60% of the adult population in the UK has now had both doses.

Speaking during a Downing Street briefing, Dr Kanani said that between mid-March and mid-June, uptake rose from 75% to 86% among Asian people and from 55% to 68% for black people.

She said the vaccine programme was "overwhelmingly positive", but added: "We know some people are still anxious about coming forward for their vaccine."

"It's never too late to come forward and take up your vaccine," she said.

"Your vaccine has a name on it, it's for you and it's an evergreen offer."

Walk-in appointments over the weekend would make it "easier than ever" to get a jab, she added - and the NHS was contacting over-40s to tell them they can bring their second appointments forward to eight weeks.

Vaccines minister Nadhim Zahawi told the briefing the government was "intensifying" efforts and was on a "mission" to "get as many people protected" as "quickly as we can".

"We're honing in on areas where uptake is lower," he said, citing London as an example.

Mr Zahawi said the delay to the further easing of restrictions in England until 19 July was saving lives and "allowing us to get more second jabs into arms."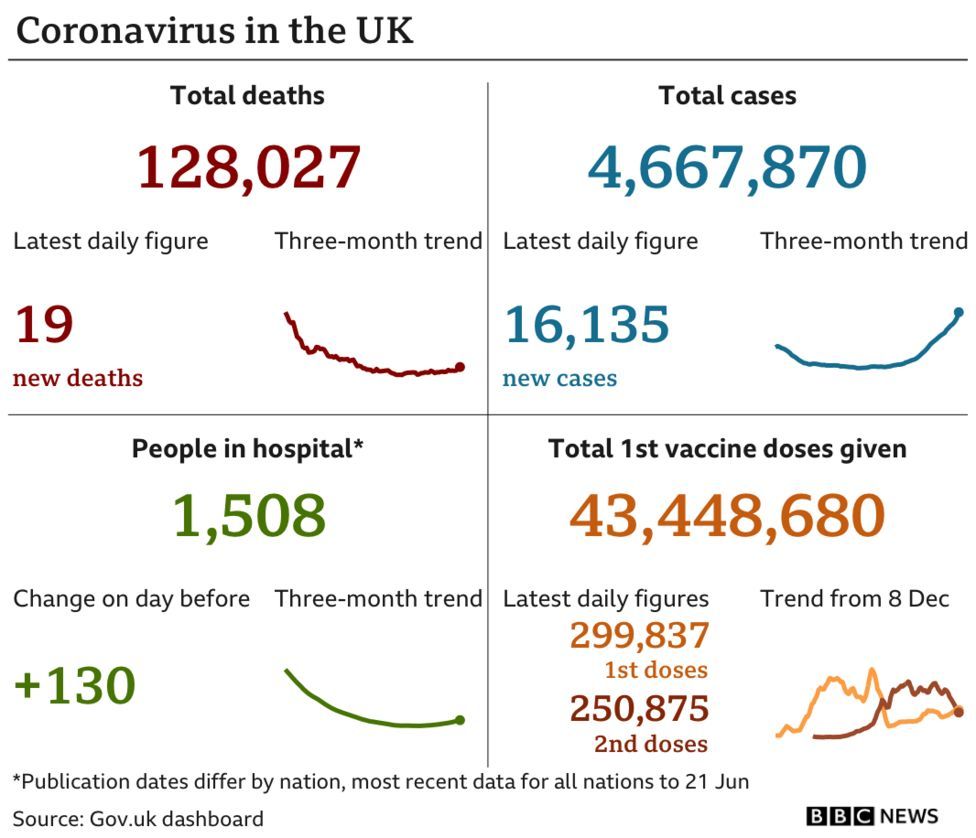 The UK has reported a further 19 deaths within 28 days of a positive test, according to the government's coronavirus dashboard - and a further 16,135 cases, an increase of nearly 5,000 on Tuesday's reported figure.

And the number of people in hospital with Covid has reached 1,508 on the most recent count, taken on Monday.


The message is clear - come forward for the jab.

With cases rising - the 16,135 new cases on Wednesday is the highest since early February - the race is on to get as many people double-dosed as possible.

It has been clear for a number of weeks that infection levels are on the upwards trajectory - and that is resulting in increasing hospital admissions, albeit at a slower rate than in previous waves.

During the winter, around 10% of positive cases ended up in hospital 10 days later.

At the moment this looks to be around 3%, showing the impact vaccines are having.

But if cases keep rising as they are, it's possible we will see in excess of 1,000 admissions a day later in the summer - what the NHS would see for all types of respiratory illness in the middle of a bad winter.

The hope is the wall of immunity built up by the vaccination programme will start to flatten the wave soon.

The more people that are vaccinated, the greater the chance of that happening quickly.

Public Health England's head of immunisation Dr Mary Ramsay, also speaking at the briefing, said case numbers had been increasing since early June "in line with the increased transmission" of the Delta variant - which was first identified in India - but were much lower than they were during the second wave.

She said the higher number of daily cases reported on Wednesday was "largely contributed by" surge testing taking place in Scotland.

And it was confirmed that the number of new Scottish cases of Covid reported in the latest figures is the highest daily total for the nation at any stage of the pandemic.

On Wednesday, 2,969 cases were reported compared to a previous high of 2,649 on 7 January.

The new cabinet secretary for health, Humza Yousuf, told BBC Scotland that the data showed that case numbers were in a period of "exponential growth", but that the government needed to focus on monitoring the link to levels of hospitalisation.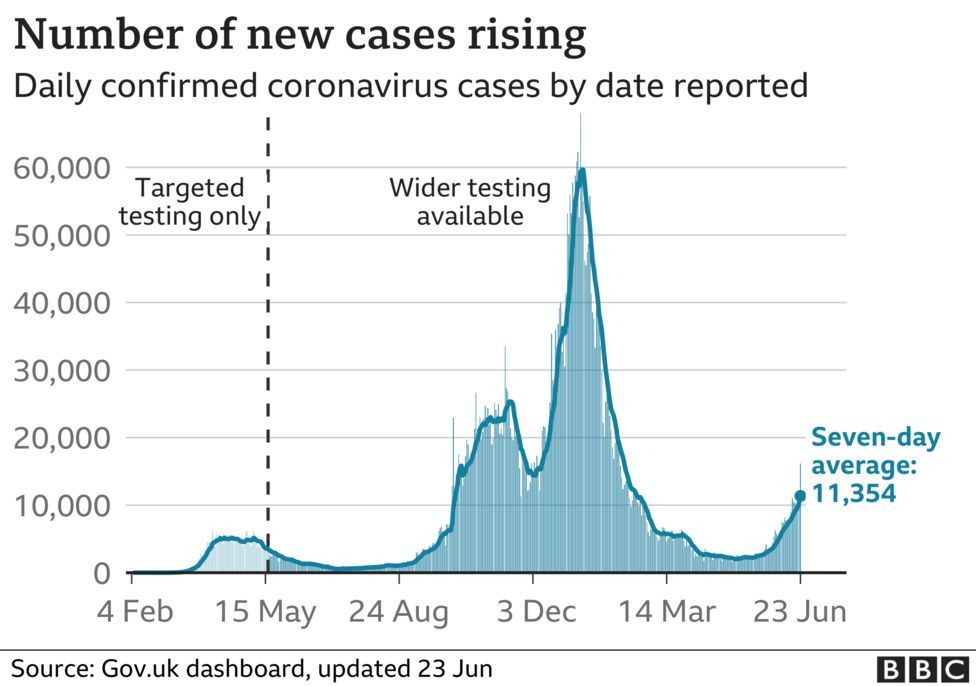 Earlier, Downing Street said the government and Public Health England were monitoring the so-called Delta plus variant of Covid-19.

The prime minister's official spokesman said there had been 41 cases of the mutation, with extra measures in place where it had been found.

Asked by the BBC's Adina Campbell whether official guidance should be updated to reflect reports of symptoms including headaches and runny noses with this variant, Dr Ramsay said she was not "convinced yet".

"I don't think any evidence that we are missing cases," she said.

Dr Ramsay also said there had been a fall in the uptake of other vaccines during the pandemic.

She urged those who needed meningitis and shingles jabs to book appointments and said some babies were behind on their six-in-one and MMR vaccines.

School immunisation programmes, such as the one to protect against HPV, had "struggled" following school closures during lockdown, she added.