The extent Wales will go to in scrapping coronavirus restrictions will be announced on Wednesday.
Ministers are expected to settle on their plans for reducing the legal rules that have governed businesses and social contact during the pandemic.

But First Minister Mark Drakeford has said he will not abandon them "wholesale".

His government has already announced face masks will continue to be required on public transport.

It is not expected Mr Drakeford will move as fast as the UK government, with Boris Johnson planning to scrap most rules in England on 19 July.

The Scottish government is hoping it can lift most legal restrictions on 9 August, but has said it will keep laws on the use of face masks for some time.

Despite rising cases in Wales, officials believe the vaccination programme has weakened the link between catching Covid, serious illness and death.

Mr Drakeford's cabinet will make the final decision on Wednesday morning, with a statement to the Welsh Parliament expected that afternoon.

He is expected to confirm whether Wales can now move to "alert level one" - with the easing of some restrictions that had been delayed because of the Delta variant.

They included the reopening of ice rinks and allowing six people from any household to meet in private homes.

He is also expected to publish an updated coronavirus control plan which will set out a future alert level zero, with fewer legal restrictions.

But this is not expected to be implemented immediately, with the next three-weekly review not due until early August.

Mark Drakeford is expected to announce his cabinet's decision in the Senedd on Wednesday afternoon.

His ministers have already announced they will keep laws requiring face masks on public transport and in health and social care.

The Welsh government is also deciding if they should be mandatory in shops, a move backed by trade unions and Plaid Cymru.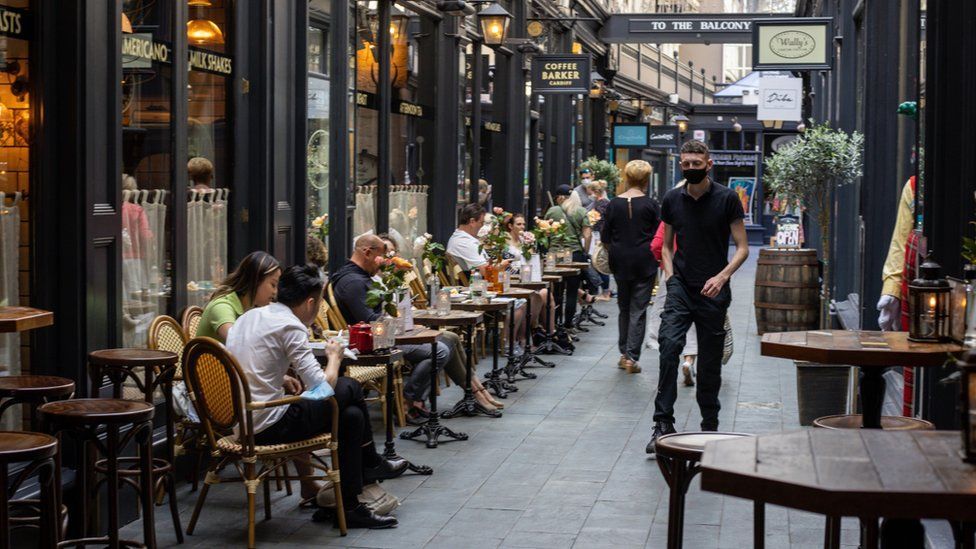 Ministers have indicated Wales will move to "increasing normality", but on Tuesday the first minister said he did not want to ease restrictions "wholesale".

"The mood of Welsh people is not a mood of thirsting for some spurious freedom day," he said.

Wales' case rate on Tuesday stood at 138.2 per 100,000 people, with the number of positive tests running at an average of 623 a day.

That compares with 466 a day the week before, and about 77 a day a month ago.

But officials say the link between cases and serious illness and death has weakened. At the start of July, only 1.1% of Covid cases were admitted to hospital.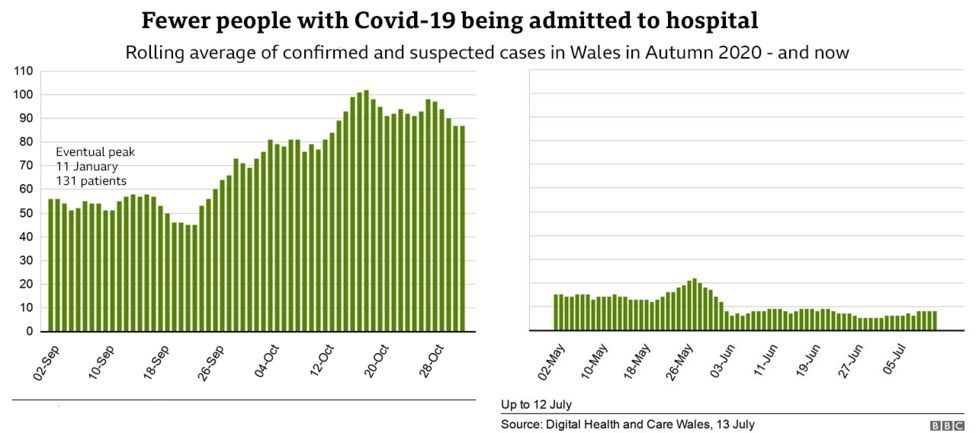 The Welsh Conservatives' Senedd leader Andrew RT Davies called for a "detailed plan for the restoration of freedoms in Wales".

"Given the data trends, the Welsh Labour government now has the flexibility to provide families, workers and businesses with their plan for restoring all freedoms and releasing restrictions in Wales," he said.

Plaid Cymru's deputy leader Rhun ap Iorwerth criticised the Welsh government's plans for a press conference on Wednesday evening, saying it would clash with a debate in the Senedd calling for a Wales-only public inquiry into ministers' handling of the Covid pandemic.

"Throughout the pandemic, we've seen announcement after announcement made by press release, rather than in our Parliament where proper scrutiny can take place. Sadly, here's another example of a government snub," he said.

Although most businesses are now allowed to trade, under current restrictions they must do so under social-distancing laws.

These apply to pubs, cafes and restaurants and the sector has lobbied for them to be scrapped.

Nightclubs remain closed in Wales, while organisers of large events are waiting to find out if they can take place.

Legal limits on numbers that can meet outdoors remain in Wales, while meetings in private homes are currently restricted to those who are in extended household groups.