The next few weeks will be "nail-bitingly difficult" for the NHS, hospital bosses have warned.
Staff absences and the new Covid variant are creating a "challenging situation", Saffron Cordery, of NHS Providers, which represents hospital trusts in England, said.

Doctors are urging the public to "take it seriously and follow the rules" to protect the health service.

The year started with 53,285 more Covid cases and 613 deaths being reported.

The day's figures do not include data from Northern Ireland or Wales, or the numbers of deaths from Scotland - as these are not being published on certain days during the Christmas and New Year period.

It comes after the UK reported its highest daily cases on Thursday, with a record 55,892 infections.

On Friday evening, the government confirmed that all primary schools in London would remain closed for the start of the new term, following a review of Covid transmission rates.

From Monday, all schools in the capital will now be required to provide remote learning.

Primaries in nine London boroughs and the City of London district had been set to reopen - while those in the remaining 23 boroughs would have stayed closed from 4 January.

Meanwhile, new analysis by Imperial College London has confirmed the new variant of coronavirus has a much quicker rate of transmission than the original strain.

And an analysis of NHS England data from 23 hospital trusts by the Health Service Journal shows that Covid-19 is putting intense pressure on adult acute care and general beds, as well as those in intensive care.

It found that more than a third of these beds were occupied by patients with Covid-19 on Tuesday, and in three trusts - North Middlesex in London, and Medway and Dartford and Gravesham in Kent - the figure was more than half.

Based on the recent rise in numbers, the analysis suggests that all acute and general beds might soon be filled with Covid-19 patients.

Speaking on BBC Breakfast, Ms Cordery said the surging transmission and death rates were "incredibly hard to deal with".

"When we are seeing major London trusts saying they are under pressure, that's when we know we're in a very challenging space," she said.

A leading intensive care doctor has urged people to follow restrictions until the vaccination programme is fully rolled out.

Prof Anthony Gordon, of Imperial College, told BBC Radio 4's Today programme: "There is light at the end of the tunnel so I would urge people to hold on for these few more months while the vaccination programme makes that difference and then we can truly get back to normal.

"But we can't overrun the health service because this will just lead to thousands more deaths."

Adrian Boyle, vice-president of the Royal College of Emergency Medicine, urged people to follow guidance on hand washing, social distancing and face coverings to stop the "entirely preventable" spread of the virus.

Dr Boyle said staff are "tired" and at risk of "burnout", having "worked really hard over the summer" and "put up with a lot of disruption".

"This time people are frustrated, this is now an entirely preventable disease, we know what we did in spring made a lot of this go away. There's also now a vaccine," he added.

More than three-quarters of England is currently under the strictest tier four - "stay at home" - coronavirus measures, and other parts of the country have joined higher tiers.

Mainland Scotland, Northern Ireland and Wales are under lockdown.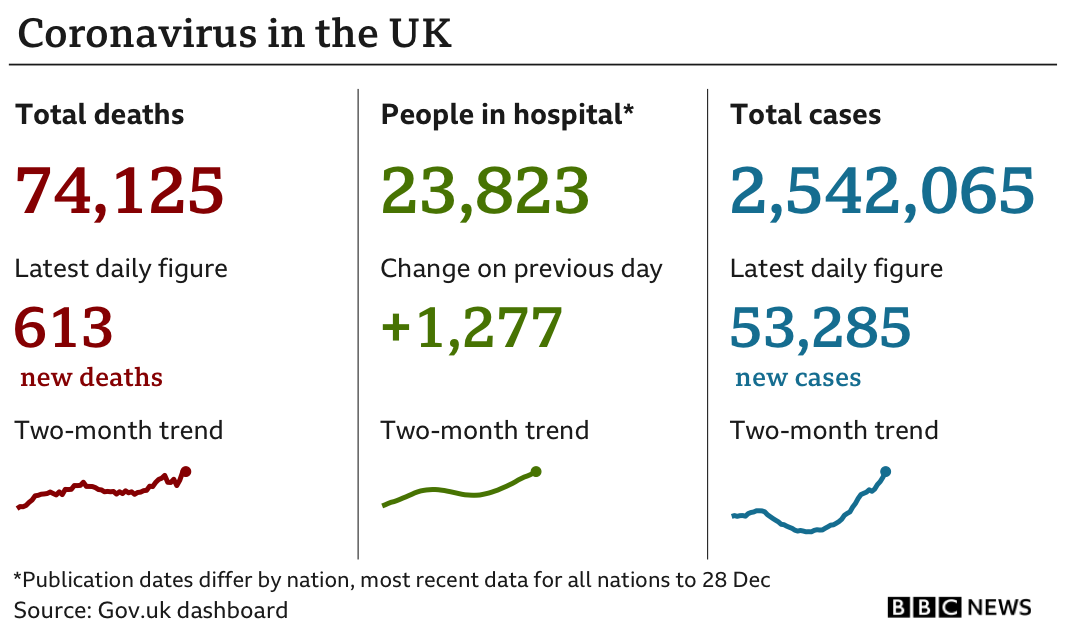 There are also concerns the added pressures of rising numbers of Covid patients seen at London hospitals have begun to spread across the country.

Speaking on Today, Dr Alison Pittard, of the Faculty of Intensive Care Medicine, said it was "only a matter of time before it starts to spread to other parts of country", adding that "we're already starting to see that".

She stressed it was "really important that we try and stop the transmission in the community because that translates into hospital admissions".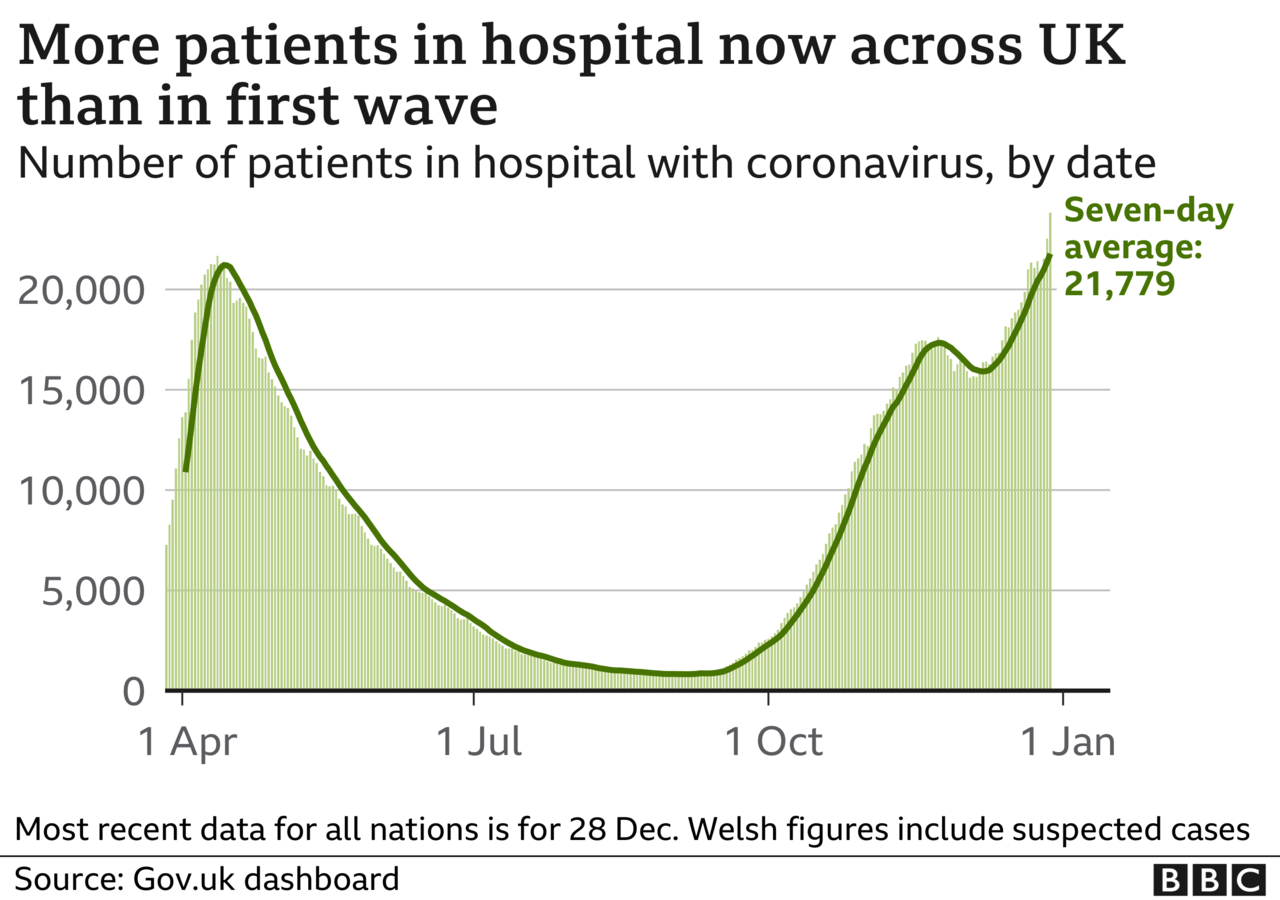 It comes as almost half the major hospital trusts in England are said to be dealing with more Covid-19 patients than at the peak of the first wave in April.

And pressure has been so great on some hospitals in London and south-east England that some patients have been moved out of the area.

London's Nightingale emergency hospital is ready to admit patients, the NHS has said, while other sites currently not in use are being readied.

However, Mike Adams, director of the Royal College of Nursing, questioned whether there were the staff available to run the hospital.

"Nursing is already stretched beyond capacity so there is no magic pile of nurses we can call upon," he told BBC Radio 4's World at One programme.

"I think the real battle is reducing the spread of the virus and getting the vaccine rolled out."

The new coronavirus variant has driven a big rise in cases, with the worst effects felt so far in London.

Researchers at Imperial College London have confirmed it increases the R number - the number of people that one infected person will pass on a virus to - by about 0.4 to 0.7.

The UK's latest R number has been estimated at between 1.1 and 1.3. It needs to be below 1.0 for the number of cases to start falling.

Prof Axel Gandy, from the statistic section of Imperial College London, told the Today programme this higher rate of infection means that transmission of the disease would have tripled even during England's November lockdown conditions.

The hunt is now on to find new ways to slow the spread of coronavirus, with the rules on mask wearing potentially coming up for review.

Behavioural science group SPI-B (Scientific Pandemic Insights Group on Behaviours), which reports to the Sage group of government advisers, has said that mandatory face coverings may be necessary in a wider number of settings, such as in workplaces and possibly outdoors.

However, Dr Simon Clarke, associate professor of cellular microbiology at the University of Reading, told BBC Radio 4's World at One he was not convinced a move towards making the wearing of face coverings mandatory outdoors would make "much difference" to transmission rates.

He said the "bigger problem" was people touching their face covering or wearing it incorrectly, adding ministers should focus on ensuring people knew how to wear them and to change and wash them regularly.

The rollout of the newly approved Oxford-AstraZeneca vaccine will begin on Monday, almost a month after the Pfizer-BioNTech jab.

Second doses of either will now take place within 12 weeks rather than 21 days as had been initially planned with the Pfizer vaccine.

In other developments:

* The UK has welcomed 2021 with a fireworks and light display over London that included tributes to NHS staff

* Most people heeded warnings to stay at home and celebrate, but police issued fines to those who did not

* Edinburgh's traditional Hogmanay street party was cancelled, with videos of a drone display filmed across Scotland released instead

* First Minister Nicola Sturgeon has warned the next few weeks could be the most dangerous period for Scotland since March in the fight against Covid, saying the new variant was "accelerating spread" of the virus

* The delayed 2020 Tokyo Olympics and Paralympics will go ahead this summer despite concern over rising coronavirus cases, says Japan's prime minister