More than five million people in the UK have received a second dose of a Covid-19 vaccine.
The latest figures show an additional 246,631 second doses, bringing the total to 5.2 million.

It means 9.9% of over-18s have received both injections. First doses have been given to 31.4 million people.

As the vaccination programme takes effect, daily reported deaths fell to 10, their lowest number since 14 September.

However, reporting lags may mean lower than usual figures for deaths because of the bank holiday.

The UK also reported another 3,423 confirmed coronavirus cases.

In a post on Twitter, Prime Minister Boris Johnson welcomed the "milestone" in the vaccination programme, adding: "I urge everyone to take up their second dose as soon as they are offered it."

Health Secretary Matt Hancock said it meant that 50% of over-80s have now had their second jab.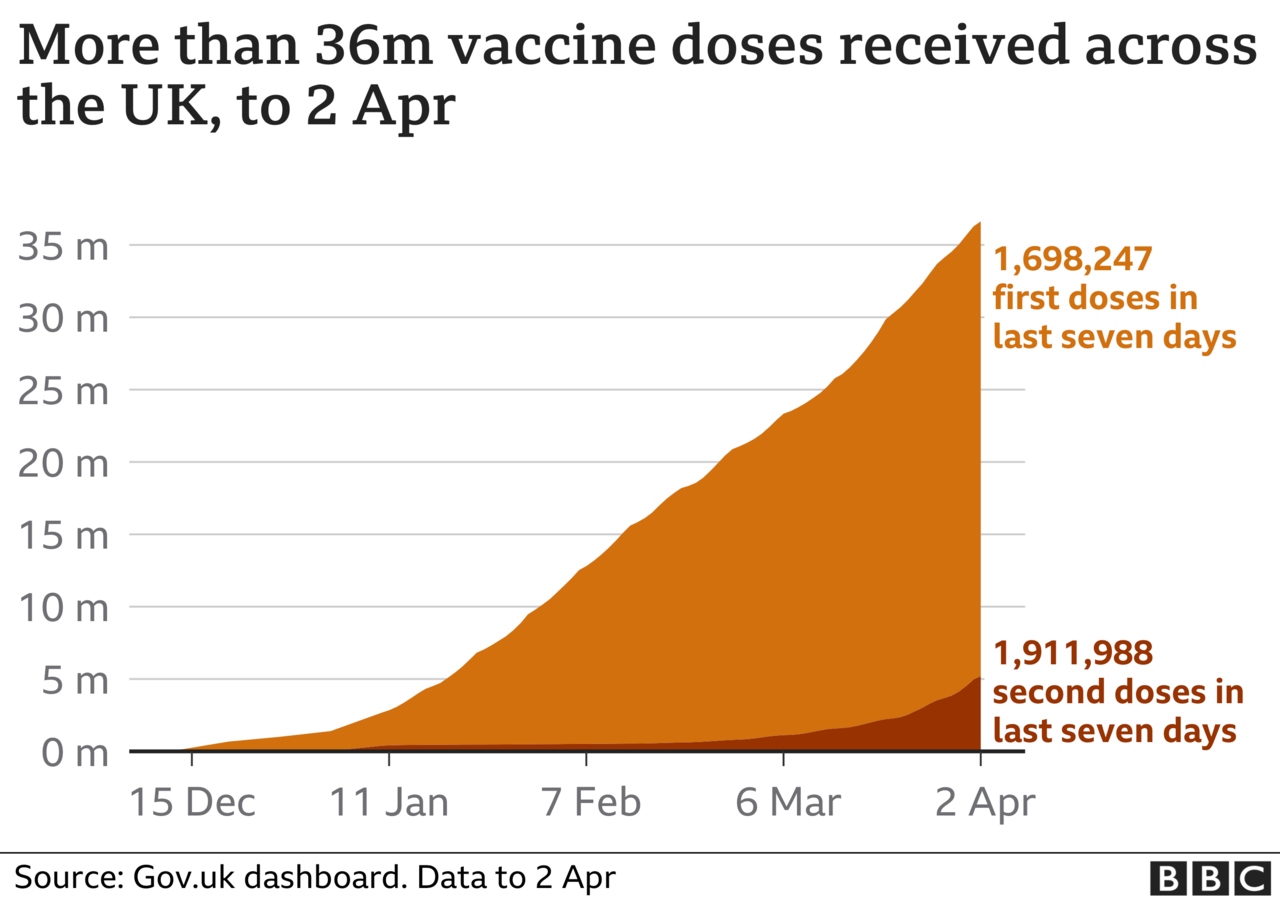 It comes as the UK begins to relax some coronavirus restrictions.

England has allowed gatherings outside of up to six people or as two households since Monday, while the reopening of outdoor hospitality and all shops is planned from 12 April.

Rules on visits to care homes in England will also be relaxed from 12 April to allow two regular visitors indoors, the government has announced.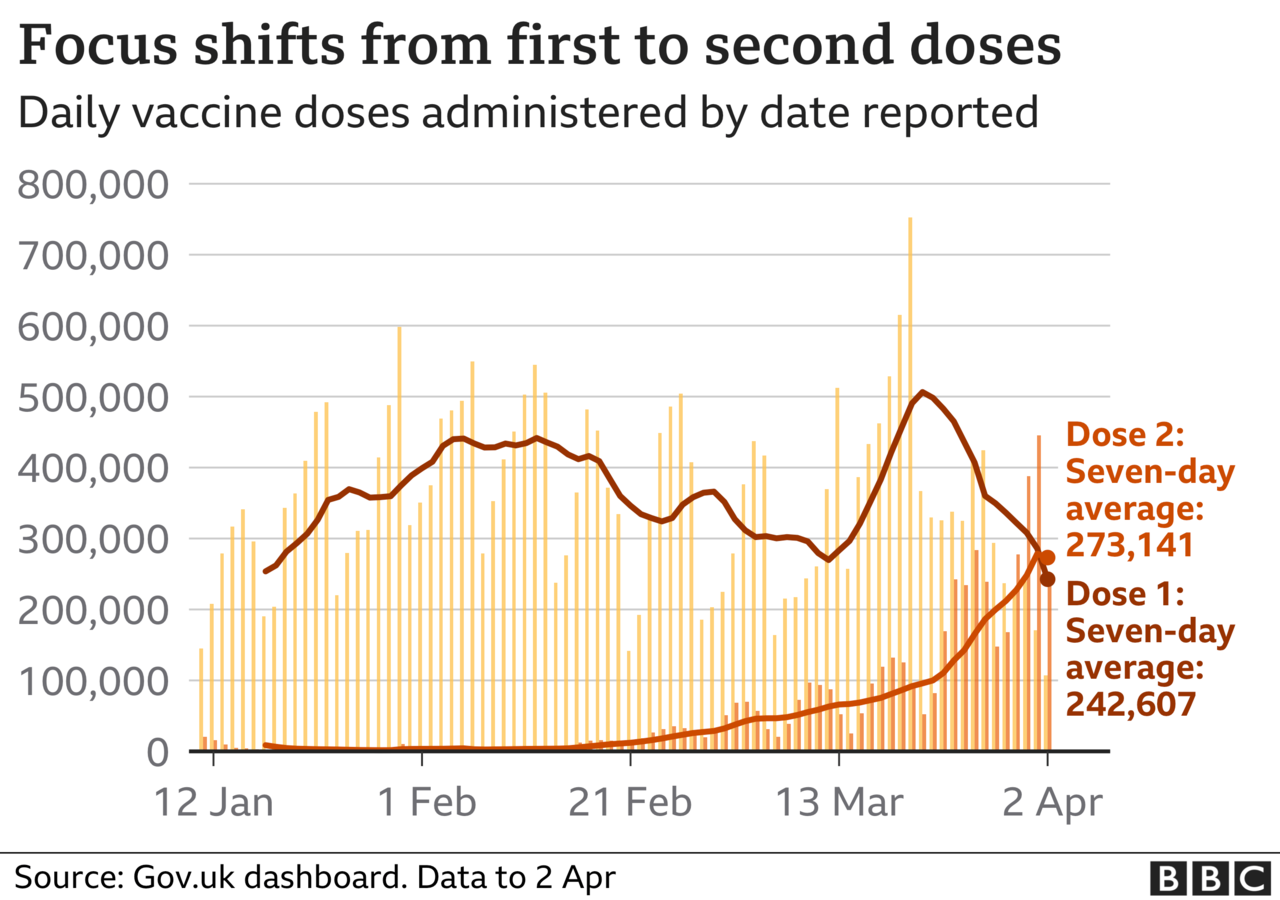 Wales, Scotland and Northern Ireland have also begun to allow outdoor socialising.

But Mr Johnson has warned people against mixing with other households indoors over the Easter weekend, even if they have been vaccinated.

The number of second doses given has exceeded the figure for people getting their first jab on each of the last four days, as the government focuses on fully vaccinating the priority groups.

Vaccines Minister Nadhim Zahawi said that vaccinating the most vulnerable groups would address 99% of mortality from Covid-19.

The figure of 107,420 for first doses on Friday was the lowest since the government began publishing daily updates, although the bank holiday may have reduced available appointments.

Vaccinations and ongoing lockdown restrictions also mean the number of Covid patients in hospital has fallen to 3,536 at the last UK-wide count, its lowest level since 5 October.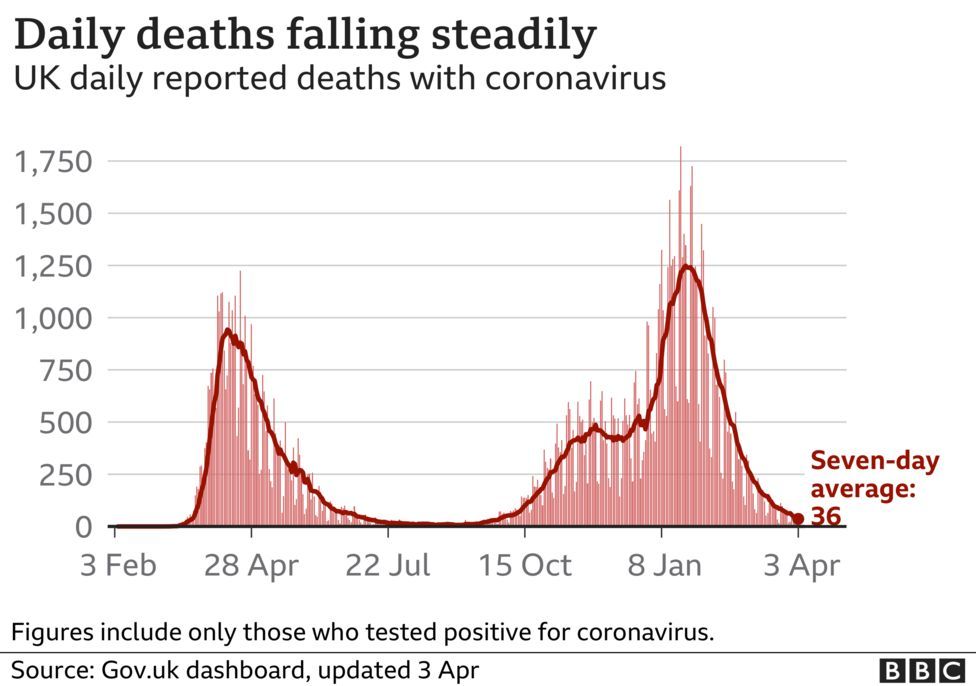 Dr Nikki Kanani, GP and medical director for primary care at NHS England, said the latest figures were a testament to the work of volunteers and medical staff on "the biggest vaccination programme in NHS history" and "the fastest in Europe".

The prime minister has warned that the UK does not know "exactly how strong" its defences will be against a new wave of Covid-19 cases, as countries in Europe face rising infections and a slow vaccine rollout.

Italy has begun a strict three-day lockdown over Easter as it battles a third wave with about 20,000 cases a day.

France has also announced a third national lockdown, lasting for at least three weeks, as it faces a peak of about 5,000 people in intensive care.