Matt Hancock has denied claiming during the early stages of the pandemic that people discharged from hospitals were being tested for Covid before going back to care homes.
But the health secretary admitted he had said residents "would" be tested once adequate capacity was in place.

The comments follow criticisms of him by the PM's former adviser, Dominic Cummings, last month.

He accused the minister of lying and said he should have been fired.

But Mr Hancock told BBC One's Andrew Marr Show that he had been honest and straightforward with people during the pandemic.

He added that "we brought in the policy of wanting to test everybody who went into a care home as soon as we had those tests available".

Mr Hancock is due to appear at a joint hearing of the House of Commons health and science committees later this week, as part of their inquiry into "lessons learnt" from the pandemic.

In total, 127,840 people in the UK have died within 28 days of testing positive for coronavirus.

More than 40,000 of these deaths have happened in care homes in England, according to the Office for National Statistics.

During a seven-hour hearing by the science and health committees last month, Mr Cummings said: "We were told categorically [by Mr Hancock] in March [last year] that people would be tested before they went back to care homes. We only subsequently found out that that hadn't happened.

"Now all the government rhetoric was 'We put a shield around care homes' and 'Blah, blah'. It was complete nonsense.

"Quite the opposite of putting a shield round them, we sent people with Covid back to the care homes."

Mr Cummings, who was forced out of Downing Street last autumn following a power struggle, also said the health secretary "should have been fired for at least 15 to 20 things, including lying to everybody on multiple occasions in meeting after meeting in the Cabinet Room and publicly".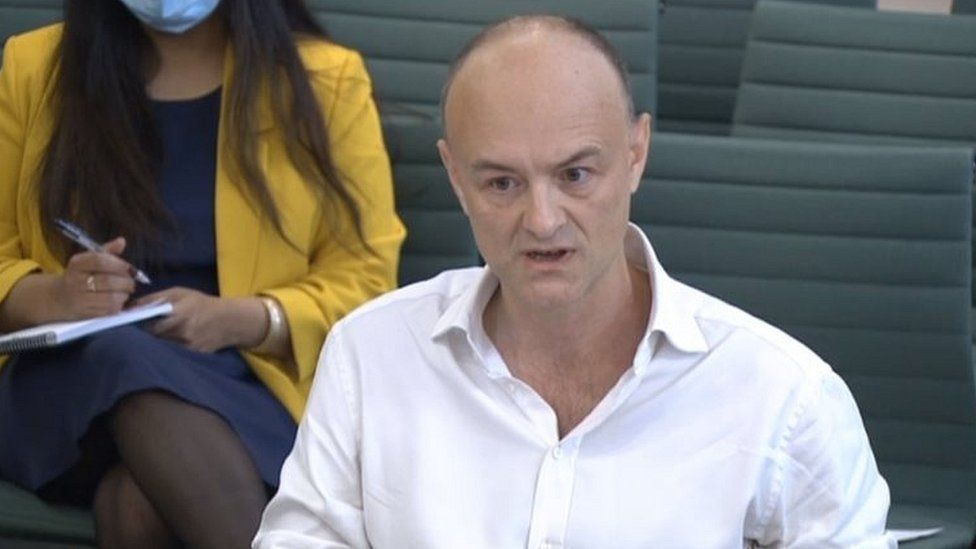 Mr Hancock has previously said the claims against him were "not true".

Appearing on the Andrew Marr Show on Sunday, he was asked whether, in March last year, he had said "that people sent from hospitals into care homes were being tested when you knew they weren't".

Mr Hancock replied: "No, I did not."

He also appeared to draw a distinction between much of the reporting since then of Mr Cummings's remarks and the actual words used.

Mr Hancock was asked: "So it's a question of tenses? You didn't tell the prime minister that people were going from hospitals into care homes without being tested?"

Mr Hancock said: "Well, ironically, here I did exactly what is alleged, which is [say] we would bring in testing when the testing capacity was available."

He added that there had not been "enough tests available to test everybody" at the start of the pandemic.

The clinical advice had been that "hospital is a dangerous place for people who might end up getting Covid after they'd taken the test" and that "what matters is that you had the infection prevention control when you're in the care home".

He also said that "everybody" - including in Scotland, Wales and "around Europe" - had "a challenge in care homes".

Mr Hancock added: "But at the time... we didn't have the testing capacity and I built that testing capacity, put in place the 100,000 (per day testing) target and we got the tests and then we could implement the policy."