UK councils face a £3bn black hole in their budgets as they emerge from the pandemic, a BBC investigation into their finances can reveal.
Some local authorities were struggling to carry out statutory duties and were at risk of bankruptcy, a local government expert said.

And 10 councils have asked to borrow £300m of emergency money from the government to plug financial holes.

The government says it has handed councils £12bn during the pandemic.

A spokesman for the Ministry of Housing, Communities and Local Government (MHCLG) said: "In the coming months, we will take stock of the demands faced by councils and the resources available to meet them and will decide on the timetable for future funding reform."

The spokesman claimed there were a small number of councils that were "in severe financial distress such as Croydon and Slough due to poor leadership and chronic financial mismanagement, long predating the pandemic.

"These councils have badly let down their residents."

Analysing 170 upper-tier and single tier councils in the UK the BBC Shared Data Unit found:

*  UK local authorities plan to make at least £1.7bn worth of savings in the 2021-22 financial year while also using more than £500m worth of reserves to balance the books

*  UA quarter of those savings - some £434m - will be made in adult social care departments, which provide support to the elderly and vulnerable

*  UDespite making the cuts, local authorities predict a £3bn shortfall in their budgets by 2023-24

*  UNearly 60% of councils in England have risen council tax by the new statutory maximum of 4.99% to compensate for losses, a rise of about £100 on a yearly Band D bill in many areas


Where are cuts being made?

Savings will see the threshold for which disabled or elderly individuals can receive care raised, bus services scrapped and children's centres closed in parts of the UK.

Fees and charges for parking, planning and crematoria are set to rises in places.

In the London borough of Bexley, 264 staff posts will be deleted, while library opening hours and road repairs will be reduced.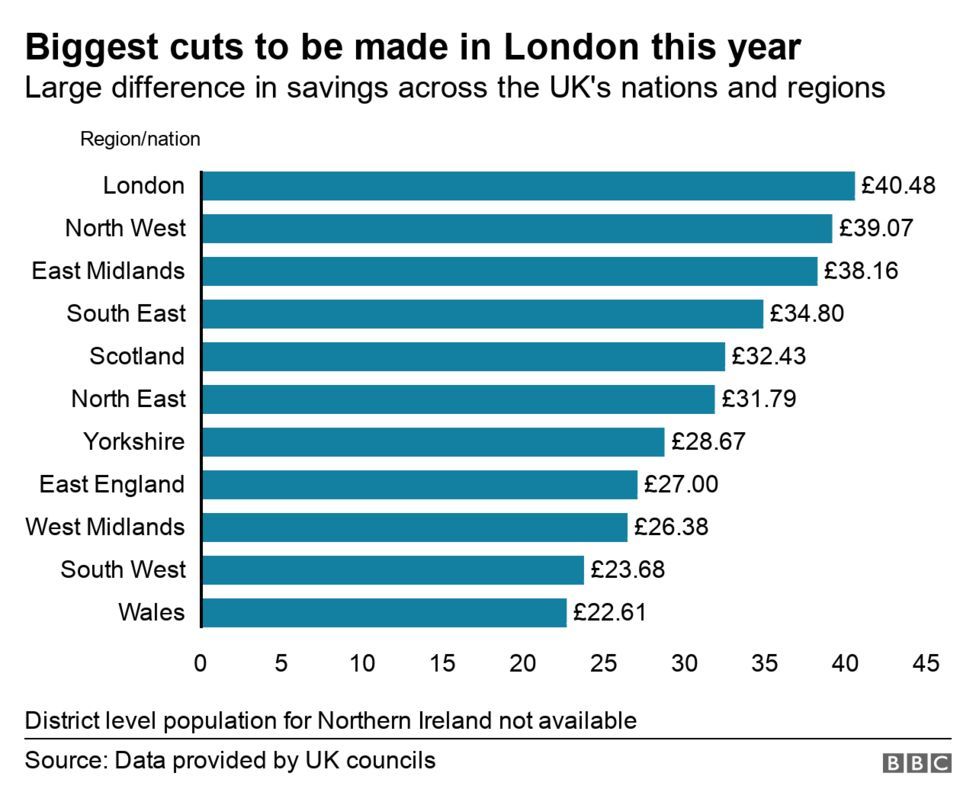 Sharon Taylor, a Labour councillor who chairs the Local Government Association's resources board, said the pandemic had highlighted an existing funding crisis brought about by a reduction in central government grants - a fall of up to 70% over ten years in some places.

She said "Cuts to local government hurt people and they hurt the everyday services people see when they walk outside their door."

Analysis by Alex Forsyth, Political Correspondent

Council budgets have been stretched for some time, but for many the pandemic has exacerbated the problem. It's increased the amount local authorities have had to spend on supporting their communities, and at the same time hit income streams hard.

This new BBC analysis lays bare the scale of the challenge facing councils across the UK, and spells out some of the cuts to services planned for this year - as well further shortfalls predicted.

Westminster and the devolved governments have provided extra money, which has been welcomed by local authorities. But what many in the sector really want is a new, more sustainable way of funding councils and the services they provide - not least social care. The government has promised reform; for local authorities it can't come too soon.

Why are councils struggling?

Since the start of the pandemic, councils have been asked to provide extra services, such as home food deliveries for those shielding, finding accommodation for street sleepers and, in some cases, helping with the test and trace initiative.

They have also had to supply workers with Personal Protective Equipment (PPE). But, at the same time they have seen income from things such as town centre parking, council tax and business rates plummet.

In many cases, councils have also lost revenue from private investments. Authorities in Luton, Manchester and the West Midlands part-own airports, where passenger flights have been largely grounded during the pandemic.

Croydon Council, which borrowed £545m to make a series of investments including a shopping centre and a hotel, saw the latter go into administration in June 2020. The authority effectively declared itself bankrupt in November 2020.

Between 2016 and 2020, councils invested more than £7.6bn into commercial properties, a third of which were retail properties, according to the National Audit Office.

Ms Taylor said the government had encouraged councils to invest in commercial property to raise funds.

She said: "[It] seems to have a very ambiguous attitude towards that now, and is saying those investments were down to us and if we've lost income they are not going to make up for those losses."

Chair of the public accounts committee Dame Meg Hillier MP said some councils had made "risky choices" at the expense of the taxpayer.

But she also said the committee was generally critical of the MHCLG policy and its "lack of understanding about councils' exposure to risk".

Which councils are seeking emergency cash?

Last week, Slough Council issued a Section 114 notice, becoming the third council in four years to effectively declare itself bankrupt.

The authority was one of 9 in England to have applied for a capitalisation direction, an emergency measure allowing a council to either borrow money to cover losses or to move funds from its building programme to fund day-to-day expenses.

Around £290m is to be issued to councils, all of which will have to be repaid over a period of time.

Croydon Council asked for the most support from the scheme - worth £120m over the next two years.

Nottingham City Council, which placed its power company, Robin Hood Energy, into administration in January, is set to borrow £35m.

Other councils seeking financial support are Wirral, Peterborough, Bexley, Eastbourne, Luton and Copeland.

Redcar and Cleveland said it had sought a government grant following a ransomware attack by hackers which affected its computer network.

'Residents live with the fallout'

In Croydon, residents said they were feeling the effects of council cuts.

Earlier this year, the residents of Regina Road said they had so much black mould in their council-owned properties it was a risk to their health. Others said they went days without electricity, or burst pipes that spilled sewage into living spaces.

Months before, in November, the council had issued a section 114 notice, limiting itself to only essential spending, as it seeks to make £45m of cuts.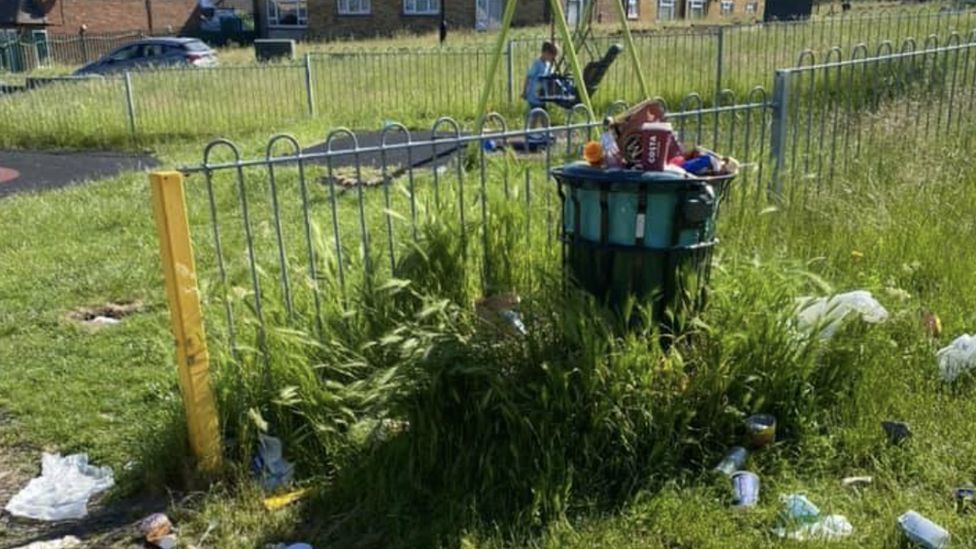 Some residents were not able to find graves at a cemetery as the reduction to grounds maintenance had allowed the grass to grow over the headstones, according to the Local Democracy Reporting Service.

Elizabeth Ash, a Croydon resident of 25 years and part of a campaign to stop the council closing five libraries, said the state of services was causing some people to consider moving out of the south London borough.

"The graffiti services have all but stopped now," she said. "There's been a proliferation of tagging on people's properties. All of these things have a knock-on effect in the community."

"We don't have money to waste but it keeps getting wasted. The residents have to live with the fallout from it."

Councillor Hamida Ali, leader of the council, said she was "serious about tackling (the) financial situation, improving how Croydon is run and providing good value services for residents".

'Postcode lottery'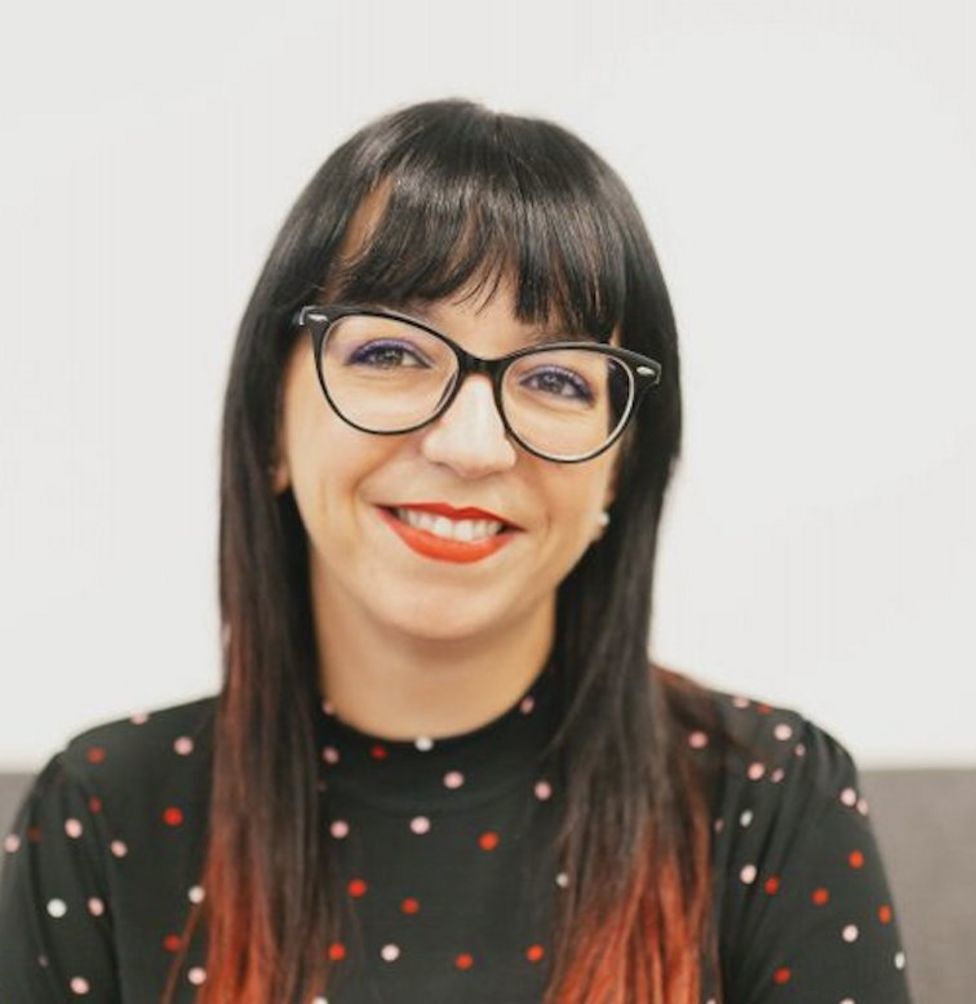 Arianna Giovannini is deputy director of the Local Governance Research Centre (LGRC) based at De Montfort University.

She said the pandemic had "deepened regional inequalities" - particularly in England - by pushing financially burdened councils into further difficulty.

She said: "The pandemic has forced councils to think the unthinkable. We are in a position where some councils are struggling to continue to deliver just the statutory services."

Across the UK

An MHCLG spokesperson said: "We've given councils over £8.9bn in response to specific pressures from the pandemic - that's over £2bn more than they told us in the detailed reporting they have provided that they spent last year to tackle Covid-19. We have already provided £3bn in additional funding for this year."

The Welsh government said it had provided councils with £1.4bn to ensure services did not bear the brunt of the financial impact of the pandemic.

The Scottish government said its support package totalled more than £1.5bn.

A spokesman said: "However, our ability to go further in supporting the recovery is limited and our calls to the UK Government for additional fiscal powers have so far gone unheeded."

The Northern Ireland Executive said it had provided an additional £85m of funding to councils, adding that it considered the financial situation of local authorities to be "generally satisfactory".