Covid infections are on the way down in the UK, dropping by more than half a million in a week, according to Office for National Statistics (ONS) figures.
An estimated 3.2 million people had the virus in the week up to 20 July, compared to 3.8 million the week before.

Hospital cases are also decreasing.

Admissions in England of people with Covid stood at 16.3 per 100,000 people in the seven days to July 24, down from 18.2 the previous week.

There is still lots of Covid around to catch, even though the rates are declining, experts warn.

Over the peak

In the latest ONS report, for the week ending 20 July, the estimated Covid rates were:

*  One in 20 in England - down from one in 17 the week before

*  One in 19 in Wales - down from one in 17

*  One in 16 in Northern Ireland - up from one in 20 (although experts say the trend is uncertain)

*  One in 19 in Scotland - down from one in 15

Many of the recent cases have been caused by fast-spreading sub-variants of Omicron, called BA.4 and BA.5.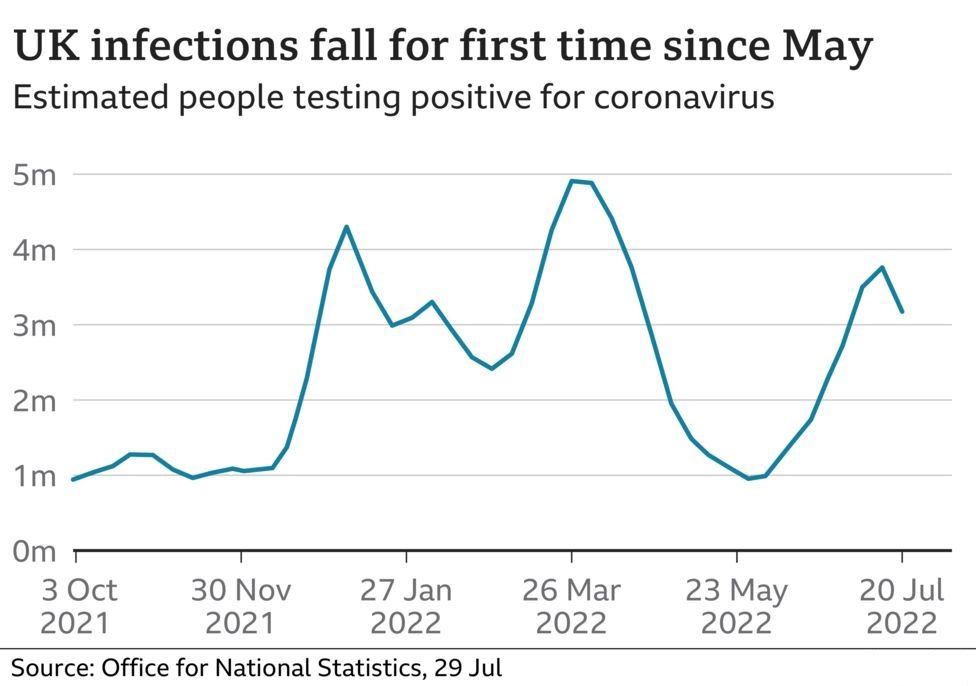 People are still able to become infected even if they have had Covid before.

But vaccines are still doing a good job of helping protect people from getting very sick with the virus.

Everyone aged 50 and over in the UK will be offered another Covid booster vaccine this autumn.

The ONS data is collated by testing thousands of people from UK households - whether or not they have symptoms - to estimate how much virus is around.

Dr Gayatri Amirthalingam, from the UK Health Security Agency, said: "We are now seeing decreases in Covid case rates and hospitalisations. Whilst this is encouraging, Covid has not gone away and we really want to see further declines in the coming weeks and months.

"People aged 75 and over remain at particular risk of severe disease if they are not up to date with their vaccinations.

"We urge anyone who is not up to date with their jabs to come forward to give themselves the best possible protection."

Sarah Crofts, from the ONS, said: "Our most recent data suggest that we may now be over the peak of the latest wave of infections across the UK, although rates still remain among the highest seen during the course of the pandemic.

"We have seen welcome decreases among most parts of the UK and in all age groups. With summer holidays starting and more people travelling, we will continue to closely monitor the data."