Coronavirus infections in the UK continue to fall, with one in 60 people now affected, according to the latest estimates from the Office for National Statistics (ONS).
In the week to 21 May, infections fell in England, Wales and Northern Ireland, but changed little in Scotland.

That means around one million people have the virus, which is similar to Covid levels at the start of December.

The ONS is monitoring the data to see if recent declines could be ending.

In some English regions, including the West Midlands, North East, Yorkshire and the Humber and the South East, it's not clear if infections are rising or falling.

And infections in those aged 25-34 were also unchanged, although they fell in all other age groups in England.

A form of the Omicron variant of coronavirus, called BA.2, is currently the most common cause of Covid, but two others - BA.4 and BA.5 - have recently been named "variants of concern" by UK health officials.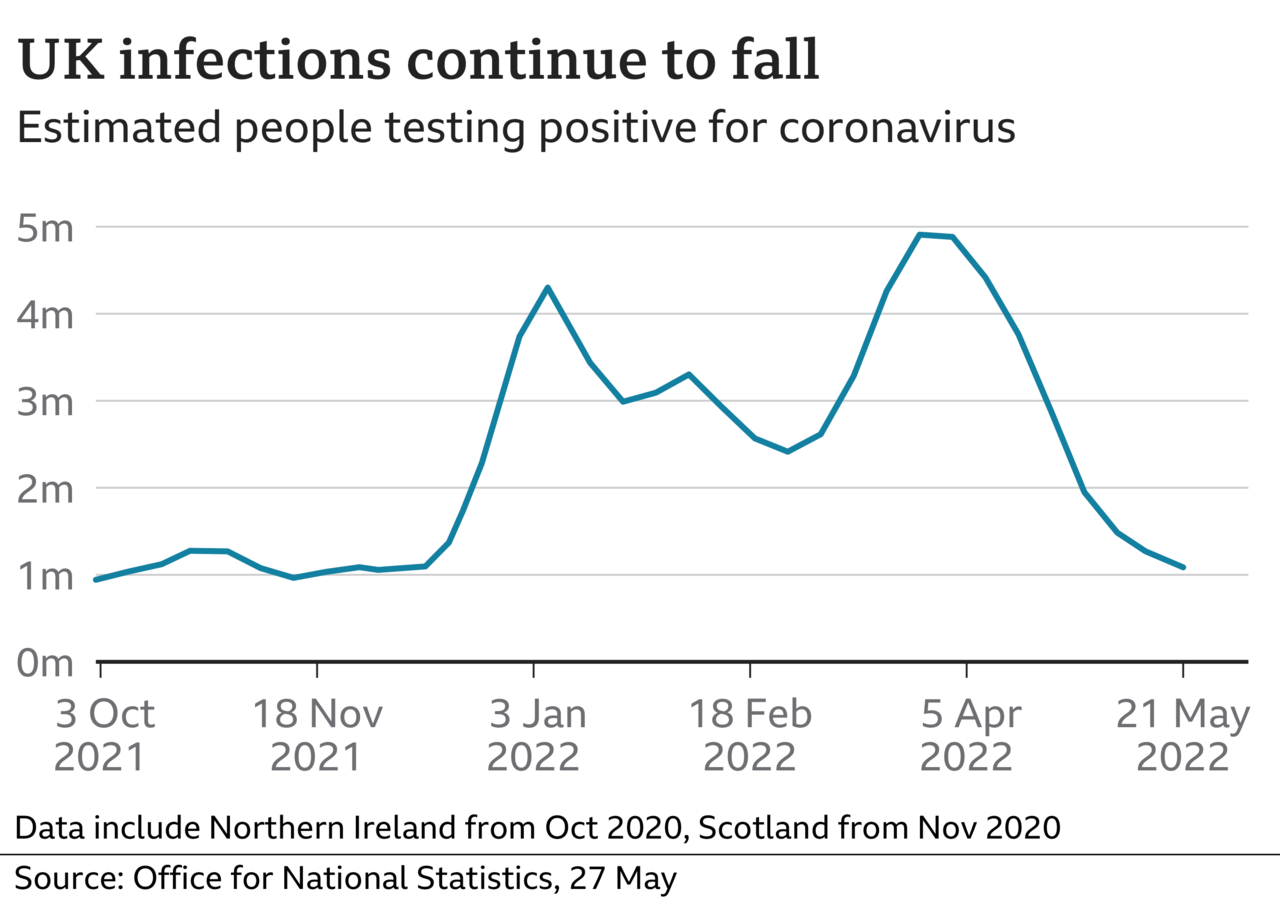 The ONS figures are an estimate, based on testing thousands of people at random in households across the UK.

They provide the most accurate picture of Covid infection since free testing for the public came to an end in England and Scotland.

Some free testing will continue in Wales and Northern Ireland until the end of June.

Current Covid rates are:

*  one in 60 in England - down from one in 55 the week before

*  one in 55 in Wales - down from one in 40 the week before

*  one in 80 in Northern Ireland - down from one in 60 the week before

*  one in 40 in Scotland - up from one in 45 the week before

Sarah Crofts, from the ONS's Covid-19 Infection Survey, said: "Overall infections continue in the right direction across much of the UK, falling to below a million people infected in England for the first time since early December.

"While Scotland and some regions of England saw an uncertain trend in the most recent week, it is too early to say if these uncertain trends mark the end of recent declines, and we will continue to carefully monitor the data."

Meanwhile, First Minister Mark Drakeford is set to axe the last of Wales' Covid rules, which have been in place in some form since March 2020.

The wearing of face masks will no longer be legally required in Welsh health and social care services from Monday.

Wales was the last part of the UK with Covid restrictions still in place. Guidance will remain in place strongly recommending the use of face coverings in health settings, to help protect the most vulnerable.

Official data shows the number of people being admitted to hospital with Covid continues to fall.

In Scotland, daily hospital cases with the virus have dropped to fewer than 50, the lowest in nearly a year.