While case numbers are high, they are falling, but deaths are rising week on week, figures show.
The apparent ebbing of the Omicron wave comes as some experts claim the end of the pandemic is in sight for the UK.

However, the number of deaths within 28 days of a test remains high, with 1,843 over the past seven days - a 45% rise from the previous week.

The number of hospital patients with Covid has dropped - though the most recent figures date from Monday.

The 15,698 admitted in the seven days to 10 January represented a slight week-on-week fall.

Prof Julian Hiscox, chairman in infection and global health at the University of Liverpool, told the BBC that we are heading towards a new phase of the pandemic where the virus has a lesser impact on daily life.

"We're almost there, it is now the beginning of the end, at least in the UK. I think life in 2022 will be almost back to before the pandemic," he said.

Daily reported cases and deaths are often lower at the weekend, but reported infections have been falling steadily since the new year.

However, confirmed cases are still significantly higher than the peaks of previous waves during the pandemic, following the arrival in November of the highly transmissible Omicron variant.

And data released on Friday from the ONS said that, in the week ending 6 January, one in 15 people in England had Covid, with one in 20 infected in the rest of the UK.

From this week, people without symptoms in England no longer need a lab-processed PCR test to confirm a positive lateral flow. People are still asked to report the results of their lateral flow tests.

There were 287 deaths within 28 days of a positive test reported on Saturday. The lag between infection and death may partly explain why deaths remain high despite the fall in cases.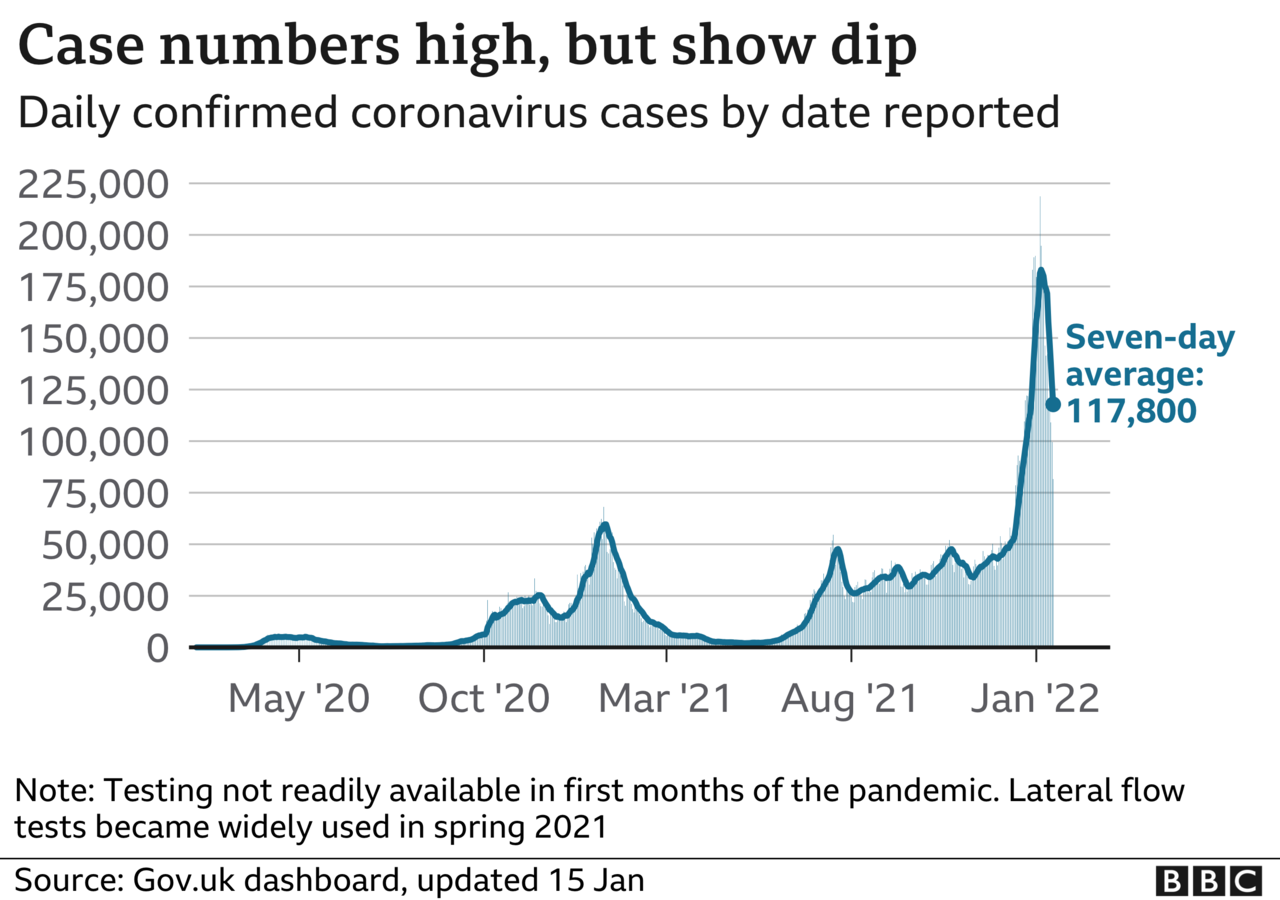 But with a smaller proportion of Covid cases resulting in death, the signs suggest the virus is becoming less deadly as our bodies become more familiar with fighting it, through vaccination and previous infection.

As cases continue to fall, Wales and Scotland have begun loosening tighter restrictions imposed around Christmas when the nations saw cases surge.


What's really going on with Covid deaths data?

Covid deaths are rising sharply in the UK, but an increasing proportion of these are actually due to something else, BBC analysis suggests.

That's because some people die with Covid rather than from it.

The Omicron wave is driving rising infections, which means more people will catch it and some will get sick.

Deaths will inevitably increase too, but not all will be "true" Covid ones. Others will be people who happened to test positive.

Scotland's First Minister Nicola Sturgeon announced the attendance limit on outdoor events will be lifted from Monday.

The Covid certification scheme will remain in place, and anyone who had their second dose more than four months ago must also have received a booster to be considered fully vaccinated.

In Wales, the number of people allowed at outdoor events has risen from 50 to 500 - and from 21 January limits will be lifted altogether, allowing crowds to return to sporting events, including Six Nations rugby games in Cardiff.

The country's nightclubs will reopen from 28 January, and gatherings in pubs and restaurants will no longer be limited to six people.