More coronavirus restrictions in Scotland have been dropped, almost two years since its first case of Covid-19 was confirmed.
Secondary school pupils will no longer have to wear face coverings in the classroom - but they will be required in corridors.

The legal requirement on large venues to implement the vaccine passport scheme also comes to an end.

The app will remain live for businesses wanting to run a voluntary scheme.

All remaining legal coronavirus restrictions in Scotland, including the wearing of face masks, are expected to be lifted on 21 March.

First Minister Nicola Sturgeon has said Scotland will move away from legal restrictions, relying instead on vaccines, treatments and "good public health behaviours".

It comes almost two years after the first confirmed case of Covid in Scotland was recorded on 1 March 2020. By the end of the month, the UK was under lockdown.

Face-coverings in schools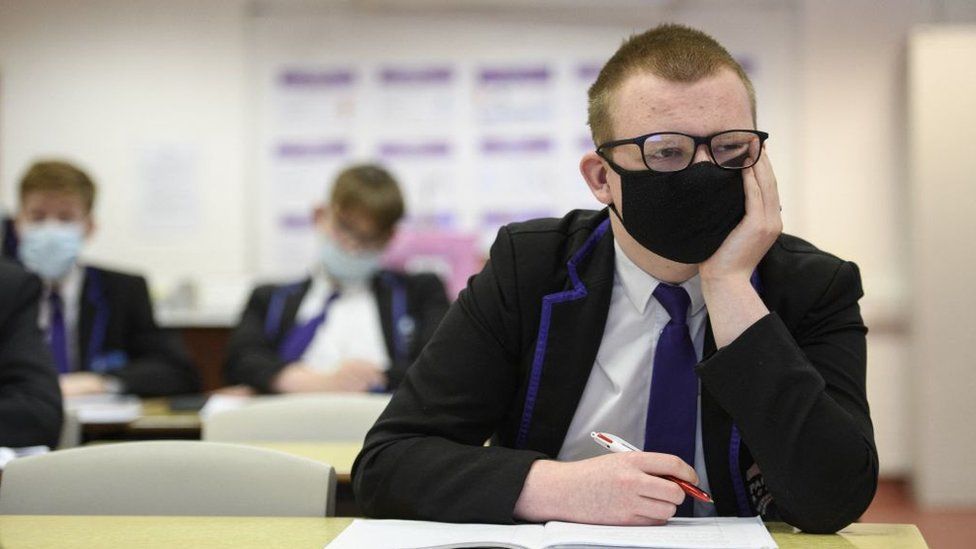 Older pupils in areas with the highest rates of coronavirus were first asked to wear face-coverings in classrooms on 2 November 2020.

It was eventually extended to all secondary school pupils in Scotland.

Under the new guidance, pupils and staff will no longer be required to wear masks in the classrooms, but those who want to continue to cover their face should be supported to do so.

Face coverings should continue to be worn in "indoor communal areas", the guidance states.

Other changes include:

*  Restrictions on assemblies have been removed but schools should consider physical distancing, ventilation and use of face coverings

*  Transition visits for children entering P1 or S1 should resume.

Education Secretary Shirley-Anne Somerville said the new guidance on masks was a "positive milestone" but continued vigilance was essential.

"We must not to forget that Covid-19 has not gone away - we all still need to be on our guard and exercise caution," she said. "Pupils and staff must still wear face coverings in communal areas and distancing rules still apply.

"The last thing I want it to have measures in place for a minute longer than is necessary, but as we have done throughout this pandemic, we will continue to be guided by scientific and expert advice."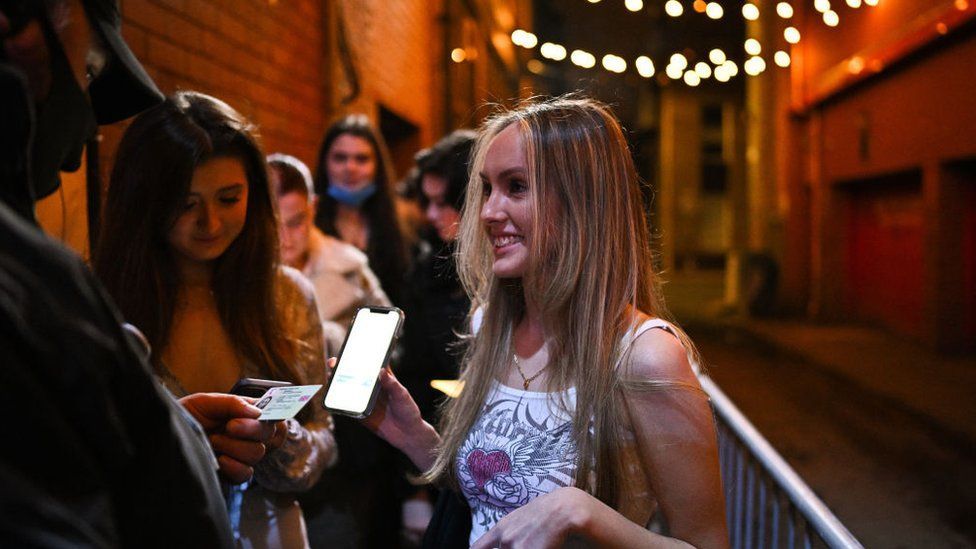 The vaccine passport scheme has been in operation since 1 October 2021, despite the concerns of opposition parties and night-time industries.

It required people to show evidence of vaccination or a negative Covid test before entering large venues like nightclubs or concerts.

From Monday these businesses are no longer legally required to ask for this information, but some may choose to do so voluntarily.

The Scottish government guidance says they must have a good reason to check people's Covid status - "just in case" is not enough.

It cannot be used as a condition of entry to essential services like hospitals or pharmacies, essential retailers like supermarkets, public transport, or schools.

Last week the Scottish government came in for criticism from the UK's data watchdog over the NHS Scotland Covid Status app, which records vaccination status and test results.

The Information Commissioner's Office said the app failed to provide people with clear information about how their personal information was being used.