Health Secretary Humza Yousaf says the benefits of vaccine passports for entry to nightclubs and other large events outweigh the concerns and are preferable to another lockdown.
In July, Mr Yousaf told the BBC he was sceptical about the passports due to fears of increasing the inequality gap.

However, he now says circumstances have changed and steps have been taken to resolve the issues.

The passports are due to be brought in at the end of the month.

The plans will apply to indoor and outdoor events but will need to be approved by MSPs next week.

First Minister Nicola Sturgeon said the move was needed to help stem the recent surge in the number of cases.

Latest figures showed a further 6,107 people had tested positive, with the number of people in hospital doubling in the past 10 days.

And several areas of Scotland are among the regions with the highest rates of the virus in Europe.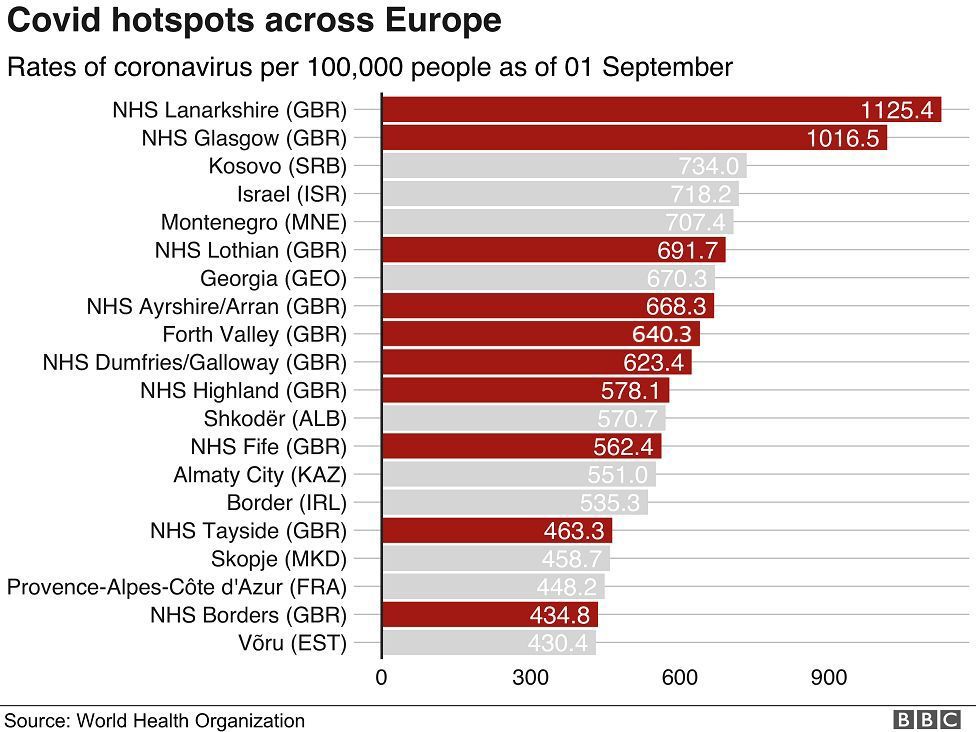 The new vaccine certification rules mean people over the age of 18 will need to show they have had both doses of the vaccine before they are allowed entry to:

*  Nightclubs and adult entertainment venues.
*  Unseated indoor live events, with more than 500 people in the audience.
*  Unseated outdoor live events, with more than 4,000 people in the audience.
*  Any event, of any nature, which has more than 10,000 people in attendance.

The new rules will affect many sporting events in Scotland - particularly football matches - as well as concerts and music festivals.

Concerns have been raised by nightclub owners about the fairness of passports being brought in for some venues and not others, while the SPFL said it had "a significant number of questions and real concern" about the plan.

In July, Mr Yousaf highlighted concerns that the passports "might increase the inequality gap, and there would be ethical issues".

And after the UK government set out its plans to introduce passports in England, Deputy First Minister John Swinney said he did not believe it was right to exclude people who did not want to be vaccinated.


Once again we find ourselves at a worrying stage in the pandemic. So why not just bring back restrictions?

For one thing - vaccines are extremely effective at preventing serious illness, and in Scotland almost 70% of the entire population is now fully jagged. For most of this group, visiting a restaurant, heading out to the shops or meeting up with a group of people should be relatively safe.

That's why there is no desire to impose blanket restrictions that would also be economically very hard to justify.

But the alternatives are limited.

One is to find incentives to encourage younger people to get vaccinated. That's why the government is now pushing for vaccine passports despite it being controversial.

They also need to step up efforts to target other groups where uptake is low.

Reminding people to use rapid lateral flow tests as more people head back into workplaces might help, as well as basic measures like wearing masks and improving ventilation in buildings.

Also encouraging people to follow the new isolation rules and get tested quickly if they have been in contact with a positive case.

For now this seems to be the plan as officials continue to scrutinise the data in the hope that this wave of cases is about to plateau.

However, on Thursday, Mr Yousaf told BBC Radio's Good Morning Scotland programme the problems of people who did not have smartphones being unable to access the QR codes needed had been resolved as, from Friday, paper copies would include the codes.

He said vaccine passports had never been ruled out.

"We have put on the table, quite clearly, what some of our concerns are," he said. "But our circumstances have now changed. Cases have increased 80% in the last week. A month ago our test positivity was 5% - it's now over 11%."

He said that limiting the scheme to very specific events and venues was "a demonstration of the fact that we still have concerns".

But he added: "The benefits of a certification scheme, in terms of a public health intervention, in terms of incentivising vaccination, those benefits outweigh the concerns that still remain."

Mike Grieve, director of the Night-Time Industries Association Scotland, told the programme the policy was "incoherent" and "inconsistent" as, for instance, a large pub could let hundreds of people in without the passports but they would be required at a small nightclub next door.

'State control'

He said: "There is zero consistency there. If you look at live music venues - standing capacity up to 500 - no vaccine passport - nightclub 250-300 capacity - vaccine passport. Where is the logic behind that?"

Mr Yousaf said: "Nightclubs have consistently been deemed high risk venues due to lack of ventilation and largely those attending are amongst the younger cohort where the uptake of the vaccine is lower. We also know that the behaviours exhibited in nightclubs in terms of close contact are high risk."

Scottish Liberal Democrat leader Alex Cole Hamilton said the passports were actually "health ID cards by any other name".

He added: "For the first time in Scottish society, private citizens will be asked to evidence treatment that they've had in order to access venues and services or provide their private medical data to a complete stranger in order to get into a football ground or a nightclub.

"We believe this is unnecessary. It's not been demonstrated to us how this is a tool of infection control - this feels more like state control."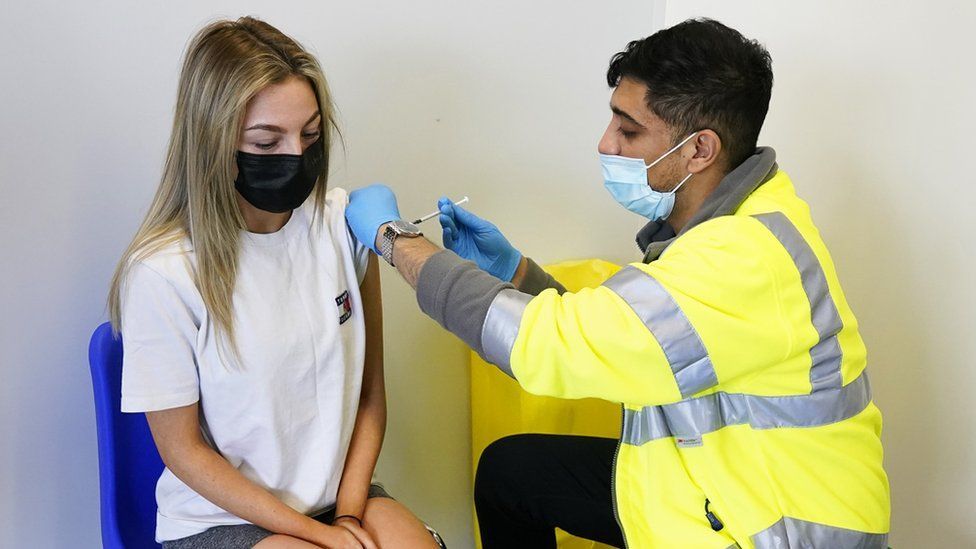 Responding to claims that the passports would mean people were more likely to "drop their guard", Mr Yousaf said: "Even if you are in these settings with both doses of the vaccine, the virus is still there - you can still catch it. It's important that people still exhibit good behaviours and demonstrate caution."

He said the scheme was not being introduced immediately to allow time to gain parliament's approval, to give businesses time to prepare for it and to enable some tweaks to be made to the NHS app so it recognised the QR codes.

Mr Yousaf added: "Ultimately, we are bringing this forward because we don't want to reimpose restrictions but that is always an option we have to consider, particularly if we see the rise in cases we saw last week."

He said early indications were that the rate of increase was beginning to slow down but the government would also "want to keep an eye on the enormous pressure on the NHS".

Ms Sturgeon said on Wednesday that although the hospitality industry as a whole would not be included in the certification scheme that decision would be kept under review.

Anyone who has good reasons for not getting fully vaccinated - including children and people with particular medical conditions - will be exempt.

Several other European countries - including France, Italy and Ireland - have already introduced certification.