More than two million people are spending their first day living under Scotland's toughest Covid restrictions.
Level four rules for 11 council areas came into force at 18:00 on Friday, when travel curbs in level three and four areas also became law.

Non-essential shops, hospitality, hairdressers and gyms will remain closed until 11 December.

Less than five weeks before Christmas, main shopping streets were unusually quiet.

The Scottish government has said the restrictions are necessary to drive down stubbornly high rates of the virus.

Saturday's daily coronavirus figures showed 887 positive cases and 37 newly-reported deaths in the past 24 hours. Across Scotland, 100 patients were in intensive care, a rise of 12 since Friday.

Of the new cases, 234 were in Greater Glasgow and Clyde, 246 in Lanarkshire, and 140 in Lothian.

'Risks are not zero'

Nicola Sturgeon said on Friday that while infection rates have stabilised in recent weeks, they remained at a stubbornly high level in some areas.

She said the new restrictions would help infection rates come down further before the Christmas period, paving the way for a possible easing.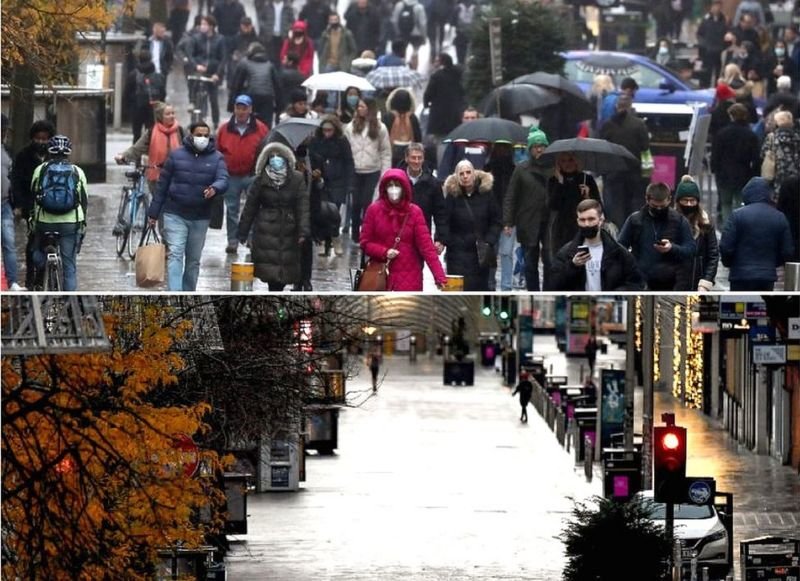 Buchanan Street in Glasgow on Friday afternoon (top) and on Saturday morning

"The fact is the fewer people who are in the population who have Covid by the time we get to Christmas, the lower the risk of people being infected with it during that period," she said.

"It's very important for me to be clear that the risks would not be zero - which is why we must be very careful about any relaxation over Christmas and people will have to think carefully themselves, even with any relaxation, about what they want to do or not."

National Clinical Director Jason Leitch said the actions people in level four areas take now will dictate which restrictions are in place in the new year.

He said: "When you think about Christmas you should also think of the consequences that will have for January. If the virus spreads between households on Christmas day and Boxing day or whenever, of course, that will have a run-in effect to January.

"People will catch the virus at Christmas and then some of them will be hospitalised and be in intensive care in January. That's what we need to avoid. The principal way to avoid that is to get prevalence down and have a safe Christmas."

On Thursday, Ms Sturgeon said the chief medical officers of the UK nations had been tasked with developing a "concrete" proposal for household mixing at Christmas, details of which could be revealed next week.

Ms Sturgeon also said the new travel restrictions were "vital" to ensure there is no need for a national lockdown.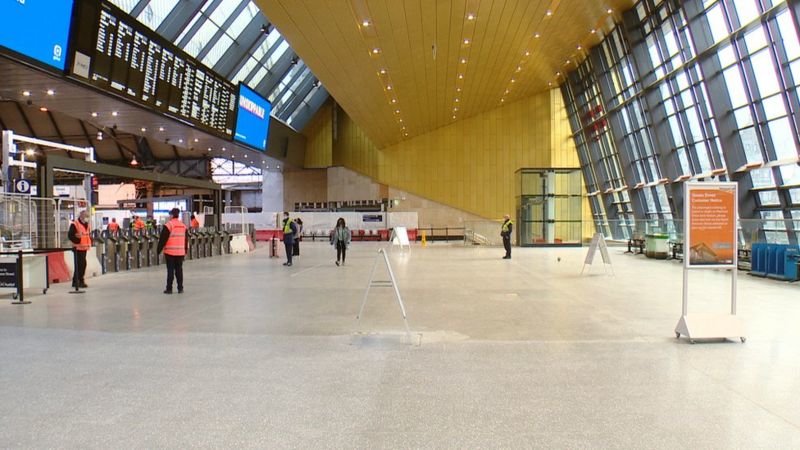 Staff outnumbered passengers at Queen Street Station as travel restrictions took effect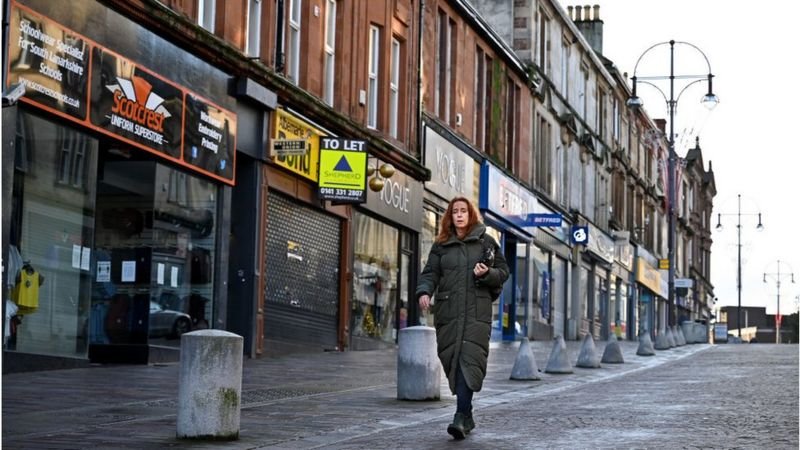 In South Lanarkshire, closed shops kept people away from Hamilton town centre

People in level three and four areas must not travel outside their council area, except for essential purposes such as work and healthcare, and people living elsewhere must not travel into these areas except for essential purposes.

She urged Scots to abide by the new regulations, which could see a £60 fine levied against those who violate the rules unless they have a "reasonable excuse", such as caring responsibilities or a hospital appointment.

The stricter rules apply to 2.3 million people across East Dunbartonshire, Renfrewshire, East Renfrewshire, Glasgow, West Dunbartonshire, North and South Lanarkshire, East and South Ayrshire, Stirling and West Lothian.

Virus rates in these areas last week ranged from 158 new cases per 100,000 people in West Lothian to 277 in Glasgow - all of which were above the Scotland-wide rate of 140 cases per 100,000.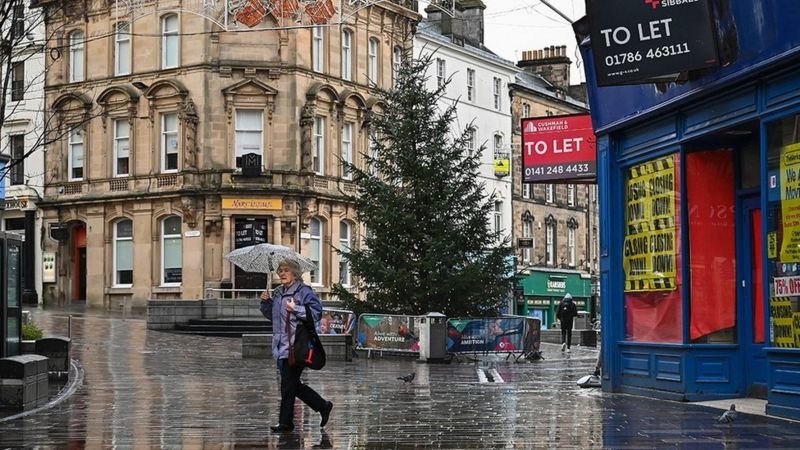 The centre of Stirling was also unusually quiet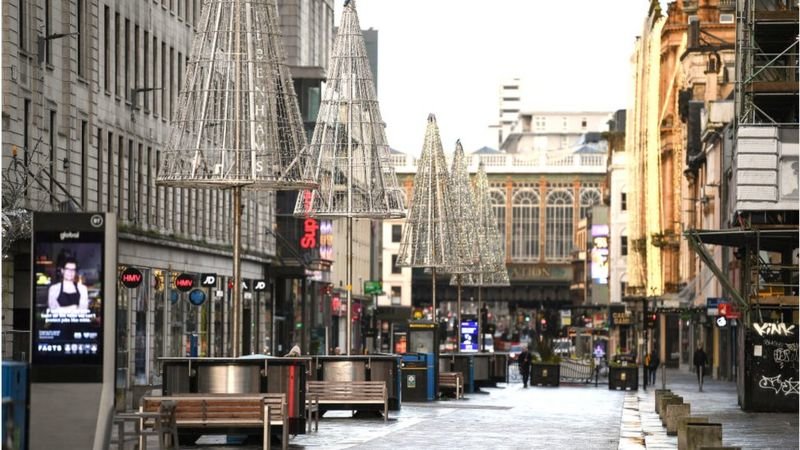 A month away from Christmas, Argyle Street in Glasgow would not normally look this empty

On Saturday, a new walk-in testing centre was opened in Glasgow.

The UK government-funded centre will be operated by facilities company Mitie in the St Francis Community Centre in the Gorbals.

It is the third to open in the city, and one of 14 operating across Scotland out of 22 promised by Westminster.

As bars and restaurants closed their doors once again under virus measures, opposition parties called for more support for the industry to help save jobs.

Nicola Sturgeon has promised a £30m fund for businesses in level four areas.

But Labour jobs spokesman Alex Rowley said the proposals fell short of what was required and he urged the first minister to bring forward proposals for more extensive support next week.