Secondary schools in Scotland will reopen full time as planned after the Easter holidays, First Minister Nicola Sturgeon has confirmed.
Pupils will no longer have to follow strict two metre physical distancing rules when they return, and must wear face coverings throughout the school.

Ms Sturgeon said "virtually all" secondary pupils would be back in the classroom after the holidays.

The only exception is for those pupils in the shielding category.

"We are continuing to recommend that they stay at home until 26 April, and that's in line with the advice already received from the chief medical officer," said Ms Sturgeon.

Primary schools had already resumed full-time teaching before the holidays, but a part-time blended learning system had been used in secondary schools.

The first minister said the return to in-person, full-time learning would be "a huge relief" to many children and parents.

She acknowledged that there would be some "concern and anxiety" about the move, but said safety would be "paramount"

"The return to school will involve the removal, where necessary, of strict two metre distancing between pupils, but we are asking schools to consider how they strengthen their mitigations," she said.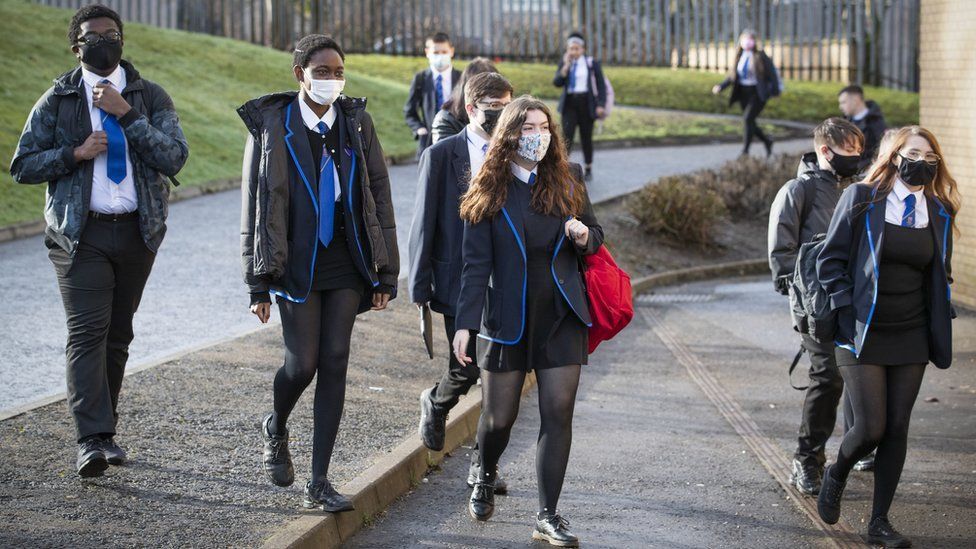 Secondary pupils will have to wear face coverings at all times, and all age groups will be able to access twice-weekly lateral flow testing.

During the coronavirus briefing, Ms Sturgeon was asked about the assessment system for senior pupils following concerns that some would be sitting "exams by another name" in coming weeks.

She said: "There is no requirement to replicate a full exam or prelim this year. Teacher judgement is at the centre of this."

The Scottish Liberal Democrats' Alex Cole-Hamilton said he had "some real concerns" that the assessments were exams by another name.

He said this would put "tremendous pressure" on teachers and pupils, adding: "We have to make sure young people have every support they need."

Scottish Labour leader Anas Sarwar said the full-time return of pupils would bring "a sense of relief" for parents.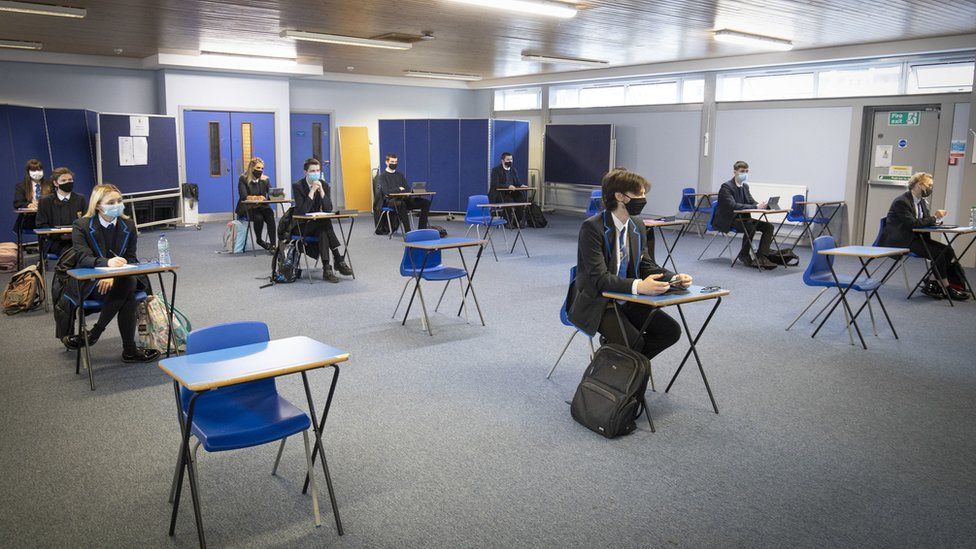 But he added: "Now we have a ramping up of the vaccine supply, we should be looking at rolling out those vaccines for teachers to give them a sense of confidence, and to pupils and parents as well."

Larry Flanagan, general secretary of the EIS teachers' union, said there needed to be "great caution" over the return of pupils to school.

"It will undoubtedly lead to an increase in school Covid outbreaks, which will require to be dealt with quickly, particularly for senior pupils who will be in the final stages of their qualification work," he said.

"If we had made more progress on the EIS demands of ventilation, vaccination and facemasks, we would be in a stronger position. Improving such mitigations is still possible."

The first minister also told the briefing that the first batch of the newly-approved Moderna vaccine had arrived in Scotland.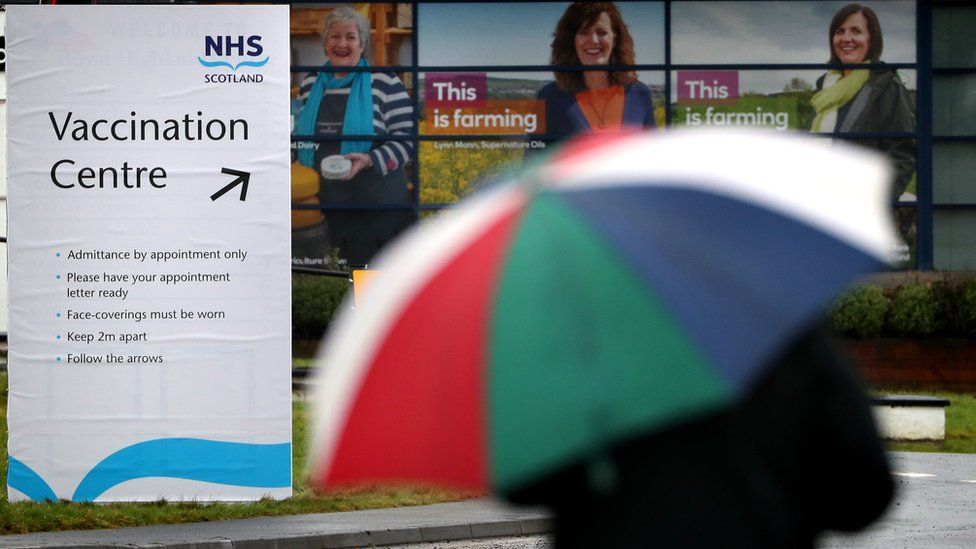 Scotland is due to receive more than one million of the 17 million doses ordered by the UK.

"The fact that we now have three vaccines in use is clearly very welcome and it does give us greater security of supply which is welcome," she said.

Responding to questions about the prospect of introducing vaccine passports for those who have had their jab, Ms Sturgeon said it was important "not to close our minds" to the idea.

She said that if the public are to have confidence in any future certification process, time must be taken to "air all of the challenges".

"We all want to get back to normal, so anything that can play a part in getting us back to normal is something we should think about very carefully," she said.

"But nor should we gloss over the practical and ethical issues."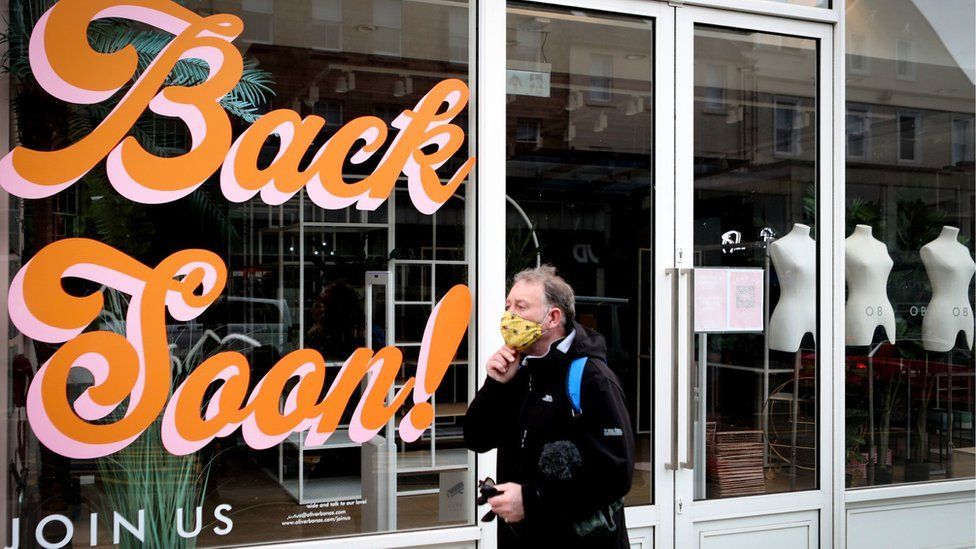 The UK government has said the introduction of certificates which could show vaccination, test or immunity status is one option currently being considered.

Alison Johnstone, from the Scottish Green Party, said she had not been convinced that widespread use of vaccination passports would be a good thing.

"There may be some cases where this is appropriate, but I would be extremely concerned about the introduction of a vaccine passport at a domestic level," she said.

A total of 2,577,816 people in Scotland have now received their first dose and 463,780 have received their second dose.

There were 259 positive cases of Covid reported in the last 24 hours, a positivity rate of 2%. No further deaths were recorded.

Ms Sturgeon said routine testing will be expanded to enable everyone to take a lateral flow test twice a week. A similar move was announced in England on Monday.

Scottish Conservative leader Douglas Ross said the figures indicated that things were moving in the right direction.

He said this meant there were "a number of reopenings that can be safely and cautiously brought forward" - such as allowing alcohol to be served with a meal indoors in pubs and restaurants.