The Covid infection rate in Scotland has again risen to its highest level since estimates began, with about one in 45 thought to have had it last week.
The latest Office for National Statistics (ONS) infection survey estimated 117,300 people had Covid in the week ending 3 September.

It was the highest rate of any of the UK nations and the most ever recorded.

England was estimated to be one in 70, Wales was one in 65 and Northern Ireland was one in 60, the ONS said.

The figure for Scotland was a large increase on the previous week when it was one in 75.

Sarah Crofts, head of analytical outputs for the Covid-19 infection survey, said: "Scotland now has the highest rates across the UK countries where infections have continued to increase sharply, reaching a new highest recorded level."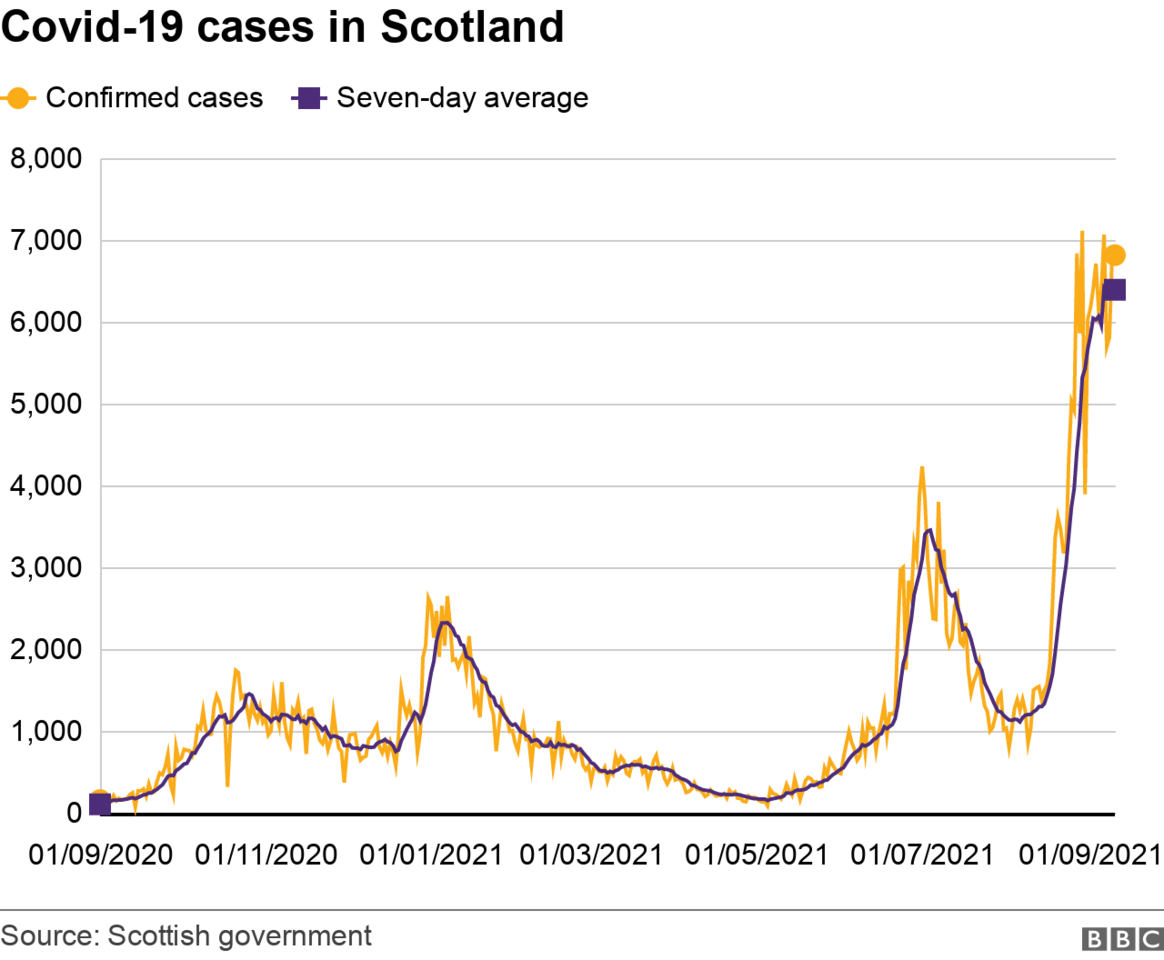 The ONS report also shows a breakdown of the age groups most affected by Covid, with those under 30 accounting for a large majority of the cases.
People under 20 have a consistently high rate of infection.

During the week of the latest survey the number of cases reported daily was very high, including a record 7,113 new cases confirmed by tests on 29 August.

Scotland's National Clinical Director Prof Jason Leitch said the ONS survey corresponded to the peak of infection 10 to 14 days ago and it was seen at the time in the daily numbers.

He said: "Our daily numbers are still very concerning. It has been stuck at 6,000 or 7,000 for a couple of weeks now but it has not gone to 14,000 which is where I feared it might."

On Friday, the Scottish government said there were 6,815 new cases and 22 reported deaths of people who had tested positive.

There were 82 people in intensive care and 977 in hospital, more than double the number of a fortnight ago.

Prof Leitch told BBC Scotland's Drivetime programme that almost 1,000 people were in hospital being harmed by the disease and that was a "real concern".

Health boards covering the Highlands, Grampian and Fife are the latest to warn of severe pressure on their services.


There is so little give in the system that most health boards have had to cancel all but emergency and urgent care.

Doctors are having difficult conversations with patients as they have to delay surgery, knowing that something treatable now, might not be in a few months; ambulances are taking too long to get to patients because they are stuck for hours outside emergency departments waiting for a bed to become available; and GPs are unable to cope with the influx of patients who become sicker as they sit on waiting lists.

Even if there are early signs that the growth in infections is starting to slow down, there are no signs the pressure on the NHS is beginning ease.

Meanwhile, the latest Scottish government estimate suggests the average number of contacts people had increased by about 14% in the past two weeks.

It said contacts within a work setting had increased by 63%, while contacts in the home had remained the same.

The report also said the proportion of people using public transport had decreased in the past two weeks - down from 25% to 21%.

And those visiting a pub or restaurant went down from 49% to 46%.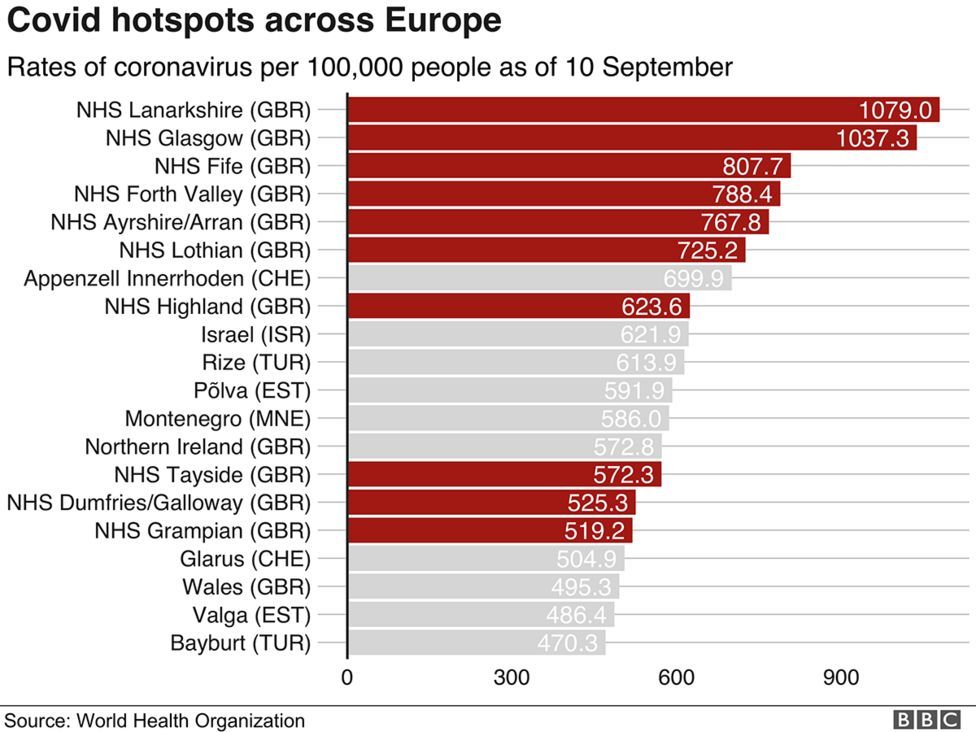 On Thursday the Scottish Parliament formally approved the introduction of vaccine passport measures for nightclubs and many large events from 1 October.

The SNP and Greens voted in favour while the proposals were opposed by the Conservatives, Labour and Liberal Democrats.