More families and friends have been able to reunite in parks, gardens and beaches across Scotland after months in lockdown.
West Sands beach was one popular spot for family reunions.

Ann Buchanan, who lives near Stirling, met up with relatives from East Kilbride, South Lanarkshire, whom she had not seen since last year.

She told BBC Scotland: "We have not been able to meet up for ages, for such a long time, and it is really nice to get together here.

"This is such a lovely place to come and relax and have a bit of a catch up."

Ms Buchanan joked: "This is the furthest I have driven in a year. It's just like passing your driving test again."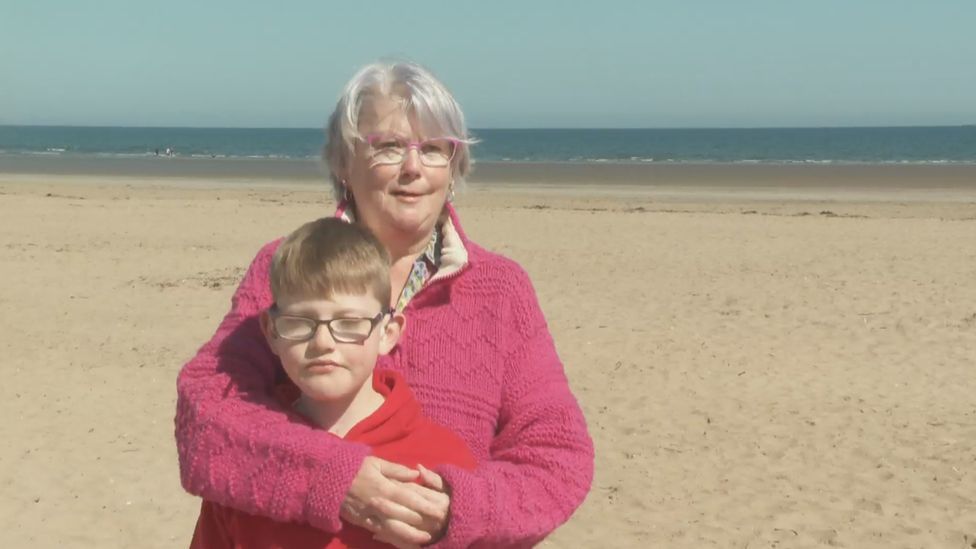 Andrew McVie, 27, from Glasgow, said he was "super excited" to be visiting Millport, on the Isle of Cumbrae, to cycle round the island for the first time in more than two years.

The clerical assistant said: "You can do it in about two hours if you don't stop. It's why a lot of people like it.

"There's great scenery and it's a really nice, friendly, welcoming place and it's a beautiful day.

"I've missed it so much not being able to go because of the travel restrictions but I'll still be taking precautions."

Mr McVie added that he plans to visit Edinburgh with friends on on Saturday for the first time in more than a year.

'Allow extra time'

James Fraser, chairman of The Friends of Loch Lomond and the Trossachs, told BBC Radio Scotland's Drivetime the national park was not as busy as he had anticipated.

Mr Fraser put this down to people prioritising meeting up with their loved ones on day one of the travel restrictions being eased.

But he added: "I think it will be a lot busier over the weekend if this weather holds up. There is no doubt about that so we would advise people to travel early.

"I am sure we will get to a stage where all the car parks are full and people will be getting turned away."

Douglas Cairns, of Traffic Scotland's control centre, urged people to allow extra time for their journeys.

He told the programme: "This is the first relaxation where we are allowed to travel outwith our local authority area so there will be a slight increase in demand and, obviously, that is based around weather as well."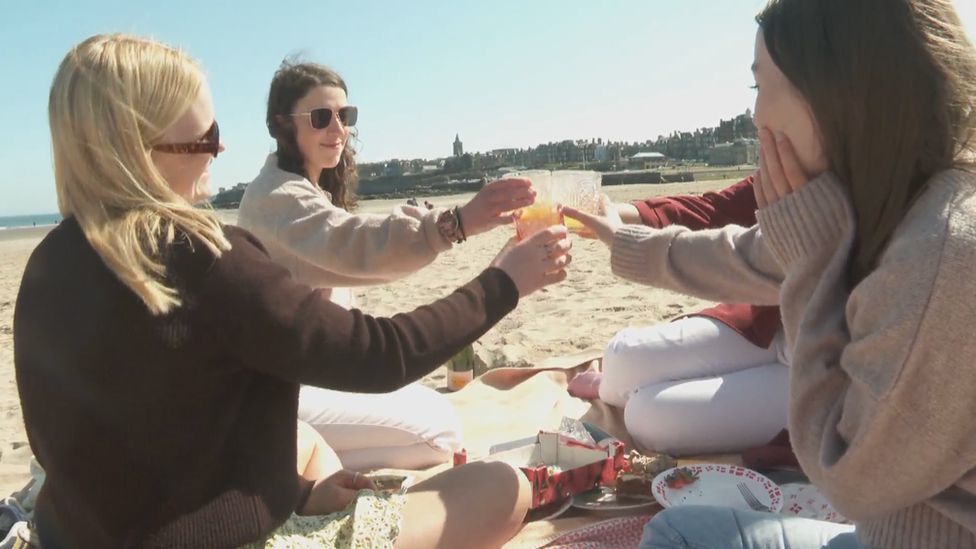 Earlier, Scotland's chief medical officer Dr Gregor Smith told BBC Radio's Good Morning Scotland that people may be uncertain about using another household's toilet during a meet up - but that "pragmatism" was important.

He said: "Of course there might be a risk going into someone's house but if people are very, very careful and they make sure they're taking precautions - washing their hands afterwards - nipping in to use someone's toilet is not something I think anyone would frown on.

"What we don't want to see is people using that as an excuse to nip inside for cup of tea with people and sitting in unventilated areas."

He said the outdoors - with "free circulating air" - was much safer than indoors.

Close contact

The next significant easing of restrictions on 26 April should see all shops and some hospitality reopen.

At that point, someone visiting a friend in another part of the country will be able choose to book into a hotel or bed and breakfast for the night.

All remaining shops and close contact services like nail salons are also due to reopen on 26 April.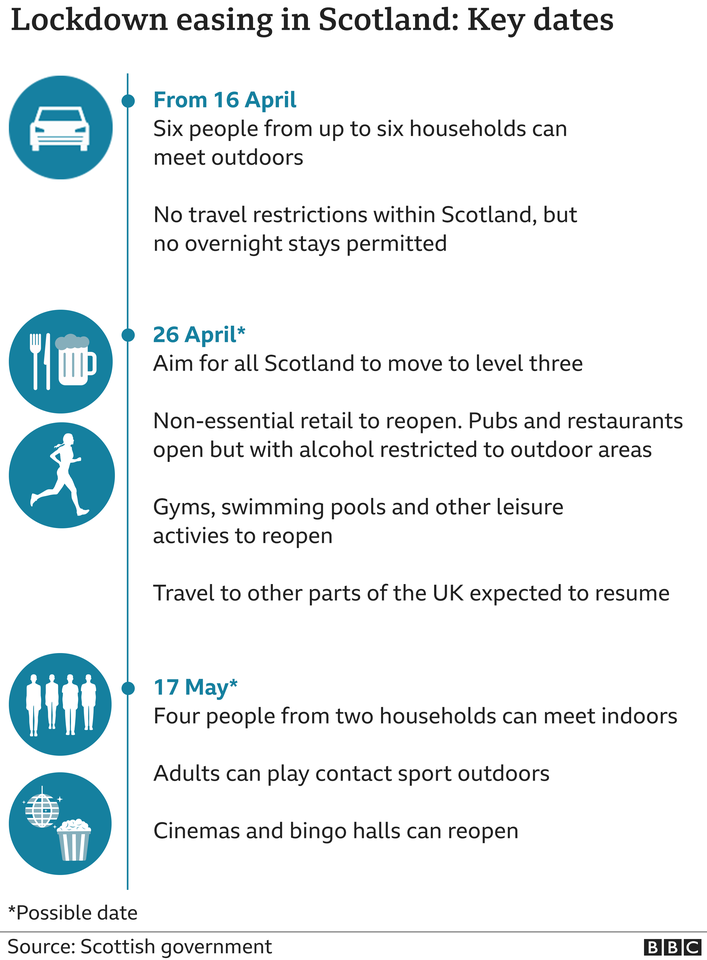 Pubs, bars, cafés, restaurants and bars will be able to serve people outdoors - in groups of up to six from six households - until 22:00 from that date.

Alcohol will be permitted, and there will be no requirement for food to be served.

Takeaways will be able to resume normal service, with physical distancing and face masks worn in premises

There will also be a partial resumption of indoor hospitality, with food and non-alcoholic drinks being served until 20:00 for groups of up to four people from no more than two households.