Scottish Covid cases hit record numbers over the Christmas weekend.
The daily case figures recorded over the 25, 26 and 27 December were the highest totals seen throughout the entire pandemic.

Christmas Day saw 8,252 cases confirmed. Boxing Day registered 11,030 cases and Monday's total was 10,562.

The Scottish government warned that due to a lag in reporting results, the actual number of Covid cases each day may be higher.

It said the daily figures published related to test results reported that day, with the majority of the tests taken before the Christmas break.

On Christmas Eve, Scotland registered its highest number of daily cases since August, with 7,076 new cases reported in the previous 24 hours.

Separate data, also published on 24 December, showed the number of people with the Omicron variant had more than doubled - with a further 3,832 confirmed cases. That brought the total number of Omicron cases to 6,154.

Monday's provisional data showed that Covid-19 cases in Scotland were increasing significantly, but the full scale will not be seen until all data is updated on 29 December.

An accurate picture on the number of deaths with Covid may take longer to materialise due to the closure of registrar offices over the public holidays.

Guidance has since been issued about household mixing and restrictions on large events came into force on Boxing Day. Hospitality measures were tightened up on Monday.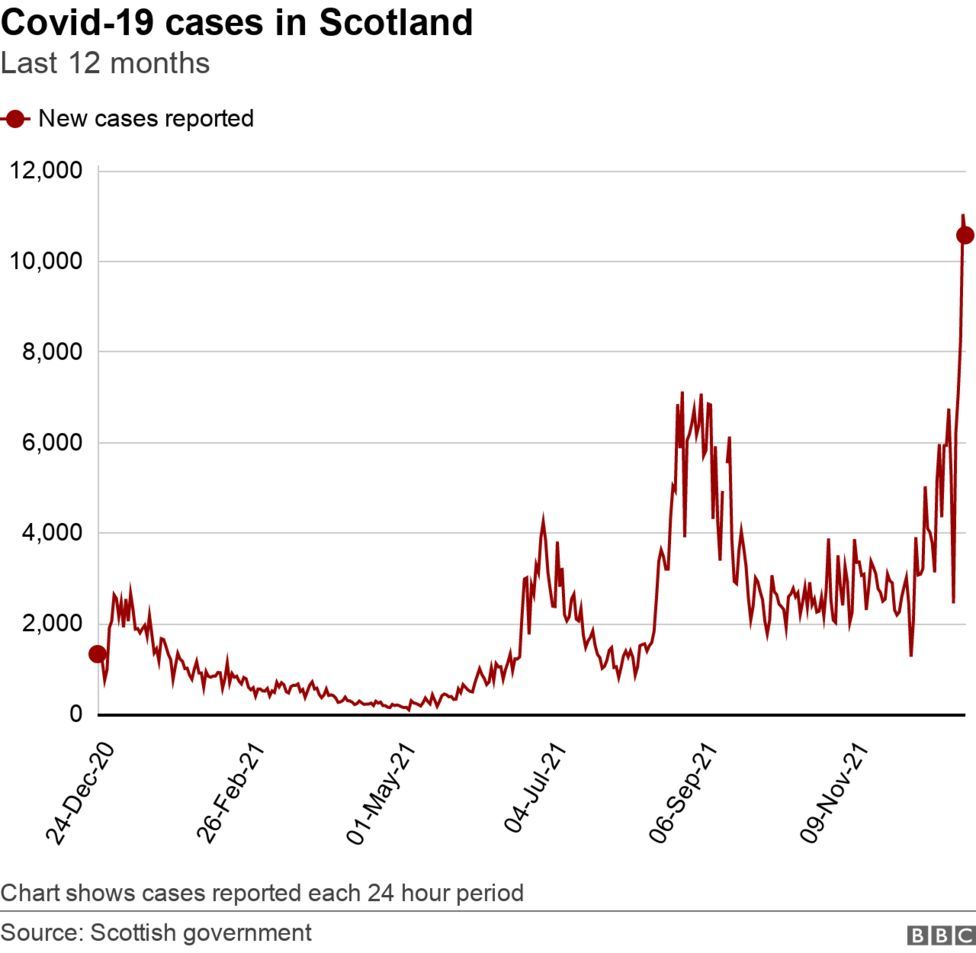 On Monday, First Minister Nicola Sturgeon said the expected wave of cases fuelled by the Omicron variant was "materialising".

She said: "While these figures are provisional, the steep increase in cases we have been expecting is now materialising, and this reflects the significantly increased transmissibility of Omicron."

She warned that we should expect to see case numbers rise further in the days ahead.

Cases were likely to have been higher, she said, were it not for the compliance of the public with the guidance issued to minimise contacts over the festive period.

She added: "Even if the rate of hospitalisation associated with it is much lower than past strains of the virus, case numbers this high will still put an inevitable further strain on NHS.

"This level of infection will also cause a significant and severely disruptive level of sickness absence across the economy and critical services."

Omicron: What we know so far

*  This variant is very contagious - it spreads faster than others and can infect people even if they are fully vaccinated

*  Vaccines and boosters are still essential - they do a great job at protecting against severe disease that could put you in hospital

*  It is milder - if you catch it, the risk of needing hospital treatment is up to 70% lower than with previous variants - but that is largely because many of us have built up immunity from vaccines and past infections rather than changes to the virus

*  Even if Omicron is milder, because it is more contagious a large number of people will catch it and some will still become very ill, which puts pressure on the NHS.

Ms Sturgeon added: "Keep any essential indoor gatherings to a maximum of three households, and get boosted by the bells.

"I know sticking to all of these measures is really hard - especially at this time of year - but there's no doubt whatsoever it will help keep us safer."

Scotland's national clinical director, Prof Jason Leitch, told the BBC there had been a "four-fold increase in three weeks".

"That's exactly what we predicted would happen. Omicron is now 85% of the cases in Scotland unfortunately," Prof Leitch said.

But he said "we are not powerless", and urged people to "get boosted by the bells" and follow the rules.

'It is your civic duty to get vaccinated'

Visiting a vaccination centre in Perth on Monday, Health Secretary Humza Yousaf urged people to come forward for booster jabs as soon as possible.

"I would go so far as saying it is your civic duty to get yourself vaccinated to protect yourself and others too."

He said that no further restrictions were planned at this stage but that the situation was being kept under daily review.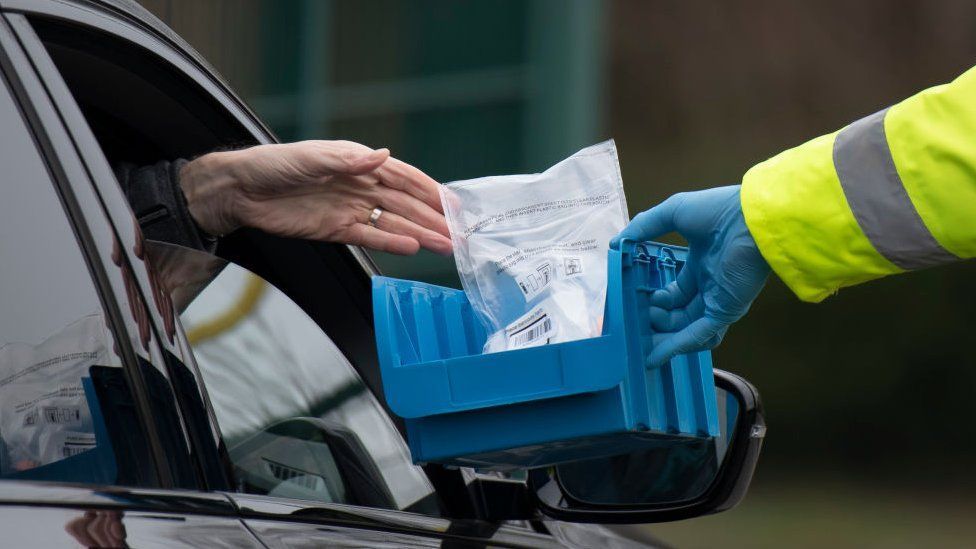 Test centres remained open during the Christmas period, but on Monday PCR test appointments were temporarily unavailable in large parts of Scotland.

High demand led to slots on offer at only eight out of Scotland's 56 walk-in test centres when checked on Monday afternoon.

At the same time, of the eight drive-through test sites north of the border only two - Glenrothes and Inverness - had appointments available on the day.

By Monday afternoon, walk-in slots were on offer for the same day at only Wick, St Andrews, Inverness, Kirkcaldy, Dunfermline, Aberdeen Strathdee, Oban and Galashiels.

Other centres showed the message: "There are currently no slots available on this day. Try again this evening, when more test slots will be made available."
Scotland's national clinical director, Prof Jason Leitch, told the BBC we were now seeing the "predictable rise" of the Omicron variant.