All nine cases of the Omicron variant of Covid in Scotland are linked to a single event, First Minister Nicola Sturgeon has said.
She told MSPs that those affected had been tested on or around 23 November and had been self-isolating since then.

She said the cases all traced back to a "single private event" on 20 November.

Ms Sturgeon added: "We fully expect that there will be more cases identified over the coming days that are also linked to this event."

A total of 22 cases of the new variant have so far been confirmed in the UK.

Five of the nine Scottish cases are in Lanarkshire and four are in the Greater Glasgow and Clyde health board area.

Ms Sturgeon said the lack of any known travel or overseas connection to the cases suggested there was community transmission of the variant in Scotland.

"However, the fact that all known cases are so far linked to a single event suggests that this may still be limited," she said.

"Indeed, there is so far nothing in the wider look back exercise that Public Health Scotland has undertaken to suggest that community transmission of the new variant is either sustained or widespread."

While any possible links with the COP26 climate summit were being investigated, the timing meant this was "improbable".


Nicola Sturgeon has promised to put in place the expanded booster programme recommended by the JCVI as soon as possible.

What she has not said is exactly who will become eligible, when. We know that priority will be decided by age and risk but the details are still being worked out.

The first minister has made clear more staff and facilities will be needed, without explaining how this will be achieved.

By contrast, the NHS chief in England, Amanda Pritchard, has just announced a big recruitment plan for new vaccinators.

Boris Johnson has also committed to offering booster jags to all adults in England by the end of January 2022.

It may be the Scottish government will match that, but opposition parties are concerned about what they consider to be a lack of urgency.

Scotland is currently the most vaccinated part of the UK and no-one at Holyrood would want the NHS here to fall behind the pace with booster jags.

The first minister said it was "highly likely - indeed almost certain" that more Omicron cases would emerge.

"However, the enhanced surveillance gives us the best possible chance of identifying cases quickly and, through isolation of index cases and close contacts and targeted testing, of then breaking transmission chains and containing spread while we learn more about the variant.

"And this is key. While so much about this new variant is so far unknown, it is important that we act on a highly precautionary basis."

Ms Sturgeon said that, rather than introducing new restrictions, the Scottish government was asking people to "significantly step up and increase compliance" with existing protections.

These include the wearing of face coverings, hygiene, home working, ventilation, vaccination and regular testing.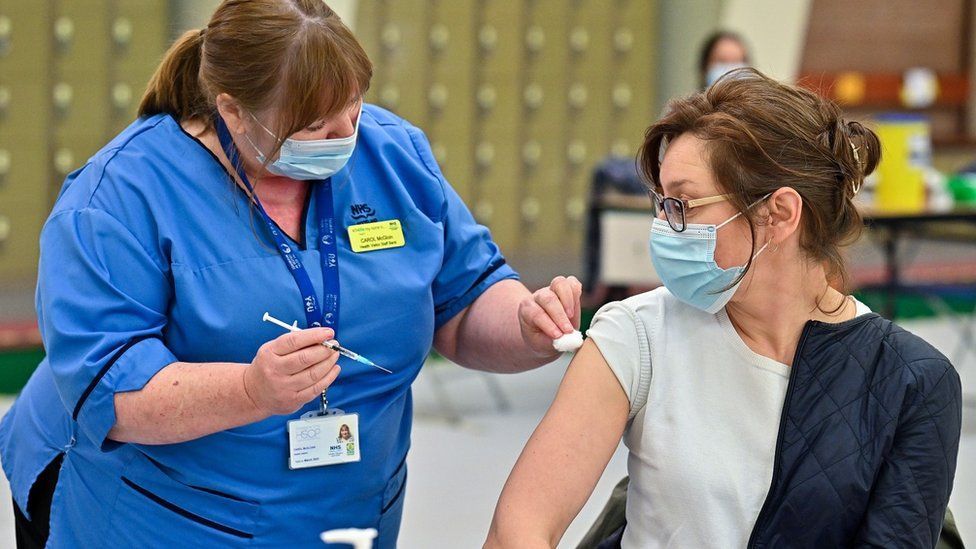 New travel restrictions have been introduced across the UK, under which all overseas travellers must take a PCR test on, or before, the second day of their arrival.

Ms Sturgeon said the Scottish government was advising that this should take place on the second day.

The vaccination programme is being expanded, with boosters being offered to all over-18s and the wait after a second dose cut from six to three months.

Children aged 12 to 15 will also now be invited for a second jab and severely immunosuppressed people should be offered a fourth dose of the vaccine.

Ms Sturgeon said one million additional Scots were now eligible for booster jabs and that information would be provided as soon as possible for those who had now become eligible.

In addition, 16 and 17-year-olds are now able to book an appointment for their second dose online.


Just how far to go is a tough decision for policymakers as they wait for the evidence on Omicron to emerge.

The latest data shows that case numbers in Scotland are actually falling and hospital admissions are down, particularly in older age groups who are most likely to become seriously ill or die from Covid.

On one hand this is all early evidence that booster jags are working well against the dominant Delta variant - but on the other, we face a new unknown.

Additional rules around travel, enhanced testing and a reminder to comply with current rules may be enough, but some health experts think we need to do more now because it is better to take preventative steps and try to control spread, rather than risk a significant new wave.

Scottish Conservative leader Douglas Ross said there had been "a glaring lack of urgency" from the Scottish government.

"When two million Scots are waiting for a Covid jag, it's difficult to understand why the government is not doing everything possible to boost the rollout by backing our call for mass vaccination centres to be reopened," he said.

Scottish Labour leader Anas Sarwar asked Ms Sturgeon whether Scotland would reintroduce vaccine drop-in centres.

The first minister said there was no lack of urgency, and that there were ongoing discussions about the most appropriate ways to accelerate the vaccination programme.

She added that there had been no shortage of staff to deliver the rollout which had initially been planned, but that more staff and facilities would now be needed to speed up the process following the JCVI's new advice.

Ms Sturgeon said that process was under way and that the government would work with health boards to ensure it happened as quickly as possible.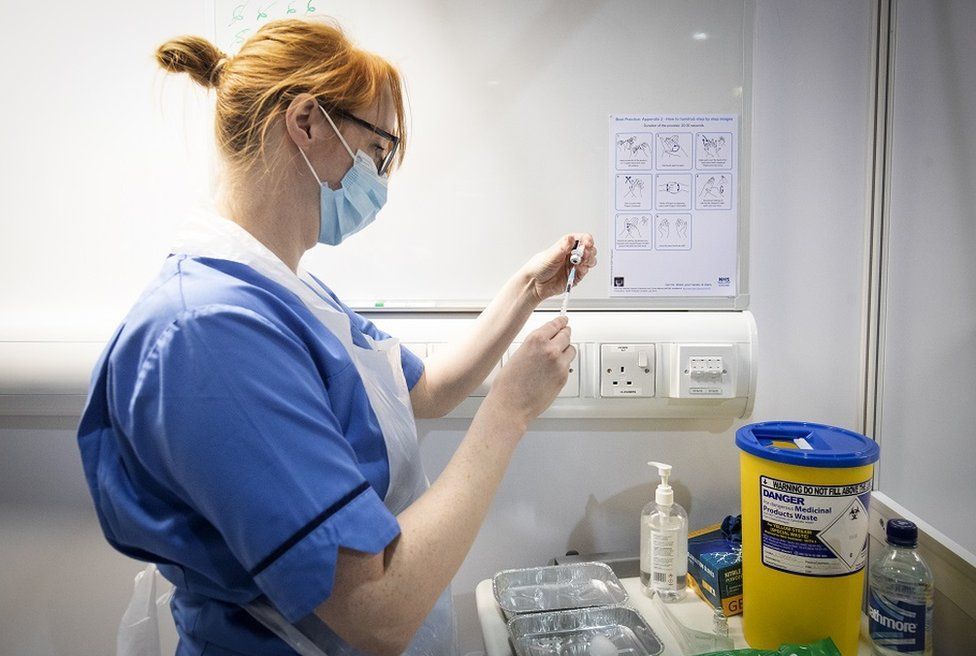 Prime Minister Boris Johnson has promised that boosters will be offered to everyone in England who is eligible by the end of January.

The Scottish government's clinical director, Prof Jason Leitch, told BBC Scotland's Drivetime programme that a target had not yet been set for Scotland.

He said things would be "slightly different" north of the border, but officials were still "crunching the numbers".

Prof Leitch said there were only limited drop-in facilities because they wanted to control the age bands.

"We don't want 18-and-a-half-year-olds to get their vaccine before 49-year-olds. We want to do it in an ordered way in chunks of age groups," he said.

"That is how we have done it up to this point and that is why we are the most vaccinated part of the UK."