When UK government ministers pledged to inoculate all British adults by the autumn, they may not have been thinking about people living in some of the world's most remote places.
And yet, since early January, by plane, ship and - in one case - supermarket freezer truck, that's exactly what's been happening.

Officials say 250,000 vaccine doses have already been administered to adults in 11 of the 14 British Overseas Territories.

Some of those places, like Gibraltar, Bermuda and the Cayman Islands, are easy to reach.

Others require epic journeys.

A mission to supply the 200 citizens of the gloriously named Edinburgh of the Seven Seas, on the volcanic island of Tristan da Cunha, was a case in point.

The island, in the middle of the South Atlantic, is described as the most remote permanent settlement on earth.

Perhaps not surprisingly, it has yet to record a single case of Covid-19, but with rudimentary facilities and its nearest neighbour more than 1,500 miles away, an outbreak on the island could have proved disastrous.

The Ministry of Defence says a six-day operation this month has successfully delivered enough Oxford-AstraZeneca vaccine for the outcrop's adult population.

To get it there, an RAF Voyager aircraft flew 8,000 miles from Brize Norton in Oxfordshire to the Falkland Islands, before handing off its precious cargo to HMS Forth, which then sailed 2,000 miles more to reach Tristan da Cunha.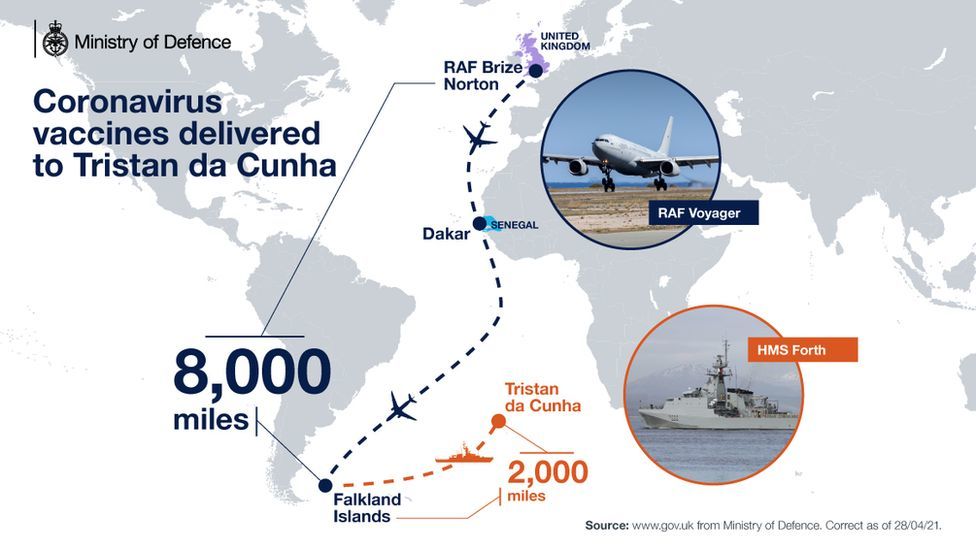 It is the first time the Royal Navy has transported vaccines, with crew members tasked to keep a regular check on the specialised fridges used to store them.

An even longer journey began late on Wednesday evening to supply vaccines to the 47 residents of the Pitcairn Islands, on the other side of the world.

This time, the doses are being flown from Heathrow to Auckland, New Zealand. After a three-hour road trip to the port of Tauranga, the cargo will be transferred to the supply vessel Silver Supporter for a two-week journey to the archipelago, deep in the Southern Pacific.

Bryan Richmond of Crown Agents, which is working alongside the government to ensure all British Overseas Territories are reached, said this has been a hugely challenging global operation, involving shifting travel corridors and contingency plans for Covid outbreaks, tropical storms and grounded planes.

To say nothing of the need to keep vaccines at the correct temperature throughout their complex journeys.

"I think we built a new global supply chain from scratch," he said.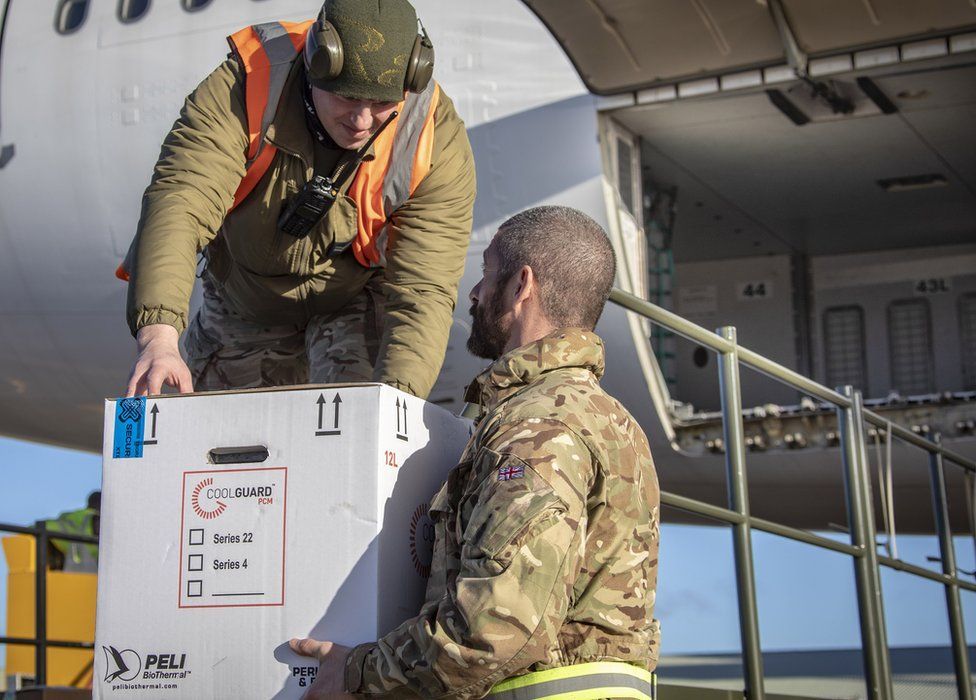 For government officials involved in the programme, it's clearly been a source of pride.

"It's not very often you get to do something as a dull, grey, boring civil servant in Whitehall that actually makes people universally happy," one senior FCDO official said, on condition of anonymity.

The vaccine rollout, he said, was "a potent symbol of what being an overseas territory means".

The 14 Overseas Territories, which also include Ascension Island, South Georgia and several Caribbean islands, are home to around 250,000 people, the vast majority of them British passport holders.

Some of them are a long way from anywhere.

"St Helena is so remote we sent Napoleon to die there," the official quipped, noting that next week marks the 200th anniversary of the former French emperor's death in exile.

But remoteness, he said, would not have been an excuse for inaction.

"It would have been inexplicable if we had not looked after our British communities around the world," he said.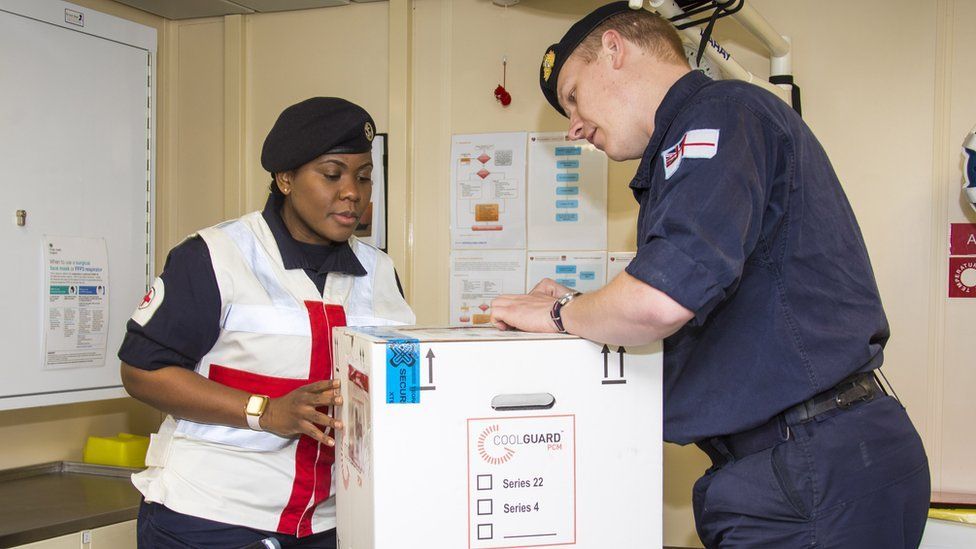 There was improvising along the way.

One Crown Agents driver was told to stay with his truck overnight when he found that the designated warehouse at a UK airport storage facility was closed.

In the Turks and Caicos, a supermarket cold chain van was commandeered to get the vaccines to hospital.

And a pet dog was bumped off a British Airways flight to the Caribbean when it emerged that vaccines and pets can't be transported in the same hold.

Officials say they are more than halfway through the rollout. In the Caribbean, speed is of the essence.

"We're in a race against time to get people vaccinated before the hurricane season hits," the senior official said.

That means getting everyone vaccinated before June.

This could be challenging. While some territories are moving fast - Gibraltar, the Falklands, St Helena and Ascension Island have all administered a dose to more than 90% of the adult population - others, especially in the Caribbean and western Atlantic, are lagging far behind.

Montserrat and the British Virgin Islands are both at around the 40% mark, due to high levels of vaccine hesitancy and the remoteness of some archipelagos.

In Turks and Caicos, public information campaigns have been launched in English, Spanish and Creole.

In Gibraltar, where almost 100 people have died and infections peaked over the new year period, the vaccine drive is almost over.

With one new infection in the past fortnight, officials are hailing Gibraltar as an example of how well the vaccine is working.