Several hospital trusts have declared critical incidents amid staff shortages and rising pressures due to Covid-19.
University Hospitals of Morecambe Bay NHS Trust, Blackpool Teaching Hospitals and Great Western Hospitals in Wiltshire have all been hit hard.

Derriford hospital in Plymouth has problems offloading ambulances, and has recorded nearly 500 staff absences.

Critical incidents are declared when health bosses are concerned they cannot provide priority services.

This includes treatment for cancer or heart disease patients.

Speaking in a Downing Street press conference earlier, Prime Minister Boris Johnson said the NHS was facing "huge pressures".

He said some services would be disrupted by staff absences but pledged to "fortify" the health service to withstand the pressures and protect supply chains.

England's chief medical officer Sir Chris Whitty also acknowledged some hospitals would come under "very substantial pressure over the next couple of weeks" with high numbers of staff absences compounding typical winter pressures.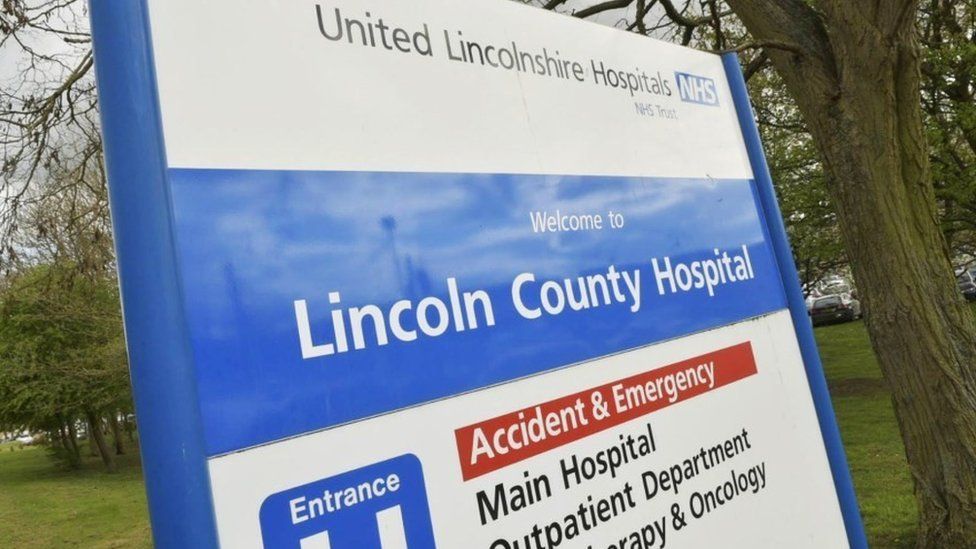 Hospitals in Lincoln, Boston and Grantham are among those where general visiting has been suspended

Meanwhile the highest number of people have tested positive or Covid in the UK with a total of 218,724, the latest figures show.

However, that does include tests recorded on some previous days, with not all cases being reported over Christmas.

There were 15,044 patients with Covid in hospital on Tuesday morning including 797 requiring mechanical ventilation.

The University Hospitals of Morecambe Bay NHS Trust's chief executive confirmed the declaration of a critical incident.

Aaron Cummins, whose trust serves patients in Lancashire and south Cumbria, wrote in an internal message to staff: "Sadly, despite everyone's best efforts, many of our patients are still receiving a level of care and experience that falls below the level of standards we would like."

He also said some non-urgent operations and procedures would be suspended.

Mr Cummins said the escalation "allows us to be able to take additional steps to maintain safe services for our patients and help us cope with the growing pressures".

Natalie Hudson, chief operating officer at Blackpool Teaching Hospitals NHS Foundation Trust, said there was "very high demand" for services and "long waits" in emergency and urgency care departments.

She said there were continued challenges to discharge patients who no longer medically need to be in hospital but have nowhere else to go, or who have no care packages in place.

There were very high levels of bed occupancy, she added, while visiting had been suspended.

Ms Hudson said these factors were being "exacerbated by rapidly rising rates of Covid-19 in the community and rising rates of admissions and staff absences".


Hospital trusts declare a critical incident when they are worried they are on the brink of not being able to provide critical services, such as emergency care.

It is warning to the wider system they need help to pave the way for measures to be taken, such as redeployment of staff.

Many will only last a couple of days.

It is not unusual for a small number of trusts to declare this at this point of the year - the start of January is the busiest for the NHS.

But the NHS is, of course, facing an unprecedented set of pressures.

Firstly, admissions for Covid are already above what would normally be seen for all types of respiratory illness at this time of year.

And they are continuing to rise.

Secondly, the NHS is having to cope with a higher number of staff absences because of the Covid isolation rules.

In winter the absence rate can be around 5%, but in the last week before Christmas it hit 8%.

The higher admissions and absences rise the more common these critical incidents are likely to become.

In Wiltshire, the Great Western Hospitals NHS Foundation Trust, which runs Great Western Hospital in Swindon, declared a critical incident after experiencing "sustained high levels of demand" and concerns over the "availability of beds".

It said Covid inpatient numbers had risen 81% since 24 December.

United Lincolnshire Hospitals NHS Trust said on Monday it had taken similar measures at its hospitals across the county.

Medical director Dr Colin Farquharson said there were "significant staffing pressures" due to Covid-related absences.

But he said essential services "remain fully open".

A critical incident was also declared at Plymouth's Derriford hospital with 99 positive cases there and at its three community hospitals.

Meanwhile the number of hospital staff off sick across North East and north Cumbria has increased 135% due to Covid since 24 December.

Neil Halford, medical director for the North East and North Cumbria Integrated Care System, said: "Hospital trusts are continually reviewing their planned operations and procedures alongside caring for the sickest patients and ensuring infection prevention control measures can be adhered to.

"This a difficult balancing act and regrettably some planned operations and procedures may need to be postponed."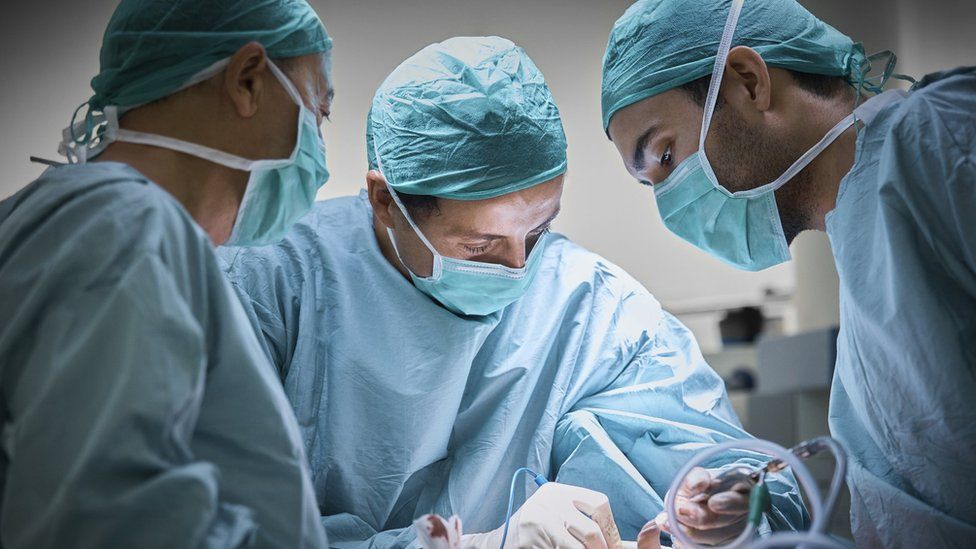 Concerns have been raised about NHS staff being left exhausted

Dr Sakthi Karunanithi, the public health director for Lancashire, warned that his county was braced "for a tsunami of Omicron cases".

He told BBC Radio 4's Today programme there was a noticeable shift from infections in people under 50 "to a more 60-plus age group being affected".

Chris Hopson, the chief executive of NHS Providers, which represents trusts, said a critical incident was "an indication of very serious pressure" at a trust which may "not be able to provide" a range of priority services.

The chief executive of the NHS Confederation, Matthew Taylor, said that "in many parts of the health service, we are currently in a state of crisis".

He wrote in a blog, published on Monday: "Some hospitals are making urgent calls to exhausted staff to give up rest days and leave to enable them to sustain core services."

Ambulance services are struggling to cope with the growing pressure due to rising Covid cases.

Dr Mathew Beattie, medical director for North East Ambulance Service, said: "We have seen an 80% increase in Covid-related absences over the last six days, with more than 260 staff absent due to Covid [on Monday]."

It has prompted an appeal by West Midlands Ambulance Service for recently retired staff to aid operations in "challenging times".

Many hospitals have been forced to ban visiting on wards in a bid to reduce the spread of the Omicron variant by visitors.

Boris Johnson has warned "considerable" pressure on the NHS is likely to last for weeks to come and said it would be "folly" to think the pandemic was almost over.

A further 157,758 lab-confirmed Covid-19 cases were recorded in England and Scotland on Monday, the government said.