Wealthy countries including the UK should send spare vaccine doses to virus-hit nations before organising booster jabs, a World Health Organization (WHO) official has said.
Special envoy David Nabarro told the BBC top-ups and extra vaccinations "should come a bit later".

He said Covid was "bigger than ever, it's fiercer than ever and it's causing more distress than ever" worldwide.

The UK has said its booster programme could start as early as September.

The government has also pledged to donate surplus vaccine doses to poorer nations.

But the WHO has urged richer countries to do more - and sooner - as Covid cases surge in countries, including India and South Asian nations.

Mr Nabarro told BBC Radio 4's World at One programme the virus was now spreading in places where testing was poor - so the numbers being reported risked being a "major under-estimate".

"This is a bad phase," he said.

As foreign ministers of the G7 group of countries met in London, he urged leaders to begin to distribute spare doses to those countries in the grip of the virus amid a global shortage of supply.

He said he wanted "to plead with G7 leaders, with G20 leaders, with every leader, with everybody who's got influence, to please recognise that we've got to try to get vaccines distributed to those who need them the most now in this period of acute shortage of supply".

Mr Nabarro added that "top-ups and other extra things and extra protection for people in the wealthy countries... should come a bit later".

Fast-track jabs

It comes after UK Vaccines Minister Nadhim Zahawi said extra funding would fast-track new vaccines to "future-proof" the UK against new virus variants.

Existing vaccines protect against variants such as the one found in Kent, but experts say the UK needs to be prepared as the virus keeps on mutating.

Mr Zahawi said the £29.3m funding increase would improve testing facilities at Porton Down research laboratory.

He also said the booster programme could begin in September "or later in the year, or early next year".

He told BBC Breakfast clinicians would consider how well the protection from vaccines had lasted when deciding when to begin rolling out the programme.

Last week, the UK government ordered an extra 60 million doses of the Pfizer-BioNTech vaccine, which it said would be used alongside other vaccines for the boosters.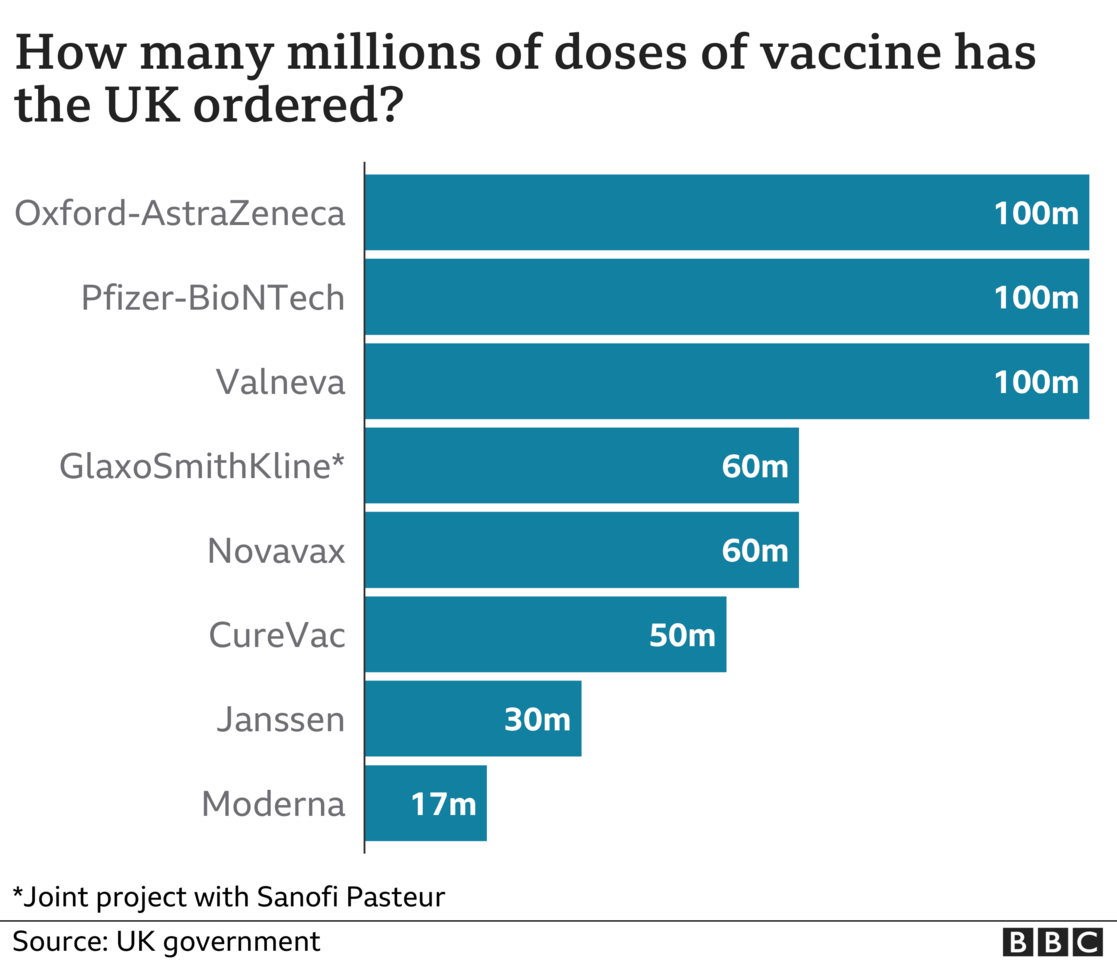 Following the funding announcement, Health Secretary Matt Hancock said: "We are committed to supporting the UK's flourishing life-sciences industry - and this announcement is yet another critical way we will build back better to protect the country over the coming months and years."

UK Health Security Agency chief executive Dr Jenny Harries said: "A new variant that can escape the current vaccines is the greatest risk of a third wave.

"This new investment will help us stay one step ahead of the virus by doubling our capacity to test vaccine effectiveness against emerging variants.

"While we expect the existing vaccines to offer protection against new variants, particularly preventing serious illness and death, it is important that we continue to monitor the picture as it develops."

The government has already announced a deal with biopharmaceutical company CureVac to develop vaccines against future variants, with 50 million doses pre-ordered.

Prof Neil Ferguson, an expert on the spread of infectious diseases who sits on the government's New and Emerging Respiratory Virus Threats Advisory Group (Nervtag), said new variants emerging posed the biggest risk to the UK's progress in the pandemic.

"In the worst case scenario, if we have a new variant pop up which does manage to evade the vaccines, say late summer or early autumn, there may be a need to roll back on some of these measures (being eased) at least temporarily until we can boost people's immunity," he told the BBC.

"Do I think it's likely to happen? No, I don't. I think we are much more likely to be on a steady course now out of this pandemic, at least in this country."

Prof Ferguson said variants would need to be monitored "carefully", but the UK had gone from a "terrible situation" in January to a "remarkably good situation now".

Covid restrictions are expected to be further eased on 17 May in England, Scotland and Wales, subject to government approval. In Northern Ireland, more restrictions may be lifted on 24 May.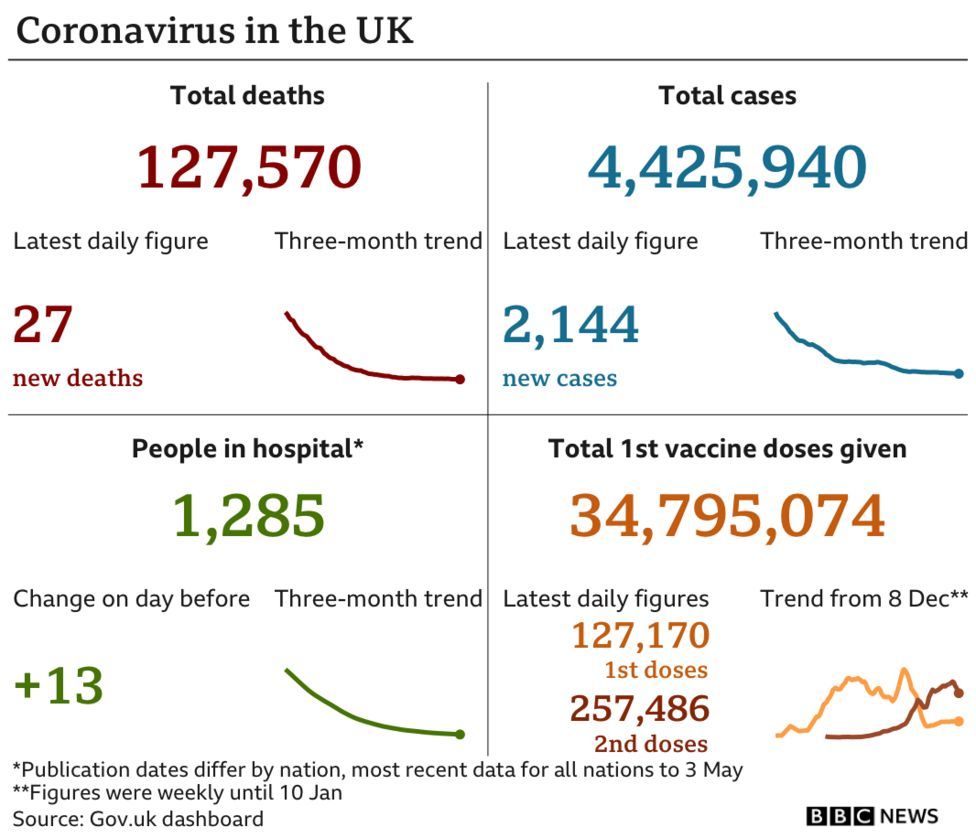 On Wednesday, the UK reported another 2,144 daily cases, as well as a further 27 deaths within 28 days of a positive test.

The government's latest data showed more than 50 million Covid vaccinations have been given in the UK so far, with more than 34.7 million first doses and 15.8 million second doses administered.